The most important achievement of yesterday's operation wasn't killing Osama. It was the US Navy SEALs' booty: dozens of computers, memory sticks and disks loaded with information that might just crush all of al Qaeda's network.
After shouting "Geronimo!" to their commander over radio—the signal that indicated the death of bin Laden from a shot above his eye—the SEALs grabbed all the electronic material they could find in the compound and ran with it and Osama's body to their custom MH-60 Black Hawk helicopters.
With their weapons still hot, the commando handed the electronic material to a special team of CIA and military intelligence operatives. According to a US official speaking to Politico, hundreds are going through the data in a secret location in Afghanistan:
They cleaned it out. Can you imagine what's on Osama bin Laden's hard drive? It's going to be great even if only 10 per cent of it is actionable.
G/O Media may get a commission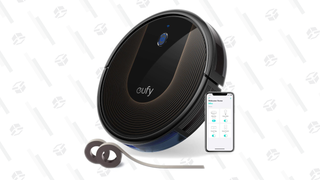 48% Off
Eufy BoostIQ RoboVac
Decrypting "the mother lode of intelligence"
Indeed, given the amount of material recovered, his enthusiam seems more than justified. We can only speculate about the state of the data, but even if some of the equipment was damaged during the attack, it appears that most of it is intact.
We don't know if "the mother lode of intelligence"—as that official called it—in the hard drives and memory sticks is encrypted or not. Given Osama's level of confidence—the circumstances appear to indicate that he was very comfortable and felt very secure in his lair—the idea of some of the data not being encrypted is not that crazy.
But even if it is, the US intelligence agencies have the necessary computing power and the expertise to crack the information open, even if the terrorists are using the AES-256 standard. You can be sure that, if there are any encrypted files, they are now being processed by supercomputers at CIA's headquarters. The only question is how fast they can access the information. That's the critical part: the fastest they get it, the more actionable that information would be, leading to the fast capture or killing of other leaders and operatives in the al Qaeda network.
Here's hoping they get lucky and hunt them all down. [Politico]