Electric skateboards have always seemed to me like an 80s fever dream come true. What if instead of using your foot, you could push a button and make a skateboard go as fast as a car? The idea would have sounded absurd 30 years ago, but today it's true in the form of Boosted Boards. And now, the company has a smaller model with a rad form factor. It's a different ride, too.
The new $750 Boosted Mini S is the first non-longboard Boosted Board. At 29.5-inches-long, the deck has an old school feel that belies the undeniably modern drivetrain underneath. That drivetrain can propel a normal-sized human (less than 250 pounds, that is) up to 18 miles per hour. The company also offers a more expensive board called the Boosted Mini X that can go up to 20 miles an hour. I will admit that I didn't come close to these speeds in my time with the Boosted Mini, and I didn't want to.
Having reviewed (and crashed a few times) the 2nd Gen Boosted Board, I'll be the first to admit that riding an electric skateboard takes some skill. The full-sized Boosted Board is designed for cruising, and I rode it for miles at a time. The Boosted Mini feels like a sprinter by comparison. It features the exact same drive train as the full-sized Boosted Board. However the deck—a new, composite material that Boosted compares to snowboards—is significantly shorter and shaped like a shallow spoon, so it responds to even the slightest foot movement. That makes the smaller board more nimble but also less forgiving. It also lacks that satisfying bounce of a longboard, so you'll feel every bump in the road.
None of this is to say that riding the Boosted Mini feels bad. It just feels markedly different than riding the longer Boosted Board. You might like it. I prefer the longboard. But I'm also not sure I'd rather own the longboard and ride it on a daily basis.
The smaller form factor makes the Boosted Mini delightfully portable. If you're tall enough, you can grab the board by the truck and stroll along with it one handed. It's 15 pounds—slightly lighter than the 2nd Gen Boosted Board—so that hand will get tired. But it's a hell of a lot easier than lugging around a longboard, which is over three feet long. I also found that the Boosted Mini is a lot easier to store in my small New York City apartment and totally convenient for stashing under my desk at work. So if I just want to scoot around the neighborhood or to my somewhat distant subway stop, the Boosted Mini does the job and doesn't become a pain in the ass once it's time to stop riding.
G/O Media may get a commission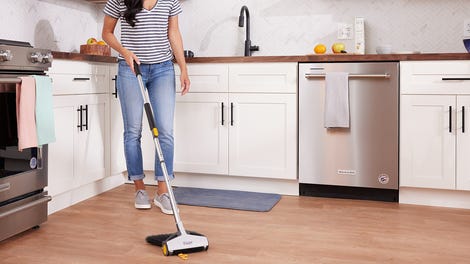 BOGO 50% Off
Flippr - BOGO 50% Off
Speaking of pains in the ass, I do not recommend trying to do tricks with the Boosted Mini. Yes, it looks like the old school board Tony Alva used to ride in empty pools. No, it does not ollie. While better skaters might have better luck, I absolutely embarrassed myself when I took the Boosted Mini to the skatepark. The board is nimble, but it's still heavy. The remote also works just like the remote for the 2nd-generation Boosted Board (it's literally the same remote), so you push the wheel-shaped throttle forward to accelerate, and it's very easy to overdo it when faced with obstacles. Thank God I was wearing a helmet.
You shouldn't buy a Boosted Board if you want to to tricks anyways. Boosted Boards are vehicles. They're designed to get you from one place to another, and ideally, you'll have fun along the way. The Boosted Mini S features a seven-mile range which would be just fine in New York but might come up short in Los Angeles. The Boosted Mini X ($1,000) doubles that with a 14-mile range, which is matched on the company's two new full-sized boards: the Boosted Board Plus ($1,400) and the Boosted Board Stealth ($1,600). That said, the Boosted Mini S can also get a full charge in just an hour and 15 minutes, so longer commutes aren't impossible, they just require forethought.
As all those new model names make clear, the decision-making process in buying a Boosted Board is no longer as simple as "Should I buy one or not?" You can now choose between two form factors and two tiers of performance. Here's a quick buyer's guide: the shorter ones are nimble and portable, and the longer ones are better for cruising. Also, the more expensive ones go faster and have black wheels. And if that still isn't enough to help you tell them apart you can now test out the new Boosted Boards at authorized dealers around the country.
Like I said before, I can see the appeal of the Boosted Mini. While I'm still partial to the smooth ride of the classic Boosted Board, the portability of the Boosted Mini is a game-changer. It's perfect for zipping around the city and won't hog much square footage in your apartment. So if you're a confident skateboarder, you might also prefer the more nimble handling of the Mini. Just don't try to do tricks. And definitely wear a helmet.
README
New small size means great maneuverability
New small size also means awesome portability
Pretty short range at seven miles per charge
Bad for the halfpipe, don't even try