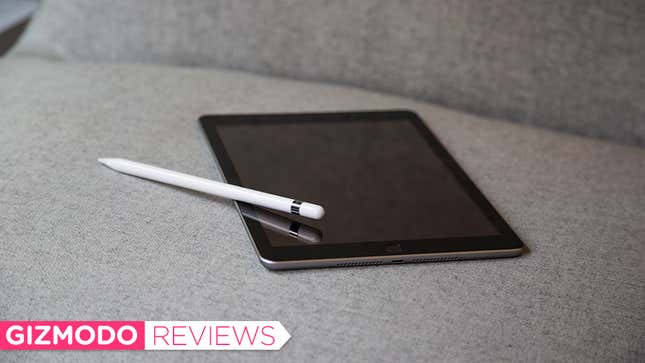 It's rare for Apple to make a reasonably priced product that is also excellent. The AirPods—love 'em or hate 'em—are an example of this happening. The new iPad is another. It's good. It's not great! But it's probably all the iPad you need.
Rob Savage on Collaborating with YellowJackets' Sophie Thatcher
Before diving right in, I should admit that Apple's sales pitch for the new iPad worked on me. The company announced the new product two weeks ago at a fanfare-heavy event in Chicago that emphasized how iPads were especially great for schools since the new $330 version ($300 for those in education) supported the Apple Pencil. I'm not a teacher or a student, but this felt like a big deal to me. The Apple Pencil is widely regarded as the very best stylus solution for the tablet, and I felt swayed. The iPad is simply more useful if you can write on it easily. In the past, the cheapest iPad didn't support the Pencil—that was an iPad Pro thing—so the added value actually felt valuable. (The Pencil, of course, will cost you an extra $100.)
After using the new iPad for a week, I'm convinced. The Pencil is awesome and fun. I like to draw, and drawing with the Pencil is a blast. (I haven't tried third party styli like the 53 Pencil or the Adonit Mark, so I can't say if they really are better.) The value proposition is about a lot more than just the new Pencil compatibility, though. The new iPad is not only fast and powerful. It's also lightweight and a joy to hold. The design is not actually any different from the previous model, but if you're thinking of upgrading from, say, an iPad 2, you'll notice a huge difference.
That's actually where I came from. Many years ago, I bought my first iPad, an iPad 2. Hated it. It was heavy. The screen sucked. I couldn't figure out how or why to use it. At the time, I just thought I didn't need it, and I was right. So I sold it, and I kept reading everything on my iPhone.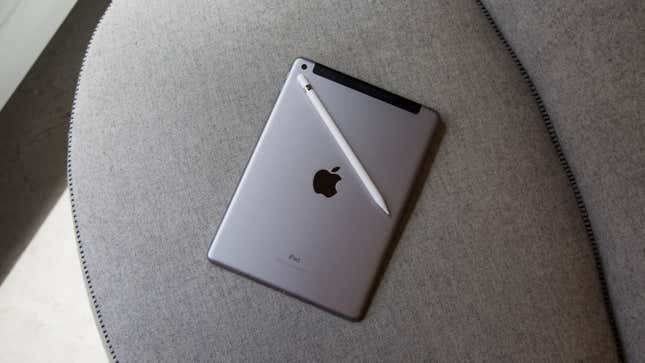 Fast forward half a dozen years, and I'm really sick of doing most of my computing on a gadget the size of a large cracker. At home, I'm increasingly compelled by the idea of a bigger screen that I can hold. And I'll be the first to admit that I'm late to this realization. Everybody has tablets. Good for them. But I could never talk myself into spending $600 or more on something that just wasn't that much different from the phone that I already bought for $600 or more. Apple's cheaper iPads always felt like a downgrade from what was already in my pocket. That's no longer the case.
The cheap new iPad is as powerful as an iPhone 7, the device I surrendered just a few months ago when I upgraded to an iPhone X. That's good enough for me! While the new iPad doesn't feel as snappy as Apple's flagship phone, it's damn close. It's so close, I can't imagine why I'd want to pay twice the price to upgrade to an iPad Pro. There are some spec bumps when you go pro, like twice the RAM—the new iPad only has 2GB—and the smart connector for keyboards and whatnot. But I don't really need anything else. The new 9.7-inch iPad is slightly smaller than the 10.5-inch iPad Pro (which costs $650), but it's the exact same weight. The new iPad features an A10 Fusion chip which is slightly less fancy than the iPad Pro's A10X Fusion chip, but the difference didn't mean much to me. I'll repeat myself: the new iPad is enough iPad for me, and it's probably enough for you, too.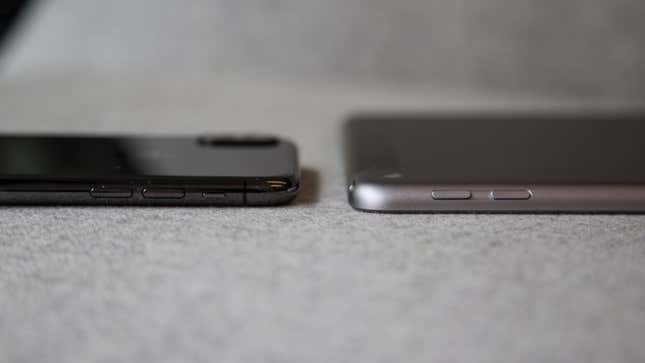 Let me reframe this proposition for you. If you want to buy an iPad now, it's a bad idea to pay for the Pro. Everyone expects Apple to debut a new iPad Pro with Face ID in a couple months. As a firm believer in the convenience of this feature, I think it might be worth waiting for Face ID in a more powerful and much more expensive iPad at that point in time. Even still, if you're willing and able to spend half a grand on a tablet, good for you. Yet if you want the best value, the new iPad just makes terrific sense. You will deal with the first-gen Touch ID, which is slow and cumbersome compared to the second-gen and Face ID. But you're also not pulling the iPad out of your pocket a million times a day.
Yet you might worry about those measly 2GB of RAM. Fair. While you can use three apps on the same screen with an iPad Pro, you can only use two apps at once on the cheaper iPad. This doesn't mean you can't have multiple apps running in the background on the new iPad. It just means that you can only have two on the screen at once, as opposed to three on the iPad Pro. I frankly never wanted to use more than two, as my needs stayed refined to reading, taking notes, and watching video on the device. You can pull up your messages while watching a movie on the new iPad, which is handy, and it works great. If you need more, you can spend twice as much on an iPad Pro.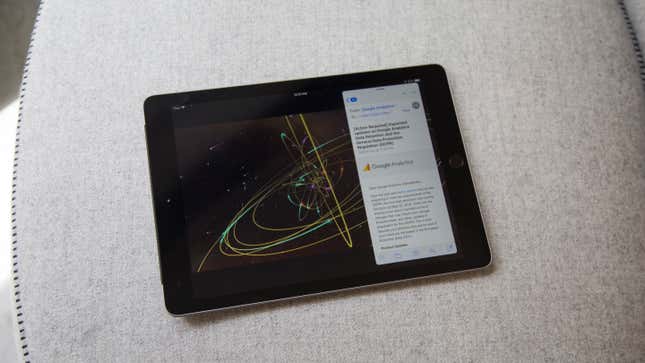 So this is a positive review. That's because it's refreshing for Apple to release a product that works great and doesn't compromise your family's financial future. I wasn't sure I wanted an iPad, basically, since the iPad came out. I want this one. That's honestly a rare feeling for me, because there are so many unwantable or too-expensive gadgets in the world. When the next new iPad comes out, I doubt I'll want it because it will cost too much. But this Apple thing—I'm surprised to admit—it's a good value.
README
Does all the nice things an iPad does
Much cheaper than an iPad Pro
Works with Apple Pencil
Much cheaper than an iPad Pro