As more and more people have begun reading comics digitally, DC's fans have been wondering when (if ever) the publisher was going to get in on the all-you-can-read subscription service game much in the same way that Marvel has. As it turns out, that time is now.
Today, DC Comics and Warner Bros. announced the impending arrival of DC Universe, the new, fan-oriented platform where many of company's upcoming shows like Young Justice: Outsiders, Titans, and Harley Quinn will live alongside a deep back catalog of curated DC comic books, TV shows, and films.
In a public statement about the platform, DC's chief creative officer Jim Lee emphasized that it isn't just a streaming service or a way to access comics on electronic devices, but rather an experience meant to make getting into DC's fandom as easy as possible whether you're new to comics or a die-hard fan:
"It's a welcoming place for everyone to immerse themselves in their own level of DC fandom, with the epic characters, stories, and experiences they have come to expect from DC.

We are investing in and creating original, high-quality shows including the new Titans series, and curating the most beloved nostalgic content, while at the same time elevating the comic reading experience to new heights."
While the newer DC shows might be what initially draws people into the service, DC is banking on fans' nostalgia for classics like Batman: The Animated Series, a remastered cut of Lynda Carter's Wonder Woman, and all of the Christopher Reeve Superman films to keep people within DC Universe and make them want to explore it. Publisher Dan DiDio added that it's that exploration component that truly sets DC Universe apart from similar services. After watching an episode of Titans or the new Doom Patrol series, for example, DC Universe can offer up issues of comics that directly inspired them, providing another way for people to experience the stories:

"We wanted the DC UNIVERSE comic reader to be a blend of art and technology that would further enhance fan's experiences of the live-action and animated programming on DC UNIVERSE.

This hand-curated selection from our decades of comic creations gives fans a thematic digital longbox to carry with them on the device of their choosing or lets them watch exclusive video content on a big screen followed by the comic that inspired it."
G/O Media may get a commission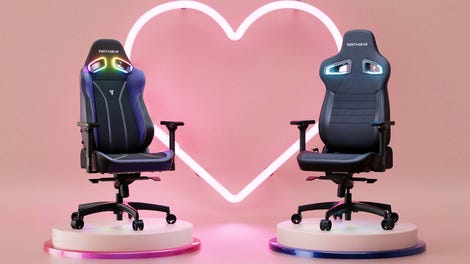 Up to $150 off
Vertagear Gaming Chairs
In addition to the news about DC Universe itself, the company also revealed new information about all of the new series it has in production that are rolling out over the course of the next year.

Titans will tell the story of how Robin, Raven, Beast Boy, and Starfire become chosen family as the young heroes investigate a mysterious conspiracy that could literally result in "Hell on Earth." It's possible that the last bit of plot detail is pointing to the team's ultimate foe this season being Raven's father Trigon (or potentially Etrigan), and it's notable, though not surprising, that Cyborg's missing from the roster.
Interestingly, though, Cyborg isn't totally missing from Titans' orbit because of the Doom Patrol spin-off series. According to DC, this incarnation of the Doom Patrol—Robotman, Negative Man, Elasti-Woman, Crazy Jane, and Dr. Niles Caulder—will come together after being called upon by Cyborg himself to embark upon an adventure into the weirder, darker corners of this shared universe.
There's no telling whether the Doom Patrol will ever cross with Abby Arcane, but Swamp Thing is set in one of DC Universe's dark corners. The show will follow as the heroine travels to Louisiana to investigate a strange swamp-born virus only to discover that there's more magic and danger in the bayou than she ever could have realized.

On the animated side of things, Young Justice: Outsiders revives the beloved series and brings a number of new faces into the fold as the world is plunged into an intergalactic arms race to locate and weaponize the growing population of young metahumans. While most of DC Universe's programming is aimed at a more general audience, the new Harley Quinn series will be decidedly adult and find a newly single, Joker-free Harley teaming up with Poison Ivy as she schemes her way into the Legion of Doom.

We're at a point in the Streaming Wars when all of the major studios are squaring up and making a go at trying to become the service you think of for entertainment. DC Universe is tossing its hat into the ring in a big way, but it'll be interesting to see whether the combination of comics books, television shows, and movies will be enough to make people stick with it.
Currently, no pricing has been announced for DC Universe, but fans can sign up for access to the upcoming beta today. DC plans on launching the service later this fall.