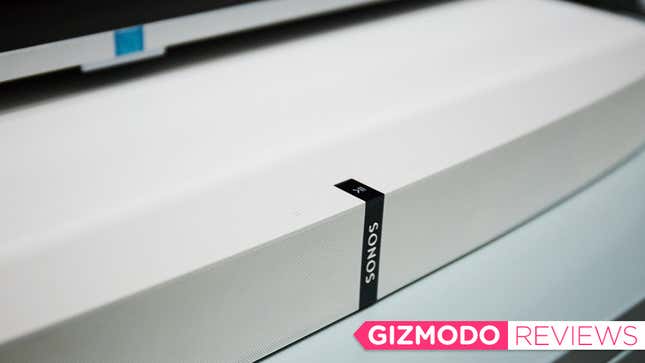 There was a brief period of time—think 2011 to 2015—when the pedestal-like soundbar was convenient for TV owners. TVs had gotten skinnier and sound had gotten crummier as a consequence. Functioning as both speaker and stand, the pedestal was an appealing soundbar-style ideal for TV owners who had no plans to mount a set on their wall, but didn't have space for a giant sound log resting precariously in front of their set. Sonos' new Playbase is one of the best pedestal-style sound bars you will be able to buy right now, but, uhh, it's also way late.

Apple's Vision Pro Seems Powerful, But Who Is It For? | Future Tech
The problem is that the Playbase's pedestal design is woefully dated at this point. While there are definitely still televisions that would work well with the pedestal design, those TVs are also cheap—often times they cost the same, or even less than, the $700 Playbase. And the TVs with the quality and picture that would warrant a $700 soundbar are all designed to either be mounted on the wall (something the Playbase's 14.5 inch depth would not allow), or they have elegant split stands, with two smaller "legs" on either end of the TV.
I've got four 50-inch sets in my home right now (I review TVs! I'm not a hoarder!) and only one of those four, the one I purchased back in 2014, would work with a pedestal-style soundbar. For the rest, the Playbase juts out in an ugly fashion, a big garish white expanse taking up too much room below my television. It doesn't span the entire width of the display, so it looks silly, but it's sticking way too far out in front, taking up the kind of space a pedestal shouldn't.
It's a shame, because the sound coming from Sonos' new Playbase doesn't sound as terrible as I'm used to from pedestals. Instead, it's rich and detailed. Watching Deepwater Horizon, helicopters had a satisfying whir to them that seemed to thump in my chest. On the speakers built into my Vizio set, those helicopters sound like they're about a mile away, and I'm listening to them with some Pepsi cans held over my ears.
Sonos has led the home audio industry by making great, wi-fi-enabled speakers that are easy to use, and the Playbase is no different. Like the many other Sonos products, it's just damn easy to set up and a joy to own. If you've already bought into the Sonos experience with the smaller Play 1 or Play 5 speakers, you can configure them to work with the Playbase to create a totally wireless surround system. Or you can buy the Playbase now, and add the other speakers later, when you can afford them. That's just not feasible with other home theater audio solutions, which rarely sell any portions of the system piecemeal.
There's also a part of the Sonos app called Trueplay that tunes the speaker to sound better in whatever room its in. The tech appeared in previous Sonos devices, but this was my first experience with it. The speaker drops sonar-like noises and you wave your phone around the room as the noises play. The mics in your phone register how everything sounds, and adjusts the playback of the Playbase accordingly. Performing the process feels impossibly silly, but after completing it, my Playbase went from sounding like it was underwater to sounding crisp and clear and precisely like a $700 speaker should.

In true Sonos fashion, setting up the Playbase is very easy. There's only one plug on the back of the device besides the power outlet and ethernet port. It's a single Digital Audio port that you connect to your TV. Sonos assumes that you've spent your money on its speakers rather than a pricey audio receiver, so it expects you to plug all your devices into the TV. From there, it then handles all the audio from your various Playstations, Xboxes, and Rokus. Once you're through with the setup, which requires either an iOS or Android device, you're set.
I was worried I'd have to do something special to get the Playbase to work with my fancy home theater remote, but the Sonos app asked me to just hit the volume buttons, and the Playbase was programmed immediately. I haven't had to stand up and fiddle with any buttons on the device since. Cleverly, the Playbase also automatically senses when audio is coming from the TV and powers on, but it will switch to streaming music from my phone with a tap, and then back to the TV as soon as I close out of the music app.
Indeed, the Sonos Playbase is smart in a way very few consumer electronics ever are, and really it does feel like some sort of magic when I use it. Unfortunately, in the end, the Playbase feels like a big step backwards for a company that's spent so many years moving audio tech into the future. Following a series of shakeups over the last year or so, Sonos made a number of claims about how it was adjusting its strategies to stay on the cutting edge, but the Playbase is all stuff we've seen before in an outdated package. The current Playbar, introduced back in 2013, is already the best selling soundbar on Amazon. It's also the exact same price as the Playbase, and it gives users the same kind of control, and the same magic. But the Playbar can be mounted on the wall and will look more attractive under the new breed of 50-inch-plus televisions. In short, the Playbase is dope—but it's also a $700 pedestal-style soundbar that feels like the past more than the future.

README
Pedestal style speakers are passe.
Great audio
Works with all Sonos speakers, which means you can create a full 5.1 surround sound system over time
Same price as the Playbar, which is identically technologically speaking