My mother does not want to know how much my brother spent on his future-proof TV last year. She saw the shiny speakers built into the sides, and the gorgeous picture, and she listened to him extol the virtues of being prepared for HDR and 4K and UHD and she threw up her hands. "It's too rich for my blood." She was right too. His $2,000 TV was way more than she will ever spend on a TV. But when I told her about the $1,000 future-proof set I had in my apartment, she asked where she could buy one.
There are a lot of televisions available right now that can't handle the rapidly approaching future. If you want 4K and both kinds of HDR and don't want to spend a minimum of $2,000 on a set like Samsung's Super UHD series or my brother's Sony XBR 930c series, then you've been out of luck. Which is why the 2016 Vizio P-Series is so fantastic. You get a television that can handle the rising standards without destroying your bank account. No set balances price, display quality, and speed quite as well as the 2016 Vizio P-Series. If you've got a minimum of $1,000 to burn and need to gird yourself for the future of TV than this is the set you need.
It's capable of playing both current HDR formats, DolbyVision and HDR10. HDR is a new video tweak to video that, with an appropriate television, lets you see a lot more detail in areas of extreme brightness and darkness. According to testing from our pals at Wirecutter, the Vizio P-series is not quite as accurate as it could be, both for HDR and for colors in general. However it's also a few thousand dollars less than the TVs that are.
And video games, in particular, look ridiculously gorgeous on it. I've spent the last few month playing games in games upscaled to 4K by the PS4, upscaled by the Xbox One S to 4K, and played natively in 4K from a PC, and I admit I look forward to the games a lot more when playing them on the Vizio. Bright colors pop, and details, like the weave of Geralt's tunic in Witcher 3, are so crisp and clear it feels as though I'm playing an entirely new game.
G/O Media may get a commission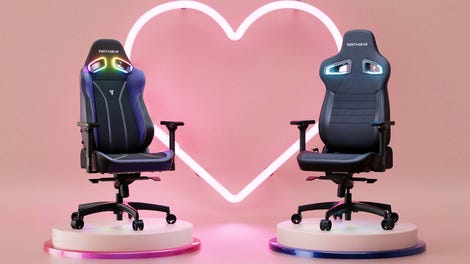 Up to $150 off
Vertagear Gaming Chairs
The TV also has a native refresh rate of 60Hz (for the 50-inch. Larger screens have the higher refresh rate of 120Hz). Many TVs in the 4K and under $1000 category can have a max refresh rate of just 30Hz. A higher refresh rate is crucial when gaming because it lets you see more frames per second. This means smoother graphics, and also, that you're less likely to miss a key attack you need to dodge. I've yet to be able to get a video game to go over 60 fps while playing in 4K at max settings.
But I'll definitely need to keep my eye on the latest and greatest set-top boxes. The P-Series is technically a "cinematic display" because it has no built-in tuner—which means everything you watch has to come in via one of the 5 HDMI ports, USB, or Chromecast.

Chromecast was a welcome surprise that I've found myself frequently using to toss TV screeners and web series, like Day 5, from my phone to the Vizio display. If you don't want to Chromecast from your phone or computer, Vizio has covered. It includes a 6-inch Android tablet with a 1080p display and wireless charging. The idea is that instead of having a set-top box or a smart TV you can just Chromecast everything from the tablet to the TV.
After a couple of months with a Roku TV, I have to admit that fiddling with a tablet just to watch anything felt like a hassle. Sometimes I just wanted to queue up the next episode of Leverage. Instead, I need to pull out the included Vizio tablet, go to the Netflix app, find Leverage, and hit the casting button. While the number of steps might be nearly the same, throwing a tablet into the mix introduces a level of fussiness that is not appealing at 10 o'clock at night. Particularly because you have to charge the tablet if you want to use it, and instead of the months of battery life you get from a remote the tablet just has a few days.

Less than a week into my time with the Vizio P-Series, I was pulling an old Harmony remote out of storage and programming it to work with the set and my current 4K set-top box of choice, the Xbox One S. Since then, the Vizio tablet has spent its time somewhere else—probably under a chair cushion.
Which can be unfortunate on occasion, because the tablet is the only way to adjust menu settings for the P-Series. The SmartCast app that lets you do this is well designed and very attractive, but beyond the component that lets you adjust settings on your TV (including the volume), it's kind of worthless currently. Ostensibly it's supposed to be a one-stop shop for all your entertainment options, but in practice it only works with local cable subscriptions, Hulu, and Vudu. I don't use any of those. So I threw the SmartCast app on my iPhone for emergencies and forget it exists accept for when I'm creating new picture presets (there is no good preset for watching grainy films from the 1930s on a 4K display).
If you can get over the fact that the Vizio P-Series is fussy to use with its required SmartCast app, that it has no built in tuner, and that it's still $1,000 for a 50-inch television than you should seriously consider this TV. It's the rare affordable future-proof set and video games look absolutely gorgeous on it. My mom's already eyeing it for a possible Black Friday buy.
README
120Hz native refresh rate in the larger sizes makes it ideal for gaming (and sports)
It's not quite as accurate in color and HDR reproduction as I'd like, but that's easy to overlook due to the set's price
It's a future-proof TV for under a grand
Either invest in a set-top box and universal remote or learn to love Chromecast
Comes with a tablet for chromecasting. I forgot where I put it.
Correction: This piece originally said the Vizio P-Series 50-inch TV had a native refresh rate of 120Hz. It has been updated to reflect the 60Hz refresh rate.