I'm going to be real with you: I do not have $3,000 to spend on a state of the art television that will last me six or seven years. I really struggle to muster the desire to drop $1,000 on a fairly future-proof set like Vizio's new P-series. You can probably relate.
My needs are simple: a TV with a nice picture and an easy Smart TV function so I don't have to go pull a Roku or Nvidia Shield out of a drawer. And it should be a helluva lot less than a thousand dollars. The newest TCL and Roku collaboration—the TCL UP130 series—meets all my requirements, all for the (relatively) low price of $550.

You'll be familiar with the interface if you've ever used a Roku before. The remote is the same stubby number Roku's been using for years with buttons that quickly connect you to the four channels any good cordcutter should subscribe to: Netflix, Amazon Prime, SlingTV, and HBO Now. Though be very careful with those buttons as they're extremely sensitive. I have never butt-changed the channel more with a remote than with the UP130.
The remote also includes a headphone jack if you want to listen to the TV without disturbing others, and there's a microphone built in for easy voice searching. I only used it once—when I was faced with the inexplicable urge to watch Meryl Streep murder a man in The River Wild. But if you are regularly unsure of what to watch it's a handy way to figure things out.

G/O Media may get a commission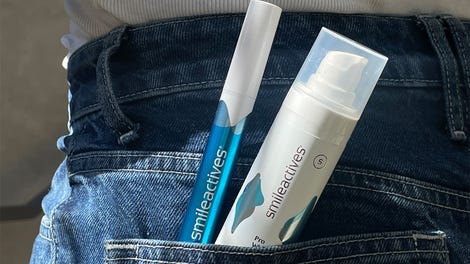 58% off
Whitening Powerhouse Pen & Gel Duo
Yet it's not a new feature. Voice search and remote listening were also included in the excellent Roku 4. The UP130 series is, for the most part, that a Roku 4 crammed into a solid 4K TV. Netflix, Amazon, and all the other channels available to Roku users are available on the UP130. Though finding 4K content on those channels can be a pretty significant chore. Amazon and Netflix are currently the two largest subscription-based providers of 4K content and to find that content on their channels (or even their websites) requires an intimate knowledge of what's already in 4K. Simply searching for "4K" revealed a whole slew of programs that were, in fact, not 4K—or worse—nature documentaries.
Roku recognized this was a problem, and it added a channel specifically to aggregate all the 4K content available to its operating system back when the Roku 4 came out. The 4K Spotlight channel, which is included on the UP130, makes it wicked simple to find stuff to watch.
But it also highlight a major problem endemic to all 4K sets: there is fuck all 4K content available.
Sure. Netflix has Daredevil and Marco Polo, and a handful of other shows. Amazon Prime has Mozart in the Jungle, Funny Girl, and a couple of movies dredged up from the 90s. The the majority of content—particularly any movie made in the last three years—is going to require you to spend more money, though. Vudu has a whole wealth of great movies available—you just have to buy or rent them for a fairly significant charge (usually around $20 per flick).
So you're stuck with the same question you're always stuck with when using a 4K set: how well does it upscale lower resolution content?
I've been deeply impressed with the UP130 thus far. Upscaled content can have a habit of looking exceptionally grainy when viewed on a 4K set, and action sequences can get wonky, with parts of the action disappearing. It's never enough to ruin a movie, and you usually have to be hunting to see it happen. It's deeply irritating when you've spent thousands on a 4K TV, however.
It's less irritating when you've only spent $550. While I noticed upscaled action could be choppy, the grain issue wasn't present. Everything looked clear and crisp. I even queued up some Uncharted 4 on my PS4 and was hard pressed to notice the lag that can plague 4K sets upscaling video game content.
That's because a tiny jump in resolution isn't that big a deal, at least from a consumer standpoint. TCL's exceptional upscaling should definitely be applauded. But beyond upscaling, this Roku TV is doing the bare minimum of whizz-bang new TV tech. The color of the display is just acceptable, with a slight orange tint, although not so bad that it turned people into Oompa Loompas. In fact with a Delta E of 4.5 (as measured by our friends at Wirecutter) most people won't even notice the tint—a Delta E of 5 or higher is when people who don't calibrate TVs for a living start to notice inaccuracies.
There's no HDR or expanded color gamut that makes comic book shows like Daredevil look like actual comic books. There's no multitude of dimming zones for remarkably improved contrast. There are no fancy words are latched onto this thing like OLED or quantum dots.
It's not the future of television that manufacturers insist is coming—it's just a very good and very inexpensive television. If you don't have a burning desire to watch all three of the movies currently in Ultra-HD then save your money and get this 4K set instead. It won't change the way you consume television, but it will play what's out there now damn well.
README
Best smart TV platform currently available—not matter what Apple tries to do
Exceptional 4K upscaling
Like most new TVs, it has pretty lousy audio, so invest in a sound bar
Unless you are made of money or a professional TV calibrator this is all the TV you need
A note for calibrators: Roku FINALLY gives you the ability to fine-tune color and white levels in the UP130 series. It can be done via the Roku app on iOS and Android.