And that's not all. Obi-Wan's life after death is just one of 40 stories in Star Wars: From a Certain Point of View, which features several major characters and events in the Star Wars universe.
Out October 3, Star Wars: From a Certain Point of View features 40 different in-canon short stories to celebrate the franchise's 40 year anniversary. But we already knew that. We just assumed, though, that it was only going to contain super random niche stories. It won't.
Many of the book's authors just revealed the titles and subjects of their stories and there are some damn good ones. One that stood out, though, is Time of Death by Cavan Scott. Here's his description.
We know that Obi-Wan dies at the hands of Darth Vader and becomes a Force Ghost. We also know a bit about how Force Ghosting works thanks to The Clone Wars. But to potentially explore the Jedi's mind after death, on the journey, is incredibly exciting. What was he thinking of? Did he know or acknowledge what he was doing? Was that always the plan when he left Tatooine? How much actual preparation for death had he been doing in his isolation? So many cool questions could be answered by this story and I can't wait to read it.
G/O Media may get a commission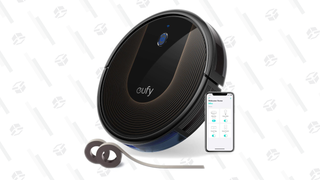 48% Off
Eufy BoostIQ RoboVac
And again, that's just one of the 40 stories in this book. Here are a few other intriguing-sounding entries revealed today.
So that's six more of the 40 stories in the book. You've got one about everyone's favorite bartender Wuher, a bridge between Rogue One and A New Hope, a Boba Fett story, happenings at the New Hope medal ceremony, the story of the Stormtrooper who captured Princess Leia, and a tale of when Lando owned the Millennium Falcon.
That's just... awesome. So, so awesome. We were already excited for this book, but now, how can you not want to immediately tear into this thing?
Several other authors posted their brief excerpts, too, and /Film did a fine job rounding those up, so check that out at the below link. And, if you want to preorder the book, here's how:
And here's the full author list.