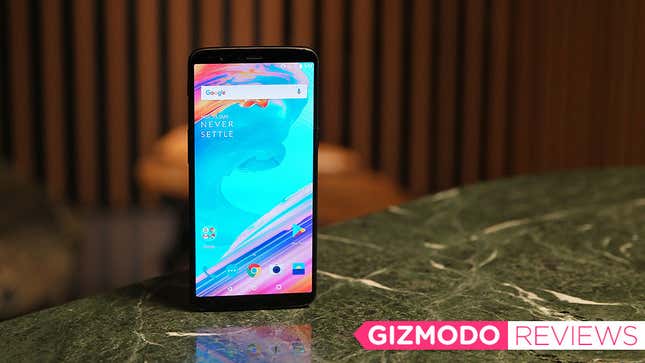 The price of high-end smartphones has gotten out of control. The iPhone X starts at $1000, while Samsung's Galaxy Note 8 retails at $950, and as much as I like nice things, ponying up that much for a phone is kind of ridiculous. Do we really need a notch that lets you turn your face into an animated pile of poop, or a stylus that won't make your shitty stick figures look any better? But don't fret, because it's still possible to get a very good phone for a decent price.
Meet Microsoft's New Surface Laptops
Starting at $500, or just $20 more than the OnePlus 5 it's replacing, the OnePlus 5T isn't going to wow you with its looks. But I definitely wouldn't call it ugly either. Instead of doing the glass sandwich thing that seems to be all the rage nowadays, the OP5 is one of the last phones still rocking aluminum in back. But that doesn't mean OnePlus hasn't been keeping up with the trends, because the OP5T has been upgraded with a 6-inch extra wide 18:9 screen that offers up almost 15 percent more screen real estate in a body that's practically the same size as before. Also, because the display is AMOLED and not LCD like you get on even cheaper budget phones, blacks are blacker, and colors are more colorful

The OP5T also sports facial recognition, but not like the kind you get on the iPhone X, because you know, that's expensive. Instead, OnePlus uses the 16-MP selfie camera that's already on the front of phone to detect patterns in your face. Unfortunately, this also means it's not very secure, as I managed to unlock the phone with a photo of my face, but it is fast. When I first set facial recognition up, I wasn't even sure if it was working because it would instantly open up the home screen after I pressed the lock button. It was only when I went out of my way to angle the phone away from my head that I realized the the the OP5T was recognizing my face and skipping the lock screen, in the blink of an eye. If you're looking for better protection, you'll be much better off sticking with the fingerprint reader, which has been moved to the back of the phone now that the front is all display.

The last big change is how the OP5T's dual rear cameras are set up. The old OP5 used its two cameras to offer a 1.6x zoom, which was nice for shooting concert or ballgames and stuff. But that kind of enhancement felt a bit weak compared to all the phones with true 2x zooms, and frankly the quality of the OP5 zoom shots were just OK. So on the the OP5T, the second 20-MP camera is now a dedicated lowlight shooter, which activates automatically at around 10 lux (which is about the same as a room lit by a candle). And you know what, it actually works. In a shot of my sad little fruit bowl, lit only by a few strategically placed candles, the OP5T's pic looks sharper, noticeably less grainy, and has warmer, richer colors. It's not a huge difference, but for people who spend of lot of time taking photos in bars or of food in poorly lit restaurants, it's a nice bonus.
But it's not a win across the board. The camera's good, but in other head-to-head comparisons, the OP5T didn't consistently out shoot the S8's sharpness and detail.
The OnePlus 5T also has the same Snapdragon 835 processor that's in the Galaxy S8, Pixel 2 and pretty much every other flagship Android phone. Except on the OP5T, you get 6GB or 8GB of RAM (depending on the configuration), which means you can have way more apps running in the background before Android's memory management starts to shut things down.

How 'bout battery life? OnePlus has you covered there too. On our battery rundown test, the OP5T lasted 11 hours and 22 minutes, barely longer than the Pixel 2 XL (11:17) and a healthy margin ahead of the Galaxy S8 (9:18). You even get handy small touches like the OnePlus' volume slider, which is basically a better version of the iPhone's mute switch, a dual sim tray, and neat software additions like the parallel apps feature which lets you install multiple versions of the same app. (It's the perfect thing for keeping all your Instagram accounts properly separated.) And of course, OnePlus has smartly kept the headphone jack. No dongles needed here.

Now I would have liked to see OnePlus try to include a microSD card slot and wireless charging. OnePlus says it's Dash Charge should make up for the latter, and it's true, you can recharge your phone's battery up to about 50 percent in just 20 minutes or so. But wireless charging isn't about speed, it's about convenience. Out of the box, the OP5T won't be running Android 8 Oreo either. Though you won't have to wait too long to get it, since OnePlus is prepping an update for sometime in early 2018. It's not ideal, but still, these are things I can live with, especially since the wireless charging would almost surely add to the price.

The OP5T also doesn't have an official rating for water-resistance either, which could be a deal breaker for some. However, the company says this is more due to the cost and time required to get the phone tested and certified, and that the OP5T can actually survive a quick dip in the sink without trouble. But if your phone does get dunked and doesn't survive, there's no warranty to fall back on. So even though I've been personally assured the OP5T should survive, I'm not quite willing to risk the possibility that it won't, and you shouldn't either.

But in a time when it feels like the smartphone industry has gone crazy about fancy features, the OnePlus 5T is return to sanity. It's not super pretty or especially sleek, but for $500, it's a damn fine phone. And it just might be the best value around.

README
The new extra wide screen is a welcome improvement, and it doesn't have the jiggly screen effect that occured on some original OnePlus 5s.

The fingerprint sensor has been moved from the front to the back, and the capacitive touch buttons have been replaced by software nav controls.

The OP5T's secondary camera is calibrated specifically for low-light photography, and the results are generally quite nice.

The new facial recognition uses the selfie cam and isn't secure (and wasn't designed to be), but it is fast!

Still has a headphone jack (yay), but no wireless charging (boo).

Globally GSM compatible, works on carriers like AT&T and T-Mobile in the US.

SPEC DUMP
OxygenOS based on Android 7.1 • 6-inch 18:9 aspect ratio full HD AMOLED display • Qualcomm Snapdragon 835 processor • 6GB of RAM • 64GB of storage • 16-MP f/1.7 + 20-MP f/1.7 dual rear cams • 16-MP f/2.0 front cam • USB 2.0 Type-C port • 3.5mm audio jack • 3,300 mAh battery • dual sim tray • no microSD slot or wireless charging