Mention the words "season two" to Stranger Things producer Shawn Levy and things get very quiet, very quickly. "You can hear from my sudden stammering that I live in terror of saying anything too revelatory about season two," Levy said to io9. But he will talk about what he and the rest of the small creative team are currently experiencing leading into the highly anticipated follow up.
"Not only did we not have a clue it would be this popular, we didn't even fantasize it would be this popular," Levy said. "All we knew was it was cool and exactly what we told Netflix we wanted to make a year earlier. But we never even aspired to this phenom status that we've reached since July 15. It's been truly shocking but absolutely thrilling."
He's, of course, talking about the instant and crazy popularity of the nostalgic, mysterious, science fiction show set in the 1980s. Speaking a day after Halloween, Levy said his mind was blown as he saw dozens of people dressed as the characters while he was out trick-or-treating with his kids, as well as all the Stranger Things costumes on social media. That level of popularity means there are some very high expectations as things start rolling into season two.
"We don't live under a rock," Levy said. "We really want to satisfy expectations and affections of our fans, but that's not to say we're going to cater to everything people want. At the end of the day, we are going to rely, as we did in season one, on the core instincts of the [Duffer] brothers."
Unlike most other shows, Stranger Things is run by a very small group of people. "There's no studio, there's no outside showrunner, there's no big TV company. There's literally [producer] Dan Cohen, me, the Duffer Brothers and we deal with three execs at Netflix," Levy said. "This TV show is made by a smaller team than almost any TV show or movie I've ever heard of."
G/O Media may get a commission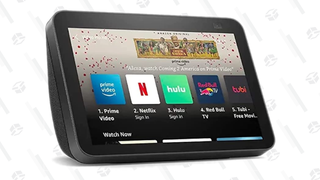 Which means, at this point, those are probably the only people who know what's going to happen in season two. That'll soon change, though. "We start shooting imminently," Levy said. "We're going to table read a bunch of episodes, that's the first step this week."
He even remained mum on Tuesday's news of Millie Bobbie Brown returning as Eleven. "I cannot comment," he said. "You can say 'The normally verbose Levy went suddenly monosyllabic.' Soon enough, be patient."
The same goes for season two. It'll be here soon enough, we just have to be patient.