Last month, Edward Snowden's lawyer told me that Oliver Stone's new Snowden biopic "tells a true story." After seeing it, I can confirm that it's an accurate portrayal of the events leading up to and following the whistleblower leaking a trove of National Security Agency documents to journalists. It's in there, injected with decorative bullshit.
There was a lot of hype surrounding the Stone take on Snowden, and how it could make his story more accessible. More accessible, presumably, than the definitive Snowden film—the Oscar-winning, gripping documentary Citizenfour (2014), the bulk of which was shot when journalists Glenn Greenwald and Laura Poitras traveled to meet Snowden in Hong Kong, where he was holed up in a hotel room.
Ultimately, Snowden fails to explain the implications of Snowden's leak and just how bad the NSA spying really was. The NSA is presented inelegantly as a flat movie villain that Snowden once thought was dope and cool, then bad. In the foreground, Stone cranks up ancillary drama without adding much else.
The movie is rooted in the love story between Edward Snowden, played by Joseph Gordon-Levitt, and his girlfriend Lindsay Mills, played by The Fault In Our Stars' Shailene Woodley. This relationship, as Oliver Stone said in a Q&A following a movie screening last night in New York, was the drama needed to make the Snowden story exciting enough to be a Hollywood movie. There's drama, but it's really not exciting.

Sure, Snowden and Mills' relationship problems adds some flair to the movie. They fight about Snowden having to relocate around the world because of his job as a CIA agent, and later in his role as an NSA analyst. They make up with some enthusiastic vanilla sex, halfway through which Snowden looks across the room at this computer camera and gets freaked out. Eventually Mills joins Snowden in his exile in Moscow, which is presented as a little postscript at the end of the film. As Joseph Gordon-Levitt admitted at the post-movie Q&A, the conflicts are the same kind of fights you'd expect from any other relationship. None of it added much nuance to the underlying story.
G/O Media may get a commission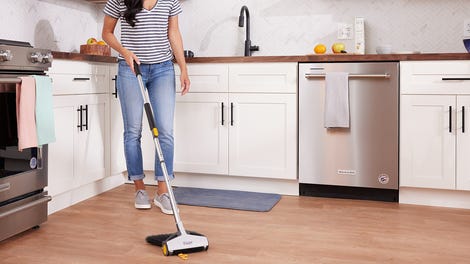 BOGO 50% Off
Flippr - BOGO 50% Off
From the point of view of storytelling, the time spent hashing out Snowden's sometimes rocky relationship with Mills could have been better spent portraying the time Snowden was literally the most wanted man on the planet. There are nail-biting scenes that could have been in the movie, but aren't—like when Snowden boldly walked into the United Nations in Hong Kong to declare refugee status. There are also plenty of missed opportunities: Snowden's attempted escape to Latin America is glazed over in a speedy montage.
What's more, while Snowden does and adequate job of giving viewers without a technical background an understandable portrayal of how spying tools like XKEYSCORE work, it doesn't deliver a real sense for just how scary they are. For those who don't know, XKEYSCORE sifts though the massive amounts of data collected by the NSA, and it can be easily used by an NSA analyst with unchecked power. What Snowden does explain is right, but the movie ultimately fails to truly demonstrate just how terrifying this unchecked spying power is. It's really scary! Shockingly, it also fails to mention that laws were changed as a result of Snowden's disclosures.
The movie also ends, I should note, with an Edward Snowden cameo so cringe-inducing that it could only be topped by this extremely painful original credits song by Peter Gabriel. It includes lyrics like, "There's no safe place to go/Now you've let that whistle blow." This two-punch of badness undermines any progress Stone makes towards communicating the importance of Snowden's revelations. I almost vomited.
The movie's most redeeming quality, for someone like me who has almost obsessively analyzed every piece of the Snowden story, is that it gets the general story right. If you've never heard the name "Snowden" before, I could imagine this being a movie worth seeing. Or, you could stay home and read Wikipedia.