John Conrad Berkey (August 13, 1932 – April 29, 2008) was probably the best known and loved space artist who ever lived on this planet. You may have seen the world-famous American illustrator's work on dozens of book covers and NASA concept art, or admired his early Star Wars and Star Trek paintings.
Berkey was a prolific freelance artist who painted more than thousand pieces throughout his lifetime. He lived in Shorewood, Minnesota, and his bold, dreamy vision of future and space defined the the science fiction genre in the 1970s and '80s.
From the John Berkey website:
For someone who lived almost his entire life in a small town in Minnesota and seldom travelled far from his home, Illustrator John Berkey has shown the world a unique vision of a future in time and space way beyond our wildest dreams. He is most well known as a science fiction artist, specifically for his paintings of huge graceful spaceships of multi-faceted shapes adorned with many intricate details, soaring through outer space. [...] With his ability to see things from a different perspective, John's illustrations depicted the full spectrum of life–past, present, and future. This quiet, contemplative genius will not soon be forgotten.
G/O Media may get a commission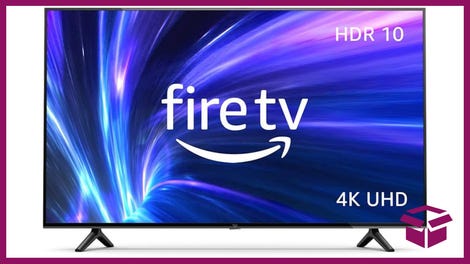 42% Off
Amazon Fire TV 50" 4K Smart TV
This collection focuses mostly on his amazing aerospace paintings. A few of them will be auctioned on May 16 at Heritage Auctions.
Space Probe Uranus
Source: Heritage Auctions
---
Satellites U.S. (Hubble Satellite and Others, Popular Mechanics magazine story illustration)
Source: Heritage Auctions
---
Astronaut in Space, Art for Digital Equipment
Source: Heritage Auctions
---
Up in Space
Source: Heritage Auctions
---
To Fear the Light (paperback cover)
Source: Heritage Auctions
---
Taking Flight
Source: Heritage Auctions
---
Taxi Dancer (book cover)
Source: Heritage Auctions
---
Water Rockets (Popular Mechanics magazine story illustration)
Source: Heritage Auctions
---
Star Trek: The Motion Picture (promotional poster)
Source: Heritage Auctions
---
Control Tower (book cover)
Source: Heritage Auctions
---
Jet Ships (Popular Mechanics magazine story illustration)
Source: Heritage Auctions
---
Star 4 Science Fiction (paperback cover)
Source: Heritage Auctions
---
When Worlds Collide/The War of the Worlds (promotional poster)
Source: Heritage Auctions
---
Star Wars (20th Century Records, 1977, soundtrack poster)
Source: Heritage Auctions
---
Space Settlement (AMP Corporate commission)
Source: Heritage Auctions
---
Colonies in Space (book cover)
Source: Heritage Auctions
---
Viking Probe (Uranus)
Source: Heritage Auctions
---
Of Moon and Stars
Source: Heritage Auctions
---
Armed Fighters
Source: Heritage Auctions
---
Spaceships and Planets
Source: Heritage Auctions
---
Force of Life, Power of Death (Star Wars book cover)
Source: Heritage Auctions
---
One Giant Leap (Neil Armstrong and Buzz Aldrin on the moon)
Source: Nate D. Sanders
---
Space Shuttle Challenger (preliminary sketch)
Source: johnberkey.com
---
Stealth Bomber (preliminary sketch)
Source: johnberkey.com
---
Two Astronauts (preliminary sketch)
Source: johnberkey.com
---