As the script for the Star Trek sequel nears completion, the question becomes who will direct it. Disney's adaptation of its Magic Kingdom theme park attracts Jon Favreau and Ron Moore.

Star Trek 2:
The screenplay, written by the first movie team of Roberto Orci, Alex Kurtzmann, and Damon Lindelof, is reportedly nearing completion and will be finalized in late December. J.J. Abrams is still only attached as a producer, not director, although Paramount reportedly wants him back in both capacities. [The Hollywood Reporter]
Skyline:
Here's some ATM-centric viral marketing: [/Film]
The Magic Kingdom:
Disney is reportedly moving forward with a movie based on its entire flagship Orlando theme park. It's sort of like the Avengers to Pirates of the Caribbean's Iron Man...or something. Anyway, it's attracted a surprisingly strong creative pedigree, with a screenplay by Battlestar Galactica's Ron Moore and now Jon Favreau reportedly on board to direct. [Deadline]
G/O Media may get a commission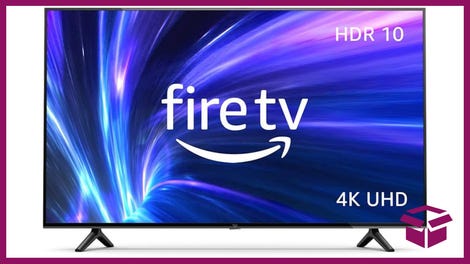 42% Off
Amazon Fire TV 50" 4K Smart TV
Merlin:
Working Title Films is reportedly working on a modern update of the Merlin character. Author/screenwriter Jay Basu is reportedly working on the script. [Hollywood Reporter]
The Voyage of the Dawn Treader:
Here's a few more Narnia photos to get you ready: [IGN]

Fringe:
A couple sweet photos of Peter and Olivia/Fauxlivia enjoying breakfast in bed: [EW]

The Walking Dead:
One more sneak peek for the next episode: [Llegaron para quedarse]
Chuck:
Here's a sneak peek at Summer Glau's upcoming guest appearance: [SpoilerTV]
And one more promo for that episode, "Chuck vs. the Fear of Death": [SpoilerTV]
And here are some relatively nondescript set photos: [#DevonNewberry]

No Ordinary Family:
Jason Wiles, best known from Third Watch, will reportedly guest star in episode twelve as Jim's free-spirited brother Mike. While Jim loves his brother, Stephanie is concerned he has a hidden agenda to exploit Jim's new abilities. [Fancast]
Supernatural:
A couple promos for the eighth episode, "All Dogs Go To Heaven": [SpoilerTV]
A description is out for episode ten, "Caged Heat":
MEG'S BACK! - Meg (guest star Rachel Miner) kidnaps Sam (Jared Padalecki) and Dean (Jensen Ackles) and tries to force them to tell her where Crowley (guest star Mark A. Sheppard) is hiding. Sam makes her a deal – they will help her find Crowley if she promises to torture him for information about how to get Sam's soul back. Castiel (Misha Collins) joins the fight but finds it difficult to work with Meg.
[KSiteTV]
Batman - The Brave and the Bold:
Here are a couple of clips each, plus some pics, for the next two episodes:
"Cry Freedom Fighters!" When an alien race tries to invade Earth, Batman, Plastic Man and the Freedom Fighters (led by THE Uncle Sam) race to their planet to stop them.

"The Knights of Tomorrow!" A glimpse into the future reveals Dick Grayson has assumed the Batman mantle after the Caped Crusader retired and fathered a son, Damian, with Catwoman. Despite his parents wishes, Damian does not want to follow their legacy, but when Joker returns, he may have no choice!
Star Wars - The Clone Wars:
Here's another clip from tomorrow night's episode, featuring Cad Bane versus Obi-Wan and Quinlan Vos:

Weeklies Season 3_Hunt_Ziro_H264
And here's the theatrical trailer for the episode that introduces Darth Maul's brother, Savage Oppress:

Misfits:
Here's a sneak peek and four promos for episode 2 of the British superhero dramedy's second season: [SpoilerTV]
Click to view

Click to view

Click to view

Click to view

Click to view

And here's some photos from the same episode: [SpoilerTV]

Falling Skies:
The show will not be showing the actual alien invasion, at least not for a long time - producer Mark Verheiden explicitly rules out Lost-style flashbacks. He also says the aliens will remain pretty much unknowable beings with whom it's impossible to negotiate, mysterious forces that only want to get rid of humans. There's more info at the link, including how the prequel comic series fits in with the TV show. [Comics Alliance]
Some new photos have been released for TNT's upcoming alien invasion drama: [Multiple Verses]

V:
A bunch of new set photos are out: [The V-Files]

Smallville:
Here are some images from the upcoming episode "Patriot", which airs next Friday: [KSiteTV]

Sanctuary:
A bunch of new images for episode 6, "Animus": [SpoilerTV]

The Cape:
Episode six will reportedly be called "Cape's Day Off." [SpoilerTV]
Additional reporting by Katharine Trendacosta and Charlie Jane Anders.