This summer, you can spend every free moment reading an amazing book — that's how many incredible tales are coming in the next few months. So get ready to escape into other worlds, other timelines, and mysterious cities where magic is as ordinary as a hairpin.
May
Seanan McGuire, Sparrow Hill Road (DAW)
Bestselling author McGuire tackles the "hitchhiking ghost girl" myth, and turns it into a fascinating story told from the perspective of the ghost. When a man runs over a hitchhiking girl in the 1950s, trying to sacrifice her in a deal with the devil, he creates the legend of the ghostly hitchhiker. Only she's real, and she's spent 50 years trying to figure out how to get out from under the evil devil worshipper's thumb.
Hannu Rajaniemi, The Causal Angel (Tor)
G/O Media may get a commission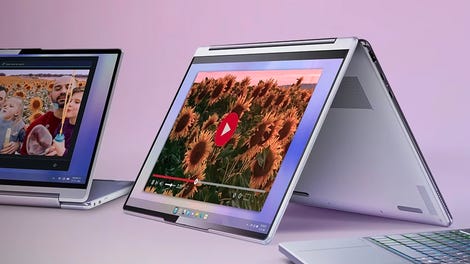 up to 70% off
Lenovo Spring Clearance
The last in the mind-bending, posthumanity epic that began with The Quantum Thief, The Causal Angel promises to wrap up the story of Jean de Flambeur, the rogue whose identity transcends bodies, physical space, and even time itself.
Mary Rickert, The Memory Garden (Sourcebooks)
World Fantasy Award winning short story author Rickert has just published her first novel, and we're looking forward to it. From the jacket copy:
Sixteen-year-old Bay Singer doesn't believe the rumors that her eccentric mother, Nan, is a witch. It's just the gossip of their small town, Bay thinks, until two eccentric friends from Nan's past unexpectedly appear one afternoon. The curious reunion summons haunting memories: of an oath the three women took years ago, when they were girls themselves, and the devastating secret they promised to protect. What they unearth has already claimed one life, leaving Bay wondering who the real witches are, and who is truly wicked.
Jeff VanderMeer, Authority (Farrar Straus Giroux)
In the follow-up to his haunting, weird science novel Annihilation, VanderMeer takes us inside the creepy, quasi-government bureaucracy known as the Authority. It's the group that sends people into Area X, which we explored through the eyes of an increasingly baffled (and insane) biologist in the last novel. Prepare for office job madness, combined with environmental science fiction the likes of which you've never known.
Jo Walton, My Real Children (Tor)
Walton won the Nebula and Hugo for her last novel, Among Others. Now she's back with another emotionally intense tale which combines her greatest talents: subtle, smart alternate histories and powerful character studies. It's the tale of Patricia, a woman whose life diverges into two timelines (neither of which are exactly our own) after she makes a momentous decision after college. Now she's an old woman who is slowly losing her memory in an assisted living facility, trying to piece together what happened in her two lives — and why they have come together again.
Jim Butcher, Skin Game (Roc)
It's the latest Dresden Files novel. Harry has to team up with his enemy Nicodemus Archleone to break into Hades and steal the Holy Grail. What could go wrong?
Jonathan Strahan, Reach for Infinity (Solaris)

The latest in the "Infinities" series of short story collections edited by taste-maker Jonathan Strahan, this book includes new stories you won't want to miss by Karen Lord, Alasdair Reynolds, Pat Cadigan, Ken MacLeod, Kathleen Ann Goonan, Peter Watts, and more!
June
James SA Corey, Cibola Burn (Orbit)
In the latest Expanse series novel, a newly-discovered alien technology allows humanity to colonize far beyond the solar system. But in their rush to take over worlds once ruled by a long-dead galactic civilization, independent groups of colonists make themselves vulnerable to powerful factions on corporate-funded colony ships. James Holden has been sent to make peace on these distant worlds, and finds himself in a lot deeper than he expected.
James Morrow, The Madonna and the Starship (Tachyon)
In this satirical novel set in the 1950s, a group of skeptical alien crustaceans invade NBC studios, threatening to vaporize millions of "irrational" fans of a religious TV show. It's up to the Bill Nye-esque science TV personality "Uncle Wonder" to write a script that's so rationally absurd that the aliens will be deterred in their deadly mission.
Greg Van Eekhout, California Bones (Tor)
We loved Van Eekhout's last adult novel, Norse Code, and we're ready for more of his swashbuckling, clever fantasy in California Bones. In an alternate Southern California ruled by magic, a gang of thieving misfits (with superpowers, of course) are about to go on their last, big job — for a crime boss in politically corrupt Los Angeles. It's a fun supernatural caper setup, and with Van Eekhout behind the wheel this is sure to be a great ride.
M.R. Carey, The Girl With All The Gifts (Orbit)
M.R. Carey — whom fans might know better as Mike Carey, author of the Felix Castor novels, writes a bloody brilliant story of a group of very special children being educated in a bunker. You don't realize at first quite how special these children are, and what's happened to the world outside the bunker — but those are just two of the astonishing reveals in this endlessly absorbing novel.
Lauren Owen, The Quick (Random House)
In the late nineteenth century, Charlotte ventures from the countryside into London, seeking her missing brother. He's a young poet who disappeared abruptly after being welcomed into high society. Charlotte quickly discovers her brother's new friends were actually connected with a secret supernatural society, whose members control both the political fate of England and the magical underbelly of its biggest city. This novel is already earning a lot of praise in early reviews for its literary treatment of traditional gothic fantasy themes.
Emmi Itäranta, Memory of Water (HarperVoyager)
In a post-global warming world, Noria grows up in a northern European region controlled by China. She's training to become a tea master, a member of an elite group that knows where to find water in this drought-stricken future. But when her father dies, she finds herself in trouble with the local military — and has to decide whether to strike out on her own.
A.M. Dellamonica, Child of a Hidden Sea (Tor)
Suddenly transported from the streets of San Francisco, a woman finds herself in Stormwrack, an ocean world of islands whose cultures and languages she's never encountered before. Now she has to navigate the complicated politics of Stormwrack, while figuring out whether she'll ever return home again.
July
Joe Abercrombie, Half a King (Del Rey)
Hard fantasy author Abercrombie is back with a novel that critics are calling one of his best. Here's what the book jacket tells us:
Born a weakling in the eyes of his father, Yarvi is alone in a world where a strong arm and a cold heart rule. He cannot grip a shield or swing an axe, so he must sharpen his mind to a deadly edge. Gathering a strange fellowship of the outcast and the lost, he finds they can do more to help him become the man he needs to be than any court of nobles could.
Tobias Buckell, Hurricane Fever (Tor)
Caribbean intelligence operative Roo is back in this intense sequel to global warming thriller Arctic Rising. In a world where the northern ice cap has melted, nations and companies struggle to control the valuable Arctic Seas. Once again, our cunning heroes are dealing with global conspiracy — and a mysterious weapon that makes squabbles over international shipping lanes look like child's play.
Charles Stross, The Rhesus Chart (Little Brown)
In this latest entry in the Laundry Files series, Bob Howard is a new hire at England's supernatural threat management agency. Unfortunately, it seems that a local merchant bank has been infested by vampires — and it all stems from an eldrich financial conspiracy.
Paul Park, All Those Vanished Engines (Tor)
This novel, which began as a multi-media art project, is a set of three interconnected alternate history stories, centered on key events in the Civil War, World War II, and a future where humans are grappling aliens from history. Laced with personal details from Park's own family background, this promises to be a mind-bending exploration of an America that never existed.
Erika Johansen, Queen of the Tearling (Harper)
This much-anticipated novel is already being made into a movie starring Emma Watson. A nineteen-year-old, bookish princess returns from exile to claim her kingdom, and must grapple with the terrors of blood magic from the neighboring Red Queen — while also dealing with her own insecurities and her frivolous mother's legacy. An epic fantasy of the highest order, this book is packed with incredible battles and a little romance too.
August
Graham Joyce, The Ghost in the Electric Blue Suit (Doubleday)
During the hottest summer on record, in the 1970s, a college student goes to work at a resort in an English seaside town where his father disappeared fifteen years before. As David finds himself drawn into an intense love triangle, he begins to notice weird things, like the mysterious figure of a man and a little boy walking on the beach. Oh, and there's a also a plague of ladybugs. Joyce is one of our favorite fantasy writers working today, and this book veers in and out of the supernatural to tell a story about how our personal histories can be the most terrifying form of magic.
Gemma Files, We Will All Go Down Together (ChiZine)
A tale of gothic horror and evil witch bloodlines set in Toronto, this dark fantasy will take you from the wilds of the Ontario suburbs to a massive exorcism in downtown Toronto. How can you resist its lure?
John Scalzi, Lock In (Tor)
In this near-future pandemic novel, bestselling author Scalzi tells the story of what happens when a meningitis-like disease leaves 1 percent of the U.S. population "locked in" — completely paralyzed, but still conscious and aware. New technologies allow these locked-in people to communicate via virtual worlds, and sometimes even by jumping into the brains of able-bodied people. What could go wrong? A lot, especially when the locked in start using other people's bodies to commit crimes.
Peter Watts, Echopraxia (Tor)

Return to the blissful mindfuckery of Watts' novel Blindsight, where intelligence exists without consciousness and vampires are a scientific phenomenon. A century from now, humans are splintering into subspecies and evangelical Christians are doing weird science by speaking in tongues. An old-fashioned field biologist finds himself on a freaky mission to the center of the solar system, trapped there by crazy monks on a quest to meet the "Angel of Asteroids." What is even happening? Answering that question is the joy of reading a Watts novel. If you like your science fiction nihilistic and hard, this book is going to be a great way for you to while away last days of summer.