Meet Microsoft's Surface Laptop, a portable computer made for basically everyone and meant to take on high-design competitors like the Apple MacBook. The new Surface Laptop is lightweight, ships with the newly announced Windows 10 S (but can be upgraded to Windows 10 Pro), and includes many familiar details featured on other Microsoft hardware products.

The device is positioned comfortably between the Surface Pro ($900), with its hybrid laptop-tablet design, and the premium Surface Book ($1,500). Additionally, the Surface Laptop can perform many—but not all—of the same operations as the Surface Studio ($3,000) including being able to connect to the Surface Pen and Surface Dial accessories.
It's still unclear if the Surface Laptop is a device you need to run out and buy right now, since we haven't had a chance to check it out, but on paper it looks great. The device sports a 13.5-inch, 2256 x 1504 resolution display at the same 3:2 aspect ratio as the Surface Book. The display is also multitouch, so you can use your fingers to swipe or tap the screen, and it includes a fixed (read: non-detachable) keyboard, fitted with the same alcantara fabric used on the Surface Pro 4 keyboard that gives it a softer, premium feel.
The guts of the laptop are also powerful but not excessive. It includes a seventh-generation i5 or i7 Intel Kaby Lake processor, up to 1 TB of solid state storage, 14.5 hours of battery life, USB 3.0 port, mini DisplayPort, and Surface power connector similar to other hardware that's already been released by the company.
G/O Media may get a commission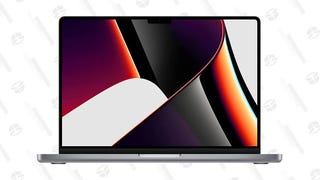 Save $300
2021 14" 1TB MacBook Pro
Microsoft's decision not to use a USB-C connector is a little surprising, especially because most of the newest laptops and smartphones have already embraced the universal connector. This point might not matter today, but it will soon be outdated.
The Surface Laptop also weighs only 2.76 pounds, about the same as the Samsung Chromebook Plus (2.38 pounds), and is roughly the same thickness (1.47 cm) as the Samsung Chromebook Pro (1.4 cm) as well. As far as the width and height goes, it's comparable to most other premium Chromebooks or ultrabooks.
This is essentially the Microsoft Surface device people have wanted for years. It's not a stupid hybrid, doesn't have a kickstand, doesn't cost a fortune, and isn't the size of my desk. It's the first really mainstream device from the Surface product line, and it's easy to imagine people buying this, because everyone needs a laptop.
The real kicker is that the Surface Laptop manages to undercut many existing Windows 10 laptops that cost about $1,000. The hardware looks fantastic, the guts are solid, and it's pretty portable. Plus, the device has a touchscreen! Assuming it performs as well as we're hoping it does, this laptop could very well give the MacBook ($1,300 and up) a run for its money.
The Surface Laptop will be sold at a starting price of $999 for the i5 version with 4GB of RAM and 128GB of storage. Of course, if you start adding RAM and an i7 processor, the price shoots up very fast. Pre-orders start today and begin shipping June 15.