The World War Z sequel loses its director. Zack Snyder teases the mythology of Batman v Superman's villain. Supergirl could actually cross over with The Flash and Arrow. Plus, new TV spots for Deadpool and Legends of Tomorrow, plus images from the return of The X-Files. Spoilers now!
Deadly Mississippi Tornado Kills More Than 2 Dozen | Extreme Earth
Batman v Superman
Zack Snyder teases the presence of Doomsday in the film:
Well, you have Doomsday, right? He doesn't just crawl out of the ground. He has his own mythology, right? So that has to be explored…
---
World War Z 2
Bad news for the sequel to Brad Pitt's zombie movie: Director Juan Antonio Bayona has left the film. [Coming Soon]
G/O Media may get a commission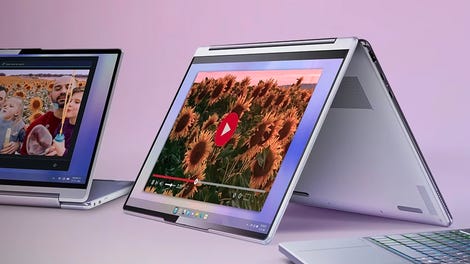 up to 70% off
Lenovo Spring Clearance
---
Captain America: Civil War
Joe Russo flatly denies that General Thaddeus "Thunderbolt" Ross will become the Red Hulk in the film, as he does in the comics:
There's always a chance at Marvel that you can see anything. But there, uh, let's say—there is no Red Hulk in 'Civil War.'
[CBR]
---
Robin Hood: Origins
Jamie Foxx has been cast as the film's take on Little John. According to Deadline, Foxx's Little John will be "a battle hardened but war weary veteran of The Crusades who starts out distrustful of Robin Hood (they fought on opposite sides), and then warms to the young hero."
---
Black Widow
Following Civil War and Infinity War (and presumably future Marvel movies with the word "War" in their title), the Brothers Russo say they'd love to direct a solo movie for Black Widow:

Hell, yeah! We love that character. We find that the character is one of the richest, if not the richest, character in the Marvel Universe. A very, very complex character, [who] is haunted by demons. Her understanding of the world is fascinating, and I think there's a lot that can be done with that character.
[CBR]
---
Deadpool
Here's a couple of new promos for the film.
---
Agent Carter
Michele Fazekas teases that Agent Carter will set up the concept of the Darkforce, a mysterious negative energy from the Marvel comics that will play a prominent role in the upcoming Doctor Strange film:
Basically, Isodyne is a company that we invented based in part on real life companies like Radiodyne or General Atomic or the beginnings of the Jet Propulsion Lab—all of which were in L.A. in the '40s, and were developing the space program and were developing nukes.

That's what Isodyne is, and what you'll learn is they were involved in the nuclear testing out in the desert when they were testing the, at the time they were calling it the atom bomb—and one of these tests didn't go as expected. You'll learn more about that in Season two, but they stumble upon what people in the Marvel Universe will know as Darkforce, but because they've never seen it before they just name it Zero Matter. That's our tie-in to the 'Doctor Strange' universe, and also to 'S.H.I.E.L.D.' because you've seen it in 'S.H.I.E.L.D.' as well.
She also teases Jarvis' arc over the second season:
Jarvis has a nice arc over the course of the season. He really got a taste for adventure with Peggy in the first season, so, when she comes back into his life, he's so happy because he's so bored with being Howard Stark's butler and setting up Howard's Beverly Hills estate. He's begging her, "Please let me come out and help you."
[CBR]
---
Supergirl
CBS president Glenn Geller hints that a crossover with the CW shows (Arrow, The Flash, Legends of Tomorrow) is on the cards, contrary to statements from the previous CBS president, Nina Tassler:
I have to be really careful what I say here. Watch and wait and see what happens.
---
The Flash
Aaron Douglas has been cast as The Turtle, a DC comics character who went up against the classic Jay Garrick and Barry Allen versions of The Flash. In the comics, The Turtle's power was to drain speed from people around him, but in the show, he will apparently have the power to slow time, counteracting Barry's super-speed. [Entertainment Weekly]
---
The 100
Here's a synopsis for the third season's second episode, "Wanheda, Part Two":
Bellamy (Bob Morley) and Kane (Henry Ian Cusick) risk life and limb to rescue Clarke (Eliza Taylor). In an attempt to avoid worrying about her daughter, Abby (Paige Turco) focuses on whether to open Mount Weather as a medical facility. Meanwhile, Murphy (Richard Harmon) plots to betray his former Chancellor (Isaiah Washington).
---
The Originals
And here's a synopsis for "A Ghost Along the Mississippi":
A SHOWDOWN WITH THE STRIX — In the aftermath of a horrific plan that left Cami (Leah Pipes) dead, Klaus (Joseph Morgan) declares war on Aurora (guest star Rebecca Breeds) and Tristan (guest star Oliver Auckland). Elsewhere, Vincent (Yusuf Gatewood), who has resumed his role as Regent to the New Orleans witches, is forced to use his magic against his will, while Hayley (Phoebe Tonkin) and Jackson (guest star Nathan Parsons) find themselves pawns in Tristan's twisted game. Finally, after learning that Tristan is in possession of a powerful weapon that could take their family down once and for all, Klaus, Elijah (Daniel Gillies) and Freya (Riley Voekel) enact a risky plan that leads to a tense showdown with The Strix.
---
Penny Dreadful
The show has been confirmed to return on May 1st, in a new teaser for the show's third season.
---
Legends of Tomorrow

Reacquaint yourself with Captain Cold and Heatwave in two new promos.
---
Arrow

Here's some new pictures from the show's midseason return, "Blood Debts", featuring a look at the show's take on Anarky. More at the link. [Spoiler TV]
---
The X-Files
Finally, here's some pictures from "My Struggle"—more at the link. [Buddy TV]
---
Additional reporting by Gordon Jackson and Charlie Jane Anders. Image: Agent Carter.