Television's serving up hot zombie nightmares for Halloween. The Walking Dead debuts, but so does British reality TV/zombie epic Dead Set. Watch a clip of Felicia Day as a werewolf-hunter in Red. Plus sex robots, and Glee's Rocky Horror episode!
Today:
There's a new Scooby Doo - Mystery Inc. at 7 PM on the Cartoon Network ("When The Cicada Calls"), followed by a new Johnny Test at 7:30 PM ("Johnny Test's Day Off").
And then there's an exciting new Chuck on NBC at 8 PM, in which it looks like Chuck will be reunited at last with his mom (Linda Hamilton). Also, Jeffster are in charge of Halloween decorations at the Buy-More. Be very afraid! That's "Chuck Vs. The Aisle of Terror." Here are a couple of sneak peeks:

There's also no new House on Fox, due to baseball.
At 8 PM, there's Adventure Time on Cartoon Network ("Loyalty to the King"), followed by a new Regular Show at 8:15 ("The Unicorns Have Got to Go"), and a new Mad at 8:30 PM.

Can you handle the truth? The Event will test that readiness, at 9 PM on NBC.
President Martinez (Blair Underwood) and the Director of National Intelligence, Blake Sterling (Zeljko Ivanek), fulfill their agreement with Thomas (Clifton Collins, Jr.), but after their plan goes awry, they suspect that there is a possible mole in their midst. Elsewhere, Sean Walker (Jason Ritter) digs for answers at Leila's home, where he encounters Madeline (guest star Paula Malcomson), a mysterious conspiracy theorist. Meanwhile, Simon's (Ian Anthony Dale) past is illuminated, and his allegiances are tested.
And at 11:59 PM, IFC has the first episode of Dead Set, the absolutely incredible British series in which contestants on the Big Brother reality TV show realize that the outside world has been overrun with zombies. It's possibly the most bizarre, inventive zombie premise ever, and it's airing every night on IFC this week. You can't afford to miss this show.
G/O Media may get a commission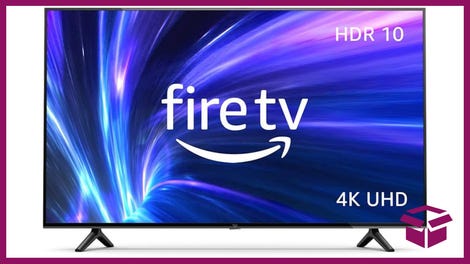 42% Off
Amazon Fire TV 50" 4K Smart TV
Movies:
Syfy is once again showing horror movies all day, including the Saw movies and the Satan's Baby movies. Cloverfield is on FX at 4 PM. And The Craft is on Oxygen at 5 PM and 11 PM. The Thing is on Cinemax at 5:10 PM. TMNT, featuring the voice of Sarah Michelle Gellar, is on ABC Family at 7 PM. Also, the original Halloween is on AMC at 7 PM and 11:15 PM. And The She Creature, in which a woman's prehistoric past is revealed via hypnosis, is on AMC at 3:15 AM.
Tuesday:
And now a few words about Tower Prep, showing at 8 PM on the Cartoon Network. This show, which people have been describing as "The Prisoner at a boarding school," is much, much better than it has any right to be — perhaps because of the involvement of Batman: The Animated Series creator Paul Dini. The first episode, which aired last week, was pretty much the perfect blend of young-adult-novel intrigue and dystopian paranoia. This isn't just your average oppressive boarding school, it's surrounded by an impenetrable wall and grounds that are patrolled by deadly cyborgs, and the stars look so unfamiliar that the teens may not even be on Earth any more. (Note that Suki, the Japanese girl, also didn't recognize the stars.) In a fall season that's seen lots and lots of disappointments, Tower Prep is the real thing, and it's not just a teenage guilty pleasure. Check it out!

Or you could watch No Ordinary Family, on ABC at 8 PM, with "No Ordinary Quake."

But there's more! Also at 8 PM, Glee is doing its long-awaited Rocky Horror episode, and I believe half the songs are online already — but fans are still rapt with antici... pation. Watch a slightly crappy camcorder vid of "Touch Me":

Or you could be a crazy rebel and skip all three of those things, choosing instead to watch Weird Freaky & True: Alien Offspring on Animal Planet at 8 PM.
Then there's a new Stargate Universe on Syfy at 9 PM, "Cloverdale," which will delve a bit more into the past of Lt. Scott:

After that, a new Caprica on Syfy at 10 PM, "False Labor." If the sight of a Cylon gunning down lots of mobsters with a machine gun in each hand doesn't get you at least a little bit excited, I despair for you.

Also at 10 PM, Spike has another episode of 1000 Ways to Die.
And at 10:30 PM, Animal Planet has an episode of Freak Encounters focusing on a werewolf.
At 11:59 PM, it's time for the second installment of Dead Set on IFC, with more zombie-reality show carnage. Riq hides from zombies in a petrol station, while Patrick and Pippa are stuck in the Green Room with no means of communication.
Movies:
Today's Syfy horror movies include the Sometimes They Come Back series, the Stephen King Tommyknockers series and the Boogeyman series. The Gate is on IFC at 9 AM. Also, Bats, in which flesh-eating bats start devouring a small town's people, is on FX at 9 AM. And speaking of echolocation, Daredevil is on FX at 11 AM. Also, Dracula 2000 is on AMC at 10:30 AM. Superman is on Encore at 12:50 PM. Also, Halloween II and III are on FX at 5 PM and 7 PM respectively, while Halloween 4: The Return of Michael Myers is on AMC at 9:15 PM.
The Happening is on FX at 7 PM, and this may actually be the basic cable premiere of this baffling M. Night Shyamalan film. Relive the WTFery all over again. The Happening appears on FX a few more times during the week, so no worries about missing it. Practical Magic is also on ABC Family at 7:30 PM. Also, Maximum Overdrive is on IFC at 11:30 PM.
Wednesday:
There's another new Undercovers on NBC at 8 PM, "Xerces."
Also at 8 PM, there's a new MythBusters: Buster's Cut on Discovery, followed by a new MythBusters at 9 PM. In "Table Cloth Chaos," the team tries to figure out if a motorcycle could really pull a tablecloth out from under a dinner setting.

There's also a new Avengers: Earth's Mightiest Heroes at 8:30 PM on Disney XD, "Some Assembly Required."
At 10 PM, there's a new episode of Sci-Fi Science: Physics Of The Impossible on the Science channel, focusing on the possibility of an A.I. uprising.
And at 10:30 PM there's a new episode of Comedy Central's Ugly Americans, "Hell for the Holidays."
And then at 11:59, it's time for day three of Dead Set, in which a policeman nearly shoots Marky, thinking he's been bitten by a zombie. And Riq realizes the Big Brother house is still broadcasting.
Movies:
Aliens is on AMC at 8 AM. And Children of Men is on USA at 11 AM. Tremors is on AMC at 3 PM. Gremlins is on CMT at 3 PM and 7 PM. The conceptually brilliant but underwhelming Meet Dave is on Cinemax at 5:30 PM. Tim Burton's Corpse Bride is on ABC Family at 6 PM. And Halloween 5: The Revenge of Michael Myers is on AMC at 7 PM. And The Haunted Mansion is on ABC Family at 8 PM. The Messengers is on Lifetime at 8 PM and 11 PM. House on Haunted Hill is on AMC at 9:15 PM. Surrogates is on Starz at 11 PM. And finally, Alien Sex Files 3: She Alien is on Cinemax at 11:30 PM, and it sounds like it's actually a softcore porn spoof of Species. Could it be?
Thursday:
There's a new episode of our favorite guilty pleasure, The Vampire Diaries, on The CW at 8 PM. And once again, the town of Mystic Falls is having yet another fancy party to celebrate its heritage. This is seriously all they ever do in Mystic Falls — it's one historical party after another. This time, it's a masked ball, allowing for even more doppelgangery intrigue than usual.

Also at 8 PM, there's also a new The Big Bang Theory on CBS.
And at 9 PM, Nikita is still trying to take down Division, on The CW.
At 11:59 PM, it's time for day four of Dead Set, in which Riq tries to get back to the Big Brother house, and Patrick comes up with a risky plan to escape from the zombies keeping them under siege.
Movies:
It's not a toomah! Arnie battles the unborn antichrist in End of Days on AMC at 8:30 AM. Igor is on TMC at 2:10 PM. The Omen is on FX at 2:30 PM. Scooby-Doo! Abracadabra-Doo is on Cartoon Network at 4:30 PM, followed by Scooby-Doo! Curse of the Lake Monster at 7 PM. The original Clash of the Titans is on BBC America twice, at 8 PM and 10:30 PM. Alien Sex Files III: Alien Babes is on Cinemax at 11:20 PM.
Friday:
I believe that Batman: The Brave and the Bold is now showing episodes that haven't aired elsewhere already, at 7:00 pm on the Cartoon Network. And this time around, the long-retired Batwoman switches bodies with Batman so she can get revenge on the Riddler. Yes, they're already doing their "Turnabout Intruder" episode.
That's followed by a new Ben 10: Ultimate Alien at 7:30 PM, "Where the Magic Happens."
Then there's a new Smallville, on The CW at 8 PM, "Harvest." It looks like they're doing their small-town human-sacrifice cult episode, which is always good for a hoot. Or something.

There's also a new Medium on CBS at 8 PM. ("Where Were You When...?")
At 8 PM, we get another outing of Genndy Tartakovsky's Sym-Bionic Titan on the Cartoon Network ("Showdown at Sherman High"), followed by a new Generator Rex at 8:30 PM ("The Swarm"). But for some reason, there's no new Star Wars: The Clone Wars.
At 9 PM, there's a new Supernatural on The CW, "You Can't Handle The Truth." Someone has unleashed the powers of the Goddess of Truth, and Dean is going to use them to get Sam to tell him what the blazes is going on around here.

At 10 PM, there's a new Sanctuary on Syfy, "Bank Job." And here's a sneak peek:

Also at 10 PM, there's Dean Of Invention on Planet Green, "Wired Brain":
Scientists are working to project human consciousness into the infinite virtual realm of the Internet. Can we give speech back to people rendered mute by illness or trauma? Will it be possible to link our minds directly to vehicles from cars to fighter jets or restore bodily freedom to those who are shackled inside paralyzed bodies? Someday, will we be able to send data from computers back into the brain, giving people a wealth of abilities still unfathomable to humans? In this episode, Dean of Invention explores brain-computer interface (BCI), whereby the intentions and desires of the human mind can be read-and translated into action. BCI has the potential to unlock vast new potential powers for humankind.
At one minute to midnight, there's the final episode of Dead Set on IFC. Who's going to be the winner of this season of Big Brother? And who's going to wind up a ravenous zombie? It's all come down to this.
Movies:
Today's Syfy horror movies include The Cursed and Silent Hill. The Devil Commands, starring Boris Karloff, is on TCM at 5:15 AM. The Ape, possibly the best movie in which a doctor disguises himself as an ape to steal people's spinal fluid, is on TCM at 9:15 AM. And The Corpse Vanishes is on TCM at noon. Lynch, "an intimate portrait of filmmaker David Lynch," is on the Sundance Channel at 2 PM.
Halloween 6 is on FX at 3 PM, followed by Halloween Resurrection at 6 PM and Halloween H2O: 20 Years Later at 8 PM. I Walked With a Zombie is on TCM at 3:45 PM. The Boy Who Cried Werewolf is on Nickelodeon at 5 PM.
Also at 5 PM, TCM has Curse of the Demon, followed at 7 by another run of Hammer Films classics: The Curse of Frankenstein at 7, The Revenge of Frankenstein at 8:30 and then Frankenstein Created Woman at 10:15 PM. Predator is on AMC at 7 PM followed by Predator 2 at 9:30 PM. Remember when John Travolta was supernatural all the time? Relive those days with Phenomenon, on TBS at 11:06 PM. And at 3:45 AM Saturday, The Brain Eaters is on AMC.
Saturday:
There's really only one thing on television that anybody cares about today: Red: Werewolf Hunter! Felicia Day plays a werewolf hunter who faces a cruel dilemma in this skewed retelling of the Little Red Riding Hood story. Behold a sneak peek:

At 10 PM, National Geographic is having a special, The Truth Behind Zombies.
Movies:
Syfy's showing horror movies all day again, including Dog Soldiers and Underworld. Darkman II: The Return of Durant is on Cinemax at 12:10 PM. District 9 is on Starz at 3 PM and 9:45 PM. Also at 3 PM: The Hills Have Eyes on Spike. God is punishing us — how else do you explain Evan Almighty, showing on E! at 5 PM? Blade: Trinity is rocking your vampire world at 5:30 on Spike. The all-time classic Leprechaun: Back 2 tha Hood is on BET at 6 PM. The original Alien is on IFC at 7 PM. Hocus Pocus is on ABC Family at 7 PM and 9 PM.
Edward Scissorhands is on Hallmark at 7 PM and 9:30 PM. The surprisingly quite good remake of The Crazies is on Starz at 8 PM, and so is Flatliners on Lifetime and Portal on TMC. And prepare your Harry Belafonte sing-alongs: Beetlejuice is on the Cartoon Network at 9 PM! Evil Dead 2 is on AMC at 9:15 PM.
Sunday:
Starting at 7:30 PM, IFC is having a marathon of Dead Set, in case you missed the midnight airings earlier this week.
Also at 9 PM in most markets, your local PBS station is showing Steven Moffat and Mark Gatiss' Sherlock as part of the Masterpiece Theater Mystery series.
And then at 10 PM, there's the program you've all been waiting for: The Walking Dead, a 90-minute premiere on AMC. We already raved about the bloodthirsty, stirring first two episodes, following policeman Rick Grimes as he tries to make sense of a world overrun by undead monsters. But now you can see for yourself.

At 10 PM, Discovery Health has a special called Sex Robot:
Explore the secretive and little understood world of robot fetishists, as we follow three men who dream of sex, love and even marriage with a robot. Plus meet the inventors vying to bring them the world's first sex robot.
And here's a clip!

Sadly, there's no new Venture Bros. for some perverted reason.
Movies:
It's FX's turn to show scary movies all day, starting with Aliens Vs. Predator: Requiem at 8:30 and John Carpenter's Vampires at 11 AM. ABC Family is showing Willy Wonka, Teenage Mutant Ninja Turtles, The Little Vampire, The Haunted Mansion, The Mask, Practical Magic and Van Helsing, starting off at 7 AM. AMC is having a marathon of the Halloween movies, while Disney is marathoning the Halloweentown movies followed by the Twitches movies. A&E has Ghostbusters at noon. VH1 has The Lost Boys at 1:30 PM. TNT is showing a bunch of the Pierce Brosnan James Bond movies during the afternoon/evening, while TCM is showing haunted house movies. Cartoon Network is showing Scooby-Doo movies starting at 3 PM while Comedy Central has Shaun of the Dead at 3 PM. At 6 PM, AMC is showing From Dusk 'Til Dawn, followed by Dawn of the Dead. And G4 is showing the Back To The Future movies starting at 6:30 PM. Superhero Movie is on Comedy Central at 9 PM. And at midnight, G4 is showing The Toxic Avenger: Part II.