When the sixth season of The Walking Dead begins on October 11, it's starting off big. How big? Well, the premiere episode will include 654 zombies on-screen—the most ever used on the show—and that's just one of the upcoming surprises the hit show's cast and crew revealedtoday at Comic-Con.
The panel began with the cast and crew, including executive producer Scott Gimble, Gale Anne Hurd, Andrew Lincoln (Rick), Norman Reedus (Daryl), Lennie James (Morgan), Melissa McBride (Carol, who brought a plate of cookies!) and many others wearing t-shirts with the face of Walking Dead creator Robert Kirkman. He was supposed to be there, but got sick, so they paid tribute, setting the tone for the humorous Q&A to come.
Moderator Chris Hardwick, who also hosts The Talking Dead, launched right into things by asking about the coming season. Gimble said that while the new trailer certainly teased that this season would include a showdown between Rick and Morgan, "We sometimes play with the truth in trailers. Rick is faced with challenges to the way he does things and including his people in the way he does things."
There will be a lot of flashbacks in the first half of the season, and a lot of playing with time, but not as much as previous seasons. One of the midseason episodes will actually be told entirely in flashback! The Wolves, a major group of antagonists from the comic, will play a big role in the season, but "not in a way you'd expect," according to Gimble. A question was asked about Rick's beard and Gimble said that his beard has been, and will continue to be, a metric of Rick's character.
G/O Media may get a commission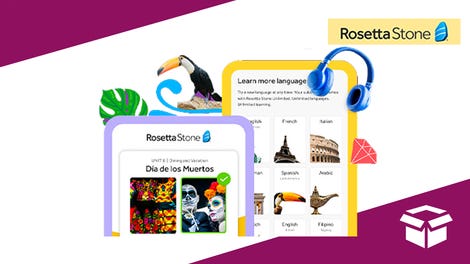 Extra 20% off
Rosetta Stone Lifetime Subscription - All Languages
Danai Gurira dove into the psyche of Michonne, who was struggling with how the character wanted to act and how she had to act. Picking up the sword at the end of the season was a protective force for the rest of the madness happening around her.
Steven Yeun said, "Glen is a better person than me" when asked why the character didn't kill Nicholas in the previous season. "He sees a version of himself," Yeun added. "It serves no function in that moment to kill him. He looked into his face and saw another iteration of himself and what he could have been. It was a chance at, hopefully, being redeemed. It was mostly Glenn trying to save himself."
As for Morgan, fans have been wondering about the character as he popped up in the final scene of several season five episodes, always traveling toward Rick and the group, but now that Morgan has found them (and now that Lennie James is full-time castmember). "What happened to Morgan? We may find out this season with Morgan has been doing," he said. "But one of the things he's been doing is looking for Rick." As for what'll happen between the two, "they have a particular kind of man love. Rick is the last person on the planet who knows Morgan and that's why he goes to find him."
Carl feels at home in Alexandria, said Chandler Riggs. "He sees their vulnerability, but people still need to know how to survive outside of the walls."
Sonequa Martin-Green hopes Sasha finds healing in season six. She was honored to portray PTSD for the people who have it. "I hope she finds a way to respond correctly to the deaths of her loved ones."
Having her cover blown was the biggest challenge Carol had in the last season, says Melissa McBride. As for Tyreese's death, "Yes, she misses him. Every death fuels the fire to fight harder and stay stronger. Everything is fueled by the loss of people. It's why she's doing what she's doing. She can't stand around and watch people die. She's ready to pay the price."
Michael Cudlitz said Abraham's biggest defining moment is yet to come., and the producers agreed. "He gets the best-written dialogue on the show," said producer Greg Nicataro.
Then the questions got hard-hitting, as someone asked Norman Reedus what his favorite emoji was. "The red balloon," he answered, adding "Are these my fucking questions right now? There's all these serious questions and then I get asked about emojis?" He then talked about Darryl's darkness, which is ready to come to the service at any time.
Other fun tidbits:
• Gimble said they tried to cast another person from The Wire this year, but it didn't work out. "We aren't through with that cast yet."
• Andrew Lincoln then revealed his mom believes Rick and Michonne should get together, a sentiment many in Hall H agreed with.
• There will be a zombie next season the crew has named the "Bernie Wrihtson" zombie, after the famed EC Comics horror artist.
Season 6 of The Walking Dead will debut with a 90-minute premiere on October 11 on AMC. Internationally, 125 different countries will get the show within 24 hours of that.