Last Night Never Happened: It's an app that deletes all of your drunken social network updates the morning after. We've all done some regrettable things while drunk, this app tries to erase them from our social network memory. Let's see what Kat would do with the app:
"Let me see...I cracked open that first bottle of wine at 8pm, so knowing the way I drink I was probably sozzled by 8.30. That means I need to delete my social updates from 8.30 last night to this morning."

That's the commentary which would run through my head if I used this "Last Night Never Happened" app, which deletes all activity you made on your Twitter and Facebook profiles, spanning back however many hours you select.
Smart! $2
---
Color: A new sort of social network/photo sharing app, Color shows pictures of the world around you and "friends" people by your phone's location. Color uses your phone's sensors (GPS, triangulation, accelerometer, even microphone, etc) to finds other Color users who you're in proximity to. Once found, the app will automatically add them to your "elastic network", which means you can see every picture they take from now on (whether you know them or not). It can be potentially amazing for concerts, events, and parties but is kind of confusing and awkward to use when you're just sitting at home.
---
G/O Media may get a commission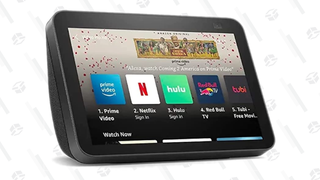 Everyday: You've seen the snazzy videos where people take a picture of themselves everyday for six years and then show off their hard work in a time lapse. My look at how much facial hair I've grown! Oh look at my new double chin! Those movies take a lot of time and effort. Everyday for iPhone does the same thing-take a picture of your face everyday-without any of the effort. Your pictures are saved, the app stich 'em into a video for you, it sends you push notifications. All you have to do is show your mug. $2
---
The Village Voice has just put out a clever iPhone app called Best Of. The app basically uses your location to help you find every place that was voted the "best of" something-be it restaurant or hot dog.

The great thing about the app is that it's "utilizing the picks from publications like Houston Press, LA Weekly, Village Voice, Miami New Times and scores of other city guides and magazines" instead of using some sort of voting system which could be quickly gamed by businesses.
Free.
---
Draft Kit 2011: Barrett, resident baseball fan, says:
Bloomberg's Draft Kit 2011: Front Office Baseball might be all the prep you need for your fantasy baseball draft. The best feature looks to be Yahoo!, CBS, and ESPN league integration, so that you can receive custom pre-rankings based on whatever draconian scoring system your commish imposes. You can also sort players based on your lineup's needs, and track draft results live to avoid the embarrassing moment when you pick a major sleeper-that your cousin nabbed two rounds ago.
$2.
---
Celeste: Jailbreak only. Davey says:
Celeste is a new jailbreak app that allows you to send and receive files using your iPhone, iPad or iPod Touch with any Bluetooth-transfer capable device. You can transfer songs, photos, videos, contacts, and more, with the feature pretty well-integrated into your iOS apps; you might even forget it wasn't there originally.
It's 10 bucks via the Modmyi repo in Cydia.
---