Landscape architects can be just as weird as building architects when it comes to their creations. Which is why these gardens are the living, growing embodiments of some pretty twisted imaginations.
Lowarth Helygen (The Lost Gardens of Heligan), near Mevagissey in Cornwall, UK, with two mud sculptures, a small "jungle", the last remaining pineapple pit in Europe and a series of lakes, created between 1777 and the early 20th century. Fell into disrepair after the First World War, and restored only in the 1990s.
The Mud Maid
G/O Media may get a commission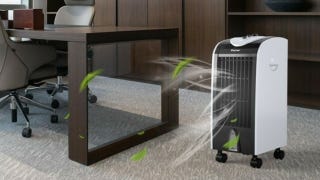 Save $10
Evaporative Portable Air Conditioner Cooler with Filter Knob
The Giant's Head of Heligan
(via Patche99z, Edwinb and The Lost Gardens of Heligan)
The Garden of Cosmic Speculation, by Charles Jencks and Maggie Keswick
(via Daniel Stucke, Paulus Maximus, Flexdream and uwwees)
House Patrocinio, by Rebelo De Andrade in Lisbon, Portugal with 4,500 plants from 25 different varieties
(via Domusweb)
Artigas Gardens (Jardins de Can Artigas) in La Pobla de Lillet, Catalonia, built between 1905 and 1906, designed by Antoni Gaudí.
(via Jordi Serra Carol, Pepe Manteca, Vistas desde mi objetivo, Jacqueline Poggi and Xavier de Jauréguiberry)
Zwerglgarten (Dwarf Garden) of the Mirabell Palace, Salzburg, Austria, with dozens of creepy dwarf statues. The palace and the garden were built by Prince Archbishop Wolf Dietrich in 1606.
Most of these statues were inspired by real dwarves who lived in the court, but there are some statues modeled after beloved foreigners and locals.
(via Heather Cowper, Curious Expeditions, ZeHawk and Allie_Caulfield)
A Plastic Bottle Vertical Garden by the Lar Doce Rar (means Home Sweet Home) project (Rosenbaum Design and Luciano Huck), Brazil
(via Rosenbaum)
A vertical garden by Patrick Blanc, Rue D'Alsace, Paris, France, 2008
(via Vertical Garden Patrick Blanc)
The Muttart Conservatory, a botanical garden in Edmonton, Canada with pyramids
(via WinterE229 1 – 2)
Gilroy Gardens, created by Axel Erlandson between 1925 and 1963, known as The Tree Circus. It wasn't a real financial success, and finally in 1963 he sold the whole property and it was renamed to The Lost World.
The forty surviving trees were almost bulldozed in 1977 but a man named Michael Bonfante relocated the trees and opened the new garden in 1985.
Now 25 of those trees are on display.
(via Donna S, Jay Peeples and Reiner Kraft)
A 14-story, ziggurat-like garden named Step Garden at ACROS Fukuoka, Fukuoka, Japan, by Emilio Ambasz & Associates, 1995
(via Kenta Mabuchi)
The Omega Garden Carousel
"Each carousel carries six, 8ft. long Omega Gardens, equalling as much as 1500 sq. ft. of greenhouse yet only using 150 sq. ft. of floor space, including access! This is a fully automated system. Each rotating garden is in turn rotated on the carousel down to the water/feeding tray at floor level, minimizing plumbing, while providing easy access. This unit can be operated in an insulated structure in any climate, with unprecedented efficiency." – stands in the video description.
(via Omega Garden)