The gadget: Wazabee 3DeeShell, a screen filter that turns your iPhone screen into a 3D photo viewer.
The price: $50

The price, again: $50 (seriously?)
The verdict: My eyes are now all screwed up. Seriously.
The Wazabee 3DeeShell is essentially an iPhone case built around one key feature: a 3D screen filter. Obviously it can't turn the OS into a 3D experience, but the Shell promises to offer glasses-less 3D in the form of stereoscopic images you can take on your iPhone (with the purchase of their $1 3DeeCamera software).
I don't know where to start with the shortcomings of this product. It's a train wreck of molded plastic, a product so horridly useless, even amongst novelty gadgets, that it should be banned from sale in the free market.
There's the issue of the design. Once you slide the 3D filter onto your screen, you can no longer navigate the iPhone. Therefore, while using their software (that's not free with my $50, otherwise completely useless purchase?) you need to continually move the filter up to hit a button, and then down again to see the results.
G/O Media may get a commission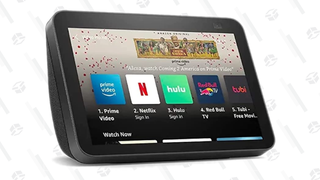 You can capture "3D" photos by taking two slightly different pictures of an object and combining them in that $1 software I mentioned above. I was unable to do so without crashing the program (though to be fair, this might be my firmware 3.0 getting in the way). However, I was able to 3D-ize an existing photo.
The result is not quite as good as any bad hologram I've ever seen, mostly creating the illusion that the photo was ever so slightly sunken in my display. It's a tad better than 2D in terms of depth, but the results are quite blurry, and the extent to which it fucks with your eyesight is not worth the 2 minutes of near-entertainment.
(In case you believe my 3D-izing skills to be lacking, I also tried out their free space shooter title. I don't know what to say about it other than the game's fun level is on par with creating Excel spread sheets and it in no way appears 3D.)
45 minutes after testing, I still can't focus properly with my left eye. I'm not sure what a few rusty nails go for these days, but it's gotta be less than 50 bones.
There's simply nothing worthwhile about the Wazabee 3DeeShell that can justify either its existence or its please-punch-me-in-the-face cutesy name. Given the laughable price and (temporary??) damage to my vision, I don't believe that I can recommend the purchase, nor can I recommend any programmer create content for the "platform" when its SDK hits later this month.
Also of note, in some unnecessarily cruel twist of fate, I can't get this shell off my phone. Thanks Wazabee. You guys are the best. [Wazabee]
At a later time, I was able to remove the shell from my phone


Following several years of therapy, the doctors believe I will see again


Product birthed by Satan himself