It's Oscar season, so brace yourself for more snubs when it comes to science fiction movies. Speculative fiction has a crummy track record when it comes to the Academy Awards, and even when an iconic scifi flick scores Oscar nods, it tends to be ignored in everything but the technical categories (see: E.T., Star Wars, Avatar). Many unfairly overlooked scifi Oscar nominees have been vindicated by history, but we nevertheless feel compelled to dredge these examples up.
(Note to disenchanted Moon fans: I stuck with films that were actually nominated. Obviously if I had my druthers, the 1997 Academy Awards would've been swept by Starship Troopers, with Casper Van Dien scoring Best Actor and – in an unprecedented move – Jake Busey and Neil Patrick Harris tying for the Best Supporting statuette.)
10 & 9.) Best Art Direction and Best Costume Design - 1982
What Won: Gandhi
What Should've Won: Blade Runner (Art) and Tron (Costume)
Gandhi's 1982 victory sweep left several important scifi films going home empty-handed. And while Gandhi wasn't a bad biopic, its near domination of the technical awards stole the spotlight from pioneering scifi flicks such as Blade Runner - whose set design set the template for cinematic dystopias to come - and Tron , whose now-hokey light-bright costumes framed how future audiences would perceive virtual reality worlds.
G/O Media may get a commission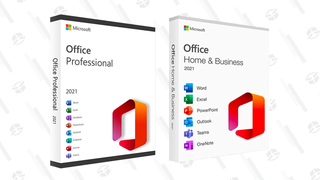 89% off
Microsoft Office Professional 2021 Lifetime License
8.) Best Original Screenplay – 1985
What Won: Witness
What Should've Won: Back To The Future or Brazil
Witness was a decent action flick about Amish folks versus an evil Danny Glover, but was it really more original than cinema's first Oedipal time-travel comedy or the insane celluloid love child of Terry Gilliam and a typewriter?
7.) Best Art Direction – 1986
What Won: A Room With A View
What Should've Won: Aliens
The Academy sure does love those darling 1900s period pieces. Too bad it couldn't give similar accolades to the blockbuster that catapulted Robert Heinlein's space marine aesthetic into popular culture. By the way, how many copies did Mass Effect 2 sell last week?
6.) Best Original Screenplay – 2006
What Won: Little Miss Sunshine
What Should've Won: Pan's Labyrinth
Little Miss Sunshine had its moments, but the script overall read like Wes Anderson Mad Libs. Steve Carrell played "Bill Murray as Sad Ol' Bastard" and Paul Dano played "Jason Schwartzman as Socially Imbecilic Teen." Heck, the only thing missing were The Kinks songs. On the other hand, Guillermo del Toro's haunting Franco-era fairy tale more or less created its own genre.
5.) Best Supporting Actor - 2000
Who Won: Benicio del Toro for Traffic
Who Should've Won: Willem Dafoe for Shadow of the Vampire
Del Toro delivered a strong performance in Steven Soderbergh's Traffic, but he was overshadowed by an equally talented ensemble cast. Conversely, Dafoe's portrayal of Max Schreck/Count Orlok made Shadow of the Vampire. He's menacing, occasionally hilarious, and totally unrecognizable under several pounds of prosthetic goop.
4.) Best Supporting Actress - 1973
Who Won: Tatum O'Neal for Paper Moon
Who Should've Won: Linda Blair for The Exorcist
A 10-year-old O'Neal charmed Academy voters with her portrayal of a preternaturally mature lil' grifter. Meanwhile, a preteen Blair presumably scared votes away with her MA-rated portrayal of a Satanic Garbage Pail Kid.
3.) Best Actor - 1998
Who Won: Roberto Benigni for Life Is Beautiful
Who Should've Won: Ian McKellen for Gods and Monsters
Why did Hollywood have such a jones for Roberto Benigini for like a year? In retrospect, it's like everyone in Tinseltown lost their minds over Benny Hill or something. Anyway, Benigini's flash-in-the-pan shenanigans yoinked a statuette away from Sir Ian, whose portrayal of gay Frankenstein auteur James Whale was far more deserving.
2.) Best Director - 1968
Who Won: Carol Reed for Oliver!
Who Should've Won: Stanley Kubrick for 2001: A Space Odyssey
In the mid-20th century, the Academy was notable for two things: A.) heaping Oscars on yalping, pastel musicals nobody watches anymore and B.) refusing to give Stanley Kubrick the time of day. These two proclivities converged in 1968, when Kubrick lost the Best Director Oscar to a herd of screaming orphans. The failure to honor 2001 is perhaps one of the Academy's greatest oversights, but there's one particular genre snub that I find totally unconscionable, if only for posterity's sake...
1.) Best Original Song - 1984
Who Won: Stevie Wonder for "I Just Called to Say I Love You" from The Woman in Red
Who Should've Won: Ray Parker Jr. for "Ghostbusters" from Ghostbusters
The former is one of Stevie Wonder's more middling songs. You can hear it during excruciatingly sincere karaoke performances. The latter is recorded music's greatest paean to paranormal investigation. And you always hear it during the good times.
This io9 flashback was originally published in February 2010.