We've seen a flood of Android phones so far in 2011. We got our first whiff of the coming deluge in January when we went to the Consumer Electronics Show and saw around a dozen really impressive models on the show floor, all with big displays, 4G radios, beefy processors and promises of epic battery life. Some had interesting add-ons, like big physical keyboards for thumb commandos, or the Motorola Atrix's whacky full-sized laptop dock.
Some of these Android handsets have since arrived, and there are plenty more to come.
This collection represents the best Android phones we've received to test here at Wired over the past few months. So, if you're in the market for an Android phone, start with this short list of our recommended picks.
Of course, there are older phones on the shelves that are still great options, like the Sony Ericsson Xperia X10, the HTC EVO 4G and the Samsung Epic 4G. But in these pages, you'll find the newest generation - the head of the class of 2011 so far, and a couple of standouts from the end of 2010.
G/O Media may get a commission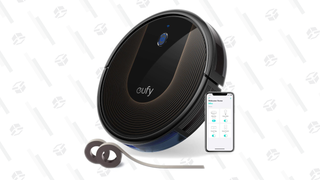 48% Off
Eufy BoostIQ RoboVac

Motorola Atrix
All the high-end phones coming out these days match up pretty closely on features. So how about something totally different - a phone that doubles as the guts for a full-sized laptop?
The Motorola Atrix is a 4G Android phone for AT&T that performs well enough on its own, but it's also available with one crazy-unique accessory: a laptop-shaped dock. There's no additional processing power in the laptop, but with the phone piggybacking on the laptop's rear hinge, your tiny device instantly gains a much more human-sized interface: a big keyboard and a big screen.
It turns out this is better in concept than in execution, and the dock is a bit too expensive for most, but we give Motorola points for going against the grain. -Michael Calore
Motorola Atrix, $200 with a 2-year AT&T contract, 4G HSPA+

HTC Thunderbolt
This big touchscreen Android phone was just released this week on Verizon's network. We got our first peek at CES in January.
At 4.3 inches, the Thunderbolt has a sizable display equal to that of Motorola's new Droid Bionic, last summer's EVO 4G and the Thunderbolt's sister product that debuted alongside it: the AT&T-carried Inspire.
All the advantages of such a large screen come through when using the back-facing 8-megapixel camera. It's got a nice array of filters to tweak your photos, including the "vintage warm" filter (aka the Instagram effect). Video chats are aptly handled by the 1.3-megapixel front-facing camera.
Under the hood, the Thunderbolt runs on a 1-GHz Snapdragon processor, with 768 MB of RAM and 8 GB of internal storage. It moved along through the menus speedily, and it pulled up video and pictures without much lag. There's also a microSD card slot with a 32-GB card included.
The little Google-branded kickstand on the back is a nice flourish, especially when you want to watch video on the phone's large screen. And the metal finish of the kickstand just looks cool. -Mike Isaac
Check back in a week to read our full review. In the meantime, read our initial hands-on.
HTC Thunderbolt, $250 with a 2-year Verizon contract, LTE

Samsung Galaxy S 4G
It's official: 2011 is the year of incremental progress. Mobile handsets have settled into a groove featurewise and are now gently nudging their way upward in speed, power and capabilities.
If we're going to be stuck in a climate of baby steps, at least Samsung's Galaxy S 4G is an example of baby steps done right.
From the moment I got my mitts on the S 4G, something felt eerily familiar. I'd seen many of its elements before - the unsettlingly light chassis, the glass and faux-chrome accents, and even the flashless 5-MP camera. As it turns out, the feeling of déjà vu was completely warranted.
The S 4G is essentially a mildly tweaked Samsung Vibrant with a couple of extra goodies. For those keeping score, a lot of the Vibrant's perfectly serviceable features (1-GHz processor, 4-inch 800 x 480 AMOLED screen, 720p video recording) are back.
So, what's new? Android 2.2, for starters. Also, as the phone's awkward moniker boasts, this handset brings T-Mobile's particular brand of 4G (HSPA+) to the fold. -Terrence Russell
Samsung Galaxy S 4G, $200 with 2-year T-Mobile contract, 4G HSPA+

HTC Inspire
Like HTC's EVO 4G and HD2 before it, the Inspire is a hefty, slate-style smartphone. Below the huge 4.3-inch 480 x 800 WVGA touchscreen lies the usual strip of capacitive navigation keys. Centered on the upper portion of the phone's back is the standard protruding camera lens. Everything else - from the brushed aluminum body to the recessed volume and power buttons - follows the same pragmatically drab blueprint. Snore.
Though my inner phone fashionista was a little deflated, there's actually very little to knock. Save for eyesores like a finicky battery door and an oddly placed headphone jack, the Inspire is extremely responsive, easy to use, and, even with the exceedingly large screen, it's comfortable in the hand. Like most slate phones, its overall looks are designed to take a back seat to the big screen, where all the e-mailing, browsing, YouTubing and sexting happen, so we can't fault it too much for being a wallflower. -Terrence Russell
HTC Inspire, $100 with a 2-year AT&T contract, 4G HSPA+

Motorola Droid Bionic
Motorola's Honeycomb-dedicated Xoom tablet and Atrix laptop-phone hybrid are now on the streets, but we're still waiting on the latest in the company's Droid series of smartphones, the Bionic.
We did get to see it at CES in Las Vegas a couple of months ago, and here are our impressions.
Like its Droid X predecessor, the Droid Bionic is definitely not small. The 4.3-inch screen is one of the largest on the smartphone scene. But the screen's aesthetic appeal makes up for any inconvenience its size may bring. Shooting pictures with the back-facing 8-megapixel camera is made easier by the extra screen area for planning and viewing shots.
Whereas Apple's iPhones are all about the smooth-backed covers, the Bionic goes the way of rubberized grip-style case. The phone's backside has ample tooth to it, another line of defense against clumsy phone-droppers. But the gripping doesn't make the Bionic feel bulky or weighed down.
We weren't allowed to pop open the hood to see the phone's 1-GHz dual-core processor insides, but by the looks of flipping through the Android 2.2 menu screens, the Bionic's guts seemed to be doing their job well. No visible stuttering was to be seen in the few apps I ran, and load time was minimal. It was, however, a brand new phone with its 16 GB of on-board storage still relatively empty. I'd like to see how it runs after an app-hungry tween has had her hands on it. -Mike Isaac
Read the full hands-on from CES.
Price and availability coming soon (May or June).

Dell Venue
The Dell Venue is the Android-loving brother of the Windows Phone 7–equipped Venue Pro.
It's essentially the same phone, but without the supplementary physical keyboard of the business-minded Venue Pro. Instead, this guy relies entirely on the touchscreen keyboard. Beneath the glass lurks an Android soul (version 2.2) wrapped in Dell's Stage software for managing apps and media.
Aside from weight (the lack of a keyboard makes the Venue lighter), the rest of the physical kit doesn't vary much. You get a delightfully large and chromatically rich 4.1-inch, 800 x 480 AMOLED screen, 1-GHz processor, and an 8-megapixel camera around back. The design of the handset is efficient and understated, from the flush volume rocker to the succinct Back, Home and Search capacitive buttons. Its all-black-and-chrome looks are rather austere and conservative. It's the Ford Crown Vic of Android phones, more likely to show up in the hand of an MBA than a tween.
We haven't spent enough time with it to give it a full review, but we liked the Windows version, and, based on our first impressions, we suspect we'll be equally happy with its Android twin.
Dell Venue, $500 unlocked for AT&T or T-Mobile.

HTC EVO Shift
Anonymously texting your friends and colleagues with vulgar messages is quite amusing.
Such juvenile pranks are made all the more easy with the slide-out keyboard built into the new EVO Shift 4G. It's a bit smaller than its big brother, last year's EVO 4G. But like that phone, the Shift is a speedy and functional Android workhorse. (Curiously, the brand-new phone runs Android version 2.2, even though Google has released Android 2.3.)
When there's no Wi-Fi nearby, it lets you surf and stream at whopping 4G speeds wherever coverage is available. Best of all, it transforms into either a 3G or 4G Wi-Fi encrypted hot spot with the press of a button.
We should probably mention that the phone makes and receives calls clearly, too. Not once did it drop a call during four days of testing.
Of course, the big feature separating the Shift EVO from HTC's other Android phones is the physical keyboard. It slides out from under the left edge and runs the entire length of the 4.6-inch-long phone. Thumbing dozens of unfriendly, work-inappropriate texts and e-mails was made simple by the spaciousness of the Shift's keys.
But here's the bottom line for all the original EVO fanboys out there, including myself: Don't consider the EVO Shift an upgrade unless you really miss a physical keyboard. -David Kravets
HTC EVO Shift, $150 with a 2-year Sprint contract, 4G HSPA+

Google Nexus S
Let's get this out of the way first: The Nexus S is an excellent phone. It's not as nice as an iPhone 4 as a complete package. But it's a great phone on its own merits, and it does even do many things better (connectivity, media-sharing, background processes and notifications). You very well may prefer this to an iPhone, but it is not an iPhone. If you want an iPhone, you should buy an iPhone. Phew. Now g'head, flame away.
The tech specs are excellent. (Get your writing sticks out, nerds, because here comes a list.) The Nexus S has a 1-GHz Cortex A8 Hummingbird processor, a 4-inch Super AMOLED 800 x 480 display, 16 GB of flash memory, a gyroscope and accelerometer, and two cameras. There's a 5-megapixel 2560 x 1920 shooter in the back with a flash, and a 640 x 480 front-facing cam for vanity shots. It's got antennas for GPS, Wi-Fi, 3G, Edge, Bluetooth and most intriguing of all, NFC. Got it? Pencils down.
So how does all that work? Let's start with the Hummingbird processor: It's fast. Really fast. Apps fire seeming instantly, everything loads well, and we never had an issue with it hanging or stalling to process something. Yet, it does this without being a battery hog. We were very pleased with the performance and power trade-off. -Mathew Honan
Google Nexus S, $530 no contract, 4G HSPA+

Motorola Cliq 2
Another Android phone we've gotten to spend a little time with, but we haven't yet fully reviewed, is the Motorola Cliq 2.
This is Moto's answer to HTC's EVO Shift. Both run Froyo and have slide-out QWERTY keyboards, but the Cliq 2 has a screen display 0.1 inch larger at 3.7 inches, and its processor clocks in at 1 GHz, compared to the Shift's 800 MHz.
Look for our full review soon.
Motorola Cliq 2, $100 with a 2-year T-Mobile contract

Motorola Defy
While other phones are going large, Motorola is taking things in a different direction: small and tough.
The new Motorola Defy is a compact Android phone that wisely eschews the gigantism of other smartphones. Instead of the HTC Evo's 4.3-inch screen or the Dell Streak's 5-incher (please!), the Defy, which is now available in the United States from T-Mobile, has a cute little 3.6-inch display with 480 x 854 pixels. It's small and pocketable - shorter (but thicker) than an iPhone 4 - and it's light, weighing just 4 ounces.
Despite its diminutive size, the Defy goes big in one important area: its resistance to water and grit. The case is water-resistant and the screen is made of scratch-resistant Gorilla Glass, a hardened material found in a few other recent phones. If you've ever dropped your phone in the toilet, spilled a beer on it, or pulled it out of your pocket along with half a pound of sand after a day at the beach, you'll understand the appeal of these two features. -Dylan Tweney
Motorola Defy, $100 with a 2-year T-Mobile contract
Wired.com has been expanding the hive mind with technology, science and geek culture news since 1995.