Today's absolutely insane rumor holds that Avatar 3 is going to start filming later this year...which means Avatar 2 has somehow, unbeknownst to everyone, already finished filming. That's pretty much impossible, but when will the Avatar sequels start shooting?
Man of Steel finds a new Kryptonian mother for Superman.
Director José Padilha reveals his choice for the star of his Robocop reboot.
Yet another actress is offered the leading role in Pride and Prejudice and Zombies.
Director Shawn Levy wants to go even further into the world of robot boxing with Real Steel 2.
Plus tons more hints for Fringe and Supernatural!
Spoilers from here on out!
Top image from The Dark Knight Rises.
Avatar 2 and 3
In what has to be the craziest rumor I've heard in some time — yes, crazier than anything Batman-related - someone has claimed that Avatar 3 will begin filming in November...which means that Avatar 2 already wrapped production earlier this year. Even granting James Cameron's penchant for insane levels of secrecy, there is absolutely no way that you could film the sequel to the most successful movie of all-time without anyone noticing, let alone without a single cast or crew member mentioning something about what they're currently working on. About all that you can say is that, if Cameron does intend on releasing the films in his previously suggested windows of 2014 and 2015, production probably will have to start in the relatively near future, but even then we haven't really gotten any sense from Cameron or anyone else that there's even a script for the sequels, let alone the sort of extensive pre-production work that would go ahead of a November start-date. So, yeah, I wouldn't even waste your grains of salt on this one. [Get the Big Picture]
G/O Media may get a commission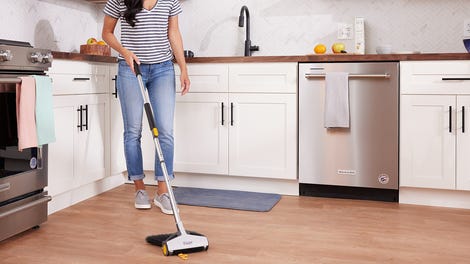 BOGO 50% Off
Flippr - BOGO 50% Off
---
The Dark Knight Rises
Here are two set videos from the Los Angeles filming. [The Cineaste's Lament]

It's a bit difficult to see what's happening in the second, so here's a helpful description from the uploader. HEMTT refers to Heavy Expanded Mobility Tactical Truck, the gigantic truck we've seen tooling around the set:
Leaked video from showing Batman and Catwoman in action following the chase and crashing of the HEMTT. Gordon *may* also appear in this shot. Batman walks to the HEMTT and hooks the winch from the batwing to something in the back of the smoking HEMTT while Catwoman watches, dunno how she got there in her stilettos. Batman and Catwoman hug before he gets back in the batwing and lifts off to fly away with whatever was in the back of Bane's truck.
---
Man of Steel
Ayelet Zurer, who has previously appeared in films such as Munich and Angels and Demons, is reportedly taking over the role of Lara, Superman's biological mother, from original actress Julia Ormond. She reportedly begins filming this week on the project. [Deadline]
---
Robocop Reboot
Director José Padilha has named X-Men: First Class and Inglourious Basterds actor Michael Fassbender as his preferred choice to succeed Peter Weller as the titular cybernetic law enforcer Alex J. Murphy. Padilha also revealed that he's in the final treatment stage with the script, and that he should be meeting with MGM executives this week with an eye to begin pre-production in the near future, which means casting should begin in earnest relatively soon. [ScreenRant]
---
World War Z
Here are some exclusive set photos from the filming in London's Heygate Estates from tipster P.D. He told us that, while security was too tight to see all that much, there was one van full of army costumes and filming was taking place in a nearby building. [Thanks, P.D.!]
---
Real Steel 2
Director Shawn Levy gives some pretty concrete details on where he'd like to go in a sequel, assuming he gets the opportunity:
"In the sequel we do explore the origin story of Atom and we begin to sketch an answer (to the question), 'Is there something special to this bot, and if so, why? It's future, it's still linear, and I want to be the first to say that first we need to be a hit movie before we get to make a sequel. I don't know if that will happen, I sincerely hope so because Hugh and I really love the movie. It's the next chapter, it's the fallout of the Zeus vs. Atom fight, and it's the fallout of what happens with the kid's custody (which technically is Aunt Debra's), and it further explores the class warfare between the underworld fight-clubs and the sanctioned, monetized WRB, which is at work in this movie but is really a big part of the second. It's not an origin story, but at one point in the movie Charlie (Hugh Jackman) needs to research where the hell this bot came from, and has to understand his inner workings more - for reasons I won't go into. So, he seeks out Atom's creator. So it's not a flashback, but we learn about the history because we will meet Atom's creator."
There's a ton more at the link. [ScreenRant]
---
Pride and Prejudice and Zombies
Blake Lively - who was actually pretty good in The Town, if absolutely nothing else - is reportedly the latest actress to be offered the role of Elizabeth Bennet in the adaptation of Seth Grahame-Smith's Jane Austen reimagining. It's not clear if she will accept it, or if there's really anyone left in Hollywood to take the role if she passes. [Twitch Film]
---
Fringe
Here are two promos and a sneak peek for next week's episode, "One Night in October."

Executive producers J.H. Wyman and Jeff Pinkner offer this tease for the rest of the season, speaking about Michelle Krusiec, the actress who plays Nadine Park, aka the "human shapeshifter":
Wyman: She's really happy to come play with us, which is really cool. She's definitely going to be back and she's doing a great job... To tell what position she's in would sort of reveal maybe too much. But it's definitely - she's definitely in the form of, I guess, a foe.
Pinkner: I think it's fair to say that [like] in the past seasons, there are season long story arcs that will be established early on and play on over the season, while at the same time, every episode will have its own beginning, middle and end. And some will be more specifically about the season long story and others will intersect with it less so. But a lot of the things that are established early on will have season long consequences.
Here are some promo photos for episode three, "Alone in the World." [KSiteTV]
Here's the official description for episode four, "Subject 9":
WALTER'S PAST HAS POWERFUL CONSEQUENCES IN THE PRESENT ON AN ALL-NEW "FRINGE" FRIDAY, OCTOBER 14, ON FOX

Olivia uncovers a dangerous force that may be connected to Walter's past experiments with the drug Cortexiphan. Their investigation forces Walter to leave the lab for the first time in years as he and Olivia head to Massive Dynamic in New York to examine old case files. Walter struggles with life outside the lab as he comes face-to-face with the demons of his past.
Here's an interview with the cast and producers. [Fringe Television]

Here's a pair of interviews with John Noble. [Fringe Television]

---
Game of Thrones
Here's the first, brief teaser for season two.

Here are a bunch of set photos. You can check out a brief set video at the link. [SpoilerTV]
---
Terra Nova
Here's a behind-the-scenes look with Nelson Cragg, the show's Director of Photography. [Terra Nova TV]
Here's the synopsis for episode four, "What Remains":
AN OUTBREAK OF A MYSTERIOUS VIRUS FORCES ELISABETH, JIM, MALCOLM AND TAYLOR TO WORK TOGETHER TO FIND A CURE - When Elisabeth, Jim, Malcolm and Taylor investigate radio silence at a nearby scientific outpost, they discover an outbreak of a mysterious virus causing memory loss, paranoia and eventually death. The group must work together to find a cure before they lose their sanity and all of Terra Nova is infected.
---
Chuck
Here's a promo for season five. Check out the link for extensive analysis. [BuddyTV]

---
Supernatural
Executive producers Sera Gamble and Robert Singer discuss the Leviathans:
Gamble: We'll develop what the Leviathans mean this season. They certainly don't want to go home and we open the idea of Purgatory and the idea that there were monsters there and that it's an awful place, and Hell's an awful place, and Heaven frankly sounds kind of boring to me. When you think about it, Earth is sort of this Eden, slightly corrupted, but full off possibilities, and it seems like everybody wants to be here. So there's a lot of directions we could take [the story] and we've been having a lot of fun with that, I must say.

What's their endgame? (I compared them to The Joker in terms of having fun rather than setting their sights on world domination, which Gamble agreed with.)
Gamble: Like the other bad guys who emerge a little as time goes on, their personalities will become clear in the next few episodes, but I think that sense that they are having fun and they're not like here to hail fire and brimstone on the world and just be mustache-twirling evil, I think you're picking up on something that's right and that we wanted to definitely weave in with these characters. Part of that is that they're here to have a good time.
Singer: But they're not chaotic, they're smart.
Gamble: In fact, smarter, I think, is part of the problem. Yeah.
There's more at the link. [AOL TV]
Here are some promo photos for episode two, "Hello, Cruel World." [Multiple Verses]
---
American Horror Story
Here's a tie-in viral video.

---
Being Human (US)
Kyle Schmid, who played a bully in A History of Violence and more relevantly had a main role on the Canadian vampire detective show Blood Ties (he played the vampire, who was the bastard son of Henry VIII and a graphic novelist), has revealed he'll be appearing on the American Being Human in an unspecified role. Whatever it is, he says he'll be filming in Montreal for a few months, so it's probably something fairly substantial. [Kyle Schmid's Facebook]
---
Alphas
Here are some promo photos for episode 11, "Original Sin." [SpoilerTV]
---
Sanctuary
Here's a set of promo photos for the season four premiere, "Tempus", as well as some general cast photos. [SpoilerTV]
---
The Secret Circle
Here are some promo photos for episode three, "Loner." [BuddyTV]
---
Additional reporting by Katharine Trendacosta and Charlie Jane Anders.