It's sometimes suggested humans are the only species that truly understands the concept of the death. But now researchers have discovered that humans aren't the only creatures who hold funerals.
Researchers at UC Davis have observed this funereal behavior in western scrub jays. When one bird spots a dead jay on the ground, it stops what it was doing and starts sending out loud alarm calls. The calls bring in jays from all over, who gather around the body and continue sending out the alarm calls so that as many jays as possible show up near the dead body.
Of course, it's unlikely that these alarm calls are the western scrub jay equivalent of a eulogy. Instead, the researchers are pretty sure that the dead body functions as a warning that predators are nearby, and the jays treat this information seriously enough to gather their entire population around the site of the death. The sight of death had a profound enough effect on the jays that they stopped foraging for the rest of the day, although exactly why this behavior change occurred is difficult to say. It's tempting to say they were too grief-stricken to eat, but we simply don't have enough information to make that assumption.
To better understand what drove the reactions of the jays to the dead bird, the UC Davis researchers presented them with various objects, including recently dead jays, stuffed jays, colored pieces of woods, and stuffed great horn owls (their main predator). A BBC news story charts the birds' reactions:
When the birds were fooled into thinking a predator had arrived, by being exposed to a mounted owl, they also gathered together and made a series of alarm calls. They also swooped down at the supposed predator, to scare it off. But the jays never swooped at the body of a dead bird. The birds also occasionally mobbed the stuffed jays; a behaviour they are known to do in the wild when they attack competitors or sick birds. The fact that the jays didn't react to the wooden objects shows that it is not the novelty of a dead bird appearing that triggers the reaction. The results show that "without witnessing the struggle and manner of death", the researchers write, the jays see the presence of a dead bird as information to be publicly shared, just as they do the presence of a predator.
G/O Media may get a commission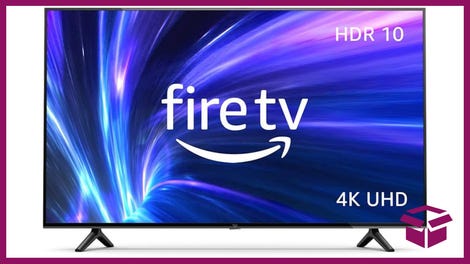 42% Off
Amazon Fire TV 50" 4K Smart TV
Read the full scientific paper in Animal Behavior.
Image by jessicafm on Flickr.