Churches tend to ebb and flow with generations: Chapels close after neighborhoods are redeveloped, cathedrals are abandoned after religious upheaval. So, what then? In more than a few cases, they've been turned into bookstores and libraries.
It seems like an odd pairing at first: Print, itself in decline, housed within churches long since shuttered. But, as a building typology, it makes a certain amount of sense: Long aisles and high ceilings are the perfect tabula rasa for stacks upon stacks, and the hushed atmosphere doesn't hurt either.
---
Originally built in 1964 by the Canadian architect Jean-Marie Roy, this Québec church was already an architecturally significant spot when its second set of designers arrived. What they were tasked with—turning it into a library—was a challenge in planning.
G/O Media may get a commission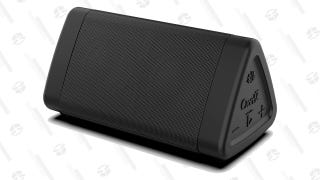 Save 31%
Oontz Angle 3 Portable Bluetooth Speaker
The building's sloping, angular nave didn't exactly lend itself to rows of stacks. Instead, the designers made the nave into a huge entryway and built the shelves in a glassy box at the end of the original building.
---
Waanders in Der Broeren by Bk Architecten, in Zwolle, the Netherlands
The Baroque flamboyance of this Dominican church in the Netherlands also didn't suggest space for shelving. BK Architecten dealt with the issue by building stand-alone steel corridors in between the huge vaulted columns of the church, which dates back to 1466.
Even the church's original organ remains intact—though the choir's perch is now full of books.
Images: Joop van Putten.
---
Elsa Morante Public Library by DAP Studio in Varese, Italy
The small, plaster-ornamented Oratory of San Michele—located in Varese, outside of Milan—was an unlikely candidate for a gut renovation and addition. But, by adding a second volume, cloaked in thin, perforated white metal, DAP Studio was able to turn a small space into a sprawling library (named for the Italian novelist).
Images: Luigi Filetici
---
Selexyz Dominicanen by Merkx + Girod in Maastricht, the Netherlands
This church in Maastricht, built in 1294, is one of the oldest in the Netherlands. It was run by the Dominicans until 1794, when Napoleon invaded the area and forced out the order—throwing the fate of the massive church into 200 years of uncertainty. It's been used in an incredible number of bizarre ways—including for bike storage—until 2011, when the Dutch Selexyz chain converted it into a bookstore.
Like its neighbor in Zwolle, the architects got around the stone vaults by installing new steel corridors that snake around each column. Down the central aisle, a massive set of stacks sits like a library with its envelope peeled back.
---
Seen any other converted churches worth discussing? Drop them in the comments.