We write about music apps because they enable all sorts of amazing things that manufacturers could never do with hardware - or if they could, it would be prohibitively expensive. For example, if you had to buy a special MP3 player to display lyrics, you probably wouldn't do it - and yet that same function turned into software attracted over a million people in April alone.
The hacker-y music geniuses known as Critter & Guitari completely buck the virtualization trend that has seen music players follow songs themselves in a transformation into 1′s and 0′s. The pair build hardware that does stuff an app might do, on the assumption that the same kids who listen to digital music but only buy vinyl might spring for their high-end musical toys.
Their latest piece of handiwork: Kaleideloop, pictured to the right and featured in the above video. This handy little number ($300) records and stores thousands of "found sounds" on a removable SD card and lets you layer them atop one another, adding a resonance effect, and generally tweaking them and playing them back over a three-watt built-in speaker - or by using the audio output (it also has an input to bypass the microphone).
We haven't played with it yet, but I have experienced Critter & Guitari products before (disclosure: my brother's band occasionally uses their Pocket Piano, which is how I discovered Kaleidoloop).
G/O Media may get a commission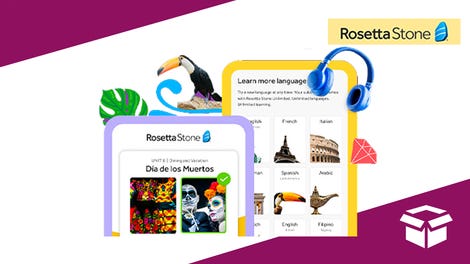 Extra 20% off
Rosetta Stone Lifetime Subscription - All Languages
The above video does a fine job of describing this thing, which is proudly not a music app, but sure acts like one. We wouldn't be surprised if someone, somewhere, were already working on digital knock-offs of the entire Critter & Guitari line-up. Who knows - they might not care. For them, it's all about the hardware. And for once, we agree.
Here's the official description of Critter & Guitari's Kaleidoloop, followed by an gallery of images courtesy of the company:
The Critter & Guitari Kaleidoloop is a social, portable sound collector. It's designed to be taken anywhere and everywhere to gather and manipulate all kinds of sounds. Record sounds from your kitchen, the recording studio, and campfire jam.
Use several Kaleidoloops to build up layers of sound, pass a sound from one to another and play with resonance, invent new musical games, practice speaking in reverse, alter playback speed and explore new harmonies, carry sounds around the room… the list is endless. Best of all the Kaleidoloop stores everything it records, so you have a record of your sound journey.

The Kaleidoloop features simple controls for recording, navigating sounds, and altering playback speed and direction. The included microphone and built-in speaker make the perfect pair, with enough clarity and volume to recreate sounds with alarming realism. You can also remove the microphone and use the 1/4″ input and output jacks instead.

Features

High quality sound recording: 16 bit / 22050 Hz
Record thousands of tracks
Record times: 1.6 hrs on 256 MB card, over 5 hrs on 1 GB card
Removable SD card for sound download (256 MB card included)
LOUD 3W speaker
1/4″ input and output jacks
Included electret microphone
Sturdy aluminum and wood construction
Powered by 4 AA batteries or 9VDC Power Supply
Evolver.fm observes, tracks and analyzes the music apps scene, with the belief that it's crucial to how humans experience music, and how that experience is evolving.