Here's an exclusive preview from The Amazing Screw-On Head and Other Curious Objects, a hardcover collection of phantasmagorical comics by Mike Mignola. Here's "The Magician and The Snake," an Eisner Award-winning tale by Mignola and his then-seven-year-old daughter Katie.
You can find details about The Amazing Screw-On Head and Other Curious Objects at Dark Horse Comics. Here's the book's synopsis:
When Emperor Zombie threatens the safety of all life on earth, President Lincoln enlists the aid of a mechanical head. With the help of associates Mr. Groin (a faithful manservant) and Mr. Dog (a dog), Screw—On Head must brave ancient tombs, a Victorian flying apparatus, and demons from a dimension inside a turnip. This new collection of oddball Mignola creations also includes "The Magician and the Snake" from Dark Horse Maverick: Happy Endings, and nearly fifty pages of brand new material, all as weird and hilarious as the beloved Screw-On Head.

Publication Date: August 25, 2010
Format: FC, 104 pages, HC, 7" x 10"
Price: $17.99
Creators: Mike Mignola
Colorist: Dave Stewart
Side note 1: Katie Mignola is the youngest Eisner Award winner ever.
Side note 2: Did you know there was an Amazing Screw-On Head TV pilot that wasn't picked up by Sci-Fi in 2006? And it featured the voices of Paul Giamatti and Patton Oswalt? And that the animation looked exactly like Mike Mignola's art? Who was asleep at the wheel here? Why can't we have nice things?
G/O Media may get a commission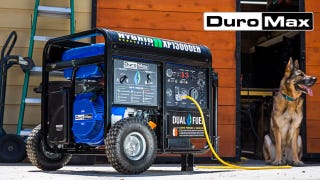 Black Friday Sale
DuroMax Generator Sale