The Port Authority of New York and New Jersey has installed in Newark Liberty, JFK, and LaGuardia airports an interactive avatar projected onto a plexiglass silhouette of a woman's body. Lost and disoriented travelers can ask her for help with things like getting to the correct gate, security checkpoint rules, and duty-free shopping.
And all of this is fine and dandy—and I'm not saying this is necessarily a bad thing—but why is she so goddamn flirtatious?
Even without her come hither facial expressions, the dialog alone is absurd:
"I'm so versatile, I could be used for just about anything."
Really? ANYthing?
"I can say what you want,"
Are we talking about at the airport, or in bed?
"...dress the way you want,"
There is absolutely no reason why your wardrobe matters to my airport navigation.
"...and be just about anything you want me to be."
WHAT.
The Wall Street Journal reports that the Port Authority entered a six-month agreement to rent these virtual vixens based on results from a customer-satisfaction survey that revealed people wanted more human interaction. They'd previously been deployed in Europe, but without quite this many come-ons.
G/O Media may get a commission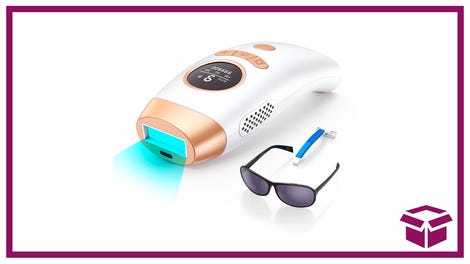 58% Off + Coupon
IPL Hair Removal Device
Sure, these airport avatar aids will set the city back approximately $180,000, but as the demo herself points out, they require no background check and are always on time for work—then again, hiring flesh-and-blood humans would cost half as much and provide the otherwise unemployed with decent jobs. [Yahoo, WSJ]