When the USS Cole was disabled by an Al-Qaeda attack in 2000, the US Navy faced a serious dilemma: How do you sail a 500-foot warship from Yemen to Mississippi when it's got a 40-foot wide gash in its hull? You hire the world's biggest semi-submersible ship to piggy-back it home, that's how.
Heavy lift transport vessels have been around since the 1920s, when the German shipbuilding company DDG Hansa created the first, MV Lichtenfels. They're primarily of the semi-submersible ship (SSS) variety, also known as "flo/flo" for float-on/float-off. The ship's low well deck allows it to scoop up goods by flooding its ballast tanks to submerge its deck, so that it can move into position beneath its load before emptying the ballast tanks and rising back out of the water.
Among heavy transport vessel fleets, Netherland-based Dockwise Shipping is king. It operates 19 heavy lift transport ships, the world's largest such fleet. The MV Blue Marlin is the crown jewel among that armada. At 738-feet long, with a gross tonnage of 56,000 metric tons, and a deck larger than two American football fields, it's the largest semi-submersible ship on Earth. The Blue Marlin is outfitted with 38 cabins, accommodates 60 people, and even features a workout room, sauna and swimming facilities. No wonder it's the ship the Navy tapped for the USS Cole retrieval.
And it's not just disabled warships like the USS Cole that this ship totes, the Blue Marlin also works hauling massive oil rigs from shipyards in Asia, where they're built, to the Gulf of Mexico and other sites around the world, where they operate. Sure, self-deploying oil rigs could well putter their way across the Pacific on their own. But the MV Blue Marlin, with a 14-knot top speed, makes the journey in a quarter the time thanks to its 17,160 HP primary engine. In 2005, she carried the Sea-Based X-band Radar Unit all the way from Corpus Christi, Texas down around the Southern tip of South America and back up, past Pearl Harbor, Hawaii, to Adak, Alaska. In 2006, the Blue Marlin set records when it hauled the world's largest semi-submersible oil platform, the 60,000-ton Thunder Horse PQD more than 15,000 miles from Okpo, South Korea to Corpus Christi, Texas.
Being dwarfed by the cargo won't be an issue for the upcoming Dockwise Vanguard however. When finished, this massive SSS will carry 50 percent more (lifting 110,000 tons) than the Blue Marlin atop a deck 70 percent bigger than its predecessor. Let's hope it's deployed for more peaceful operations. [Wikipedia - Dockwise - Engines of Our Ingenuity - Shipspotting - Amusing Planet]
G/O Media may get a commission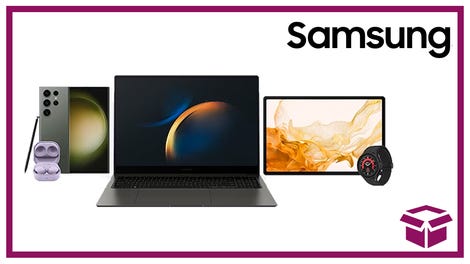 24 hour deals
Discover Samsung - Daily Deal