The Wirecutter's singular goal is to decide which gadgets to buy or not to buy. Today, it takes a hard look at iPad keyboard cases.
I know you came here looking for a keyboard case, but my honest opinion is that if you do any serious typing with your iPad you should get the Apple Bluetooth keyboard, along with a separate case to protect your tablet. If, however, you have your heart set on buying a keyboard/case hybrid for your iPad, then I suggest waiting a month and ordering a Logitech Ultrathin Keyboard Cover. It's the best of all the lousy keyboard cases out there.
I hate keyboard cases with the passionate, burning fire of 1,000 suns. Using one is all about compromise. An iPad measures 9.50 inches in length. In order to jam a keyboard into a case to fit it, sacrifices must be made. The keys and the gutters between them are shrunk. The depth of the keyboard is kept to a minimum, which makes for shallow key travel and an awful typing experience. That said, it's still better than trying to type using Apple's crappy on-screen keyboard.
Priced at $100, the Logitech Ultrathin Keyboard Cover works with iPad 2 and the third-generation iPad. Its exterior is made from aluminum while the keyboard itself is plastic. When not in use, it's designed to mate to the iPad using magnets. To use it, remove the Ultrathin from the iPad, place the tablet into it's integrated stand and, boom, you're in business. According to Logitech, one full charge from a micro USB connected power source will provide you with six months of runtime, provided you're using the keyboard two hours per day or less. What we have in the Ultrathin is a no-frills, high-quality accessory that has managed to find an acceptable compromise between the full-sized keyboard everyone wants to type on, and the miserable half-sized, bastard-child compromise some users accept in the name of portability. What Logitech has produced here is a tool designed to fulfil its primary purpose - typing - with as few compromises and complications as possible, while at the same time providing a modicum of protection for the iPad. The balance is admirable, and in my opinion, optimal.
G/O Media may get a commission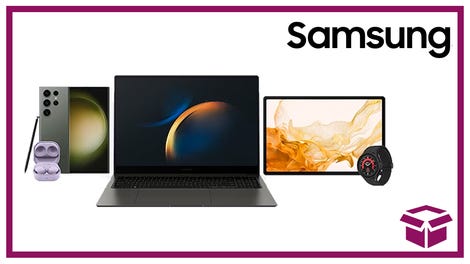 24 hour deals
Discover Samsung - Daily Deal
Slashgear's Vincent Nguyen likes it: "It's well made, comfortable to type on, and – arguably most important for many iPad owners – matches Apple's style rather than clashing with it. At $99.99, it's expensive for a keyboard but, with a high-end Smart Cover being only $30-40 short of that on average, not outlandishly priced." iLounge's editor in chief gave it a B+ rating, declaring that "It's so well designed in most regards that if Apple isn't already planning something similar in the very near future, it should certainly be taking notes." Engadget and Gottabemobile are on board with it, and CNET even gave it an Editor's Choice award.
Personal gripes about keyboard cases aside, the Logitech Ultrathin Keyboard Cover isn't without fault. The cover only protects the iPad's screen. It's also a fingerprint magnet, and thanks to the absence of rubber feet on the keyboard's aluminium base, it's prone to sliding around on low-friction surfaces. Perhaps its biggest failure is that its Backspace/Delete key is almost too small for the human eye to detect.
As the third-generation iPad has only been available for a little over a month and a half, there's still not a lot of competition out there for the Logitech Ultrathin Keyboard Cover. I wasn't impressed by the Kensington KeyFolio Pro 2, the ClamCase (cool, but way too top heavy) or Kensington's Expert Multi Angle Folio and Keyboard. Logitech just released a solar powered keyboard case for the iPad with a battery that stores enough juice to operate the keyboard for two whole years, "even in complete darkness." Sorry, but that's just stupid: If you can type on it for two years in the dark, who cares if it's solar powered? It hurts my thinking parts. Still, there are a few options, including one that doesn't type as well but offers much better protection. Take the ZAGGfolio for iPad 3 for example: You can find it for around $95 on Amazon. Unlike the Ultrathin, it offers 365 degree of protection to the iPad. Unfortunately, it's made of plastic and its keyboard is small and uncomfortable to work with. The Kensington KeyFolio Pro Performance case is an intriguing choice. For $46, you get a polyurethane plastic keyboard case that'll let you use your iPad in landscape or portrait orientation. Despite the lightweight materials used to make it, the case is as chunky as all get out. Once set up, the case also holds the iPad at a pretty steep viewing angle that you might not care for.
I've worked with both of these cases at length, and found that the ZAGGfolio offered a less frustrating typing experience. While the keys were small, I didn't find it as awkward to type on as the Kensington, which features some pretty odd key placement decisions. That's the thing: No matter how well a keyboard case protects your iPad, if you can't type on it efficiently, you're wasting your money. According to just about everything I've researched, the Ultrathin offers one of the best typing experience currently available from a keyboard case. It's key size and gutters are nearly the same as those found on the MacBook Air. Logitech has the Ultrathin up for pre-order. Amazon's says it'll be available to ship within one to three months. I say it's worth waiting for.
Or, for less than $20 more, you could buy an Apple Wireless Keyboard and a Joy Factory SmartSuit 3 right now. In doing so, you'll get a full-sized, Bluetooth keyboard that feels absolutely great to type on and has a build quality that puts everything I've talked about here to shame. The SmartSuit 3's tough and attractive exterior not only provides a good deal of protection for your iPad, but its screen protector mimics the Apple Smart Cover in form and function, allowing you to fold it back and use as a stand when typing, or flip it out of the way when you're not using it.