At 18.5-mm deep, the Lenovo IdeaCentre A320 is the thinnest all-in-one PC in the world. Lenovo's held that distinction three years running—but this year's model packs in performance to match.
The A320 has the same 21.5-inch widescreen display as its predecessor, but upgrades to Intel's latest and greatest Core i5 processor. The A320 can also be equipped with up to 8GB RAM and a 750GB HDD. Also returing: HDMI-in, which combined with the A320's bulked up integrated graphics prowess makes this an easy replacement for your bedroom or kitchen TV.
Or you could skip the cords and head straight to the IdeaCentre B320, which features Hardware TV technology that lets you switch between TV and computer functions. Both models will be available this June, both starting at $700.
Lenovo Redefines the 'A, B, C's of IdeaCentre All-In-One PCs
IdeaCentre A320 – world's slimmest AIO design IdeaCentre B520 - Maximum entertainment with the world's 1st frameless multitouch AIO IdeaCentre B320 – the computer that's also a TV Lenovo C205 – compact all-in-one design at an affordable price point
CES 2011, Las Vegas – January 4, 2011: Lenovo (HKSE: 0992) (ADR: LNVGY) today unveiled four new IdeaCentre and Lenovo all-in-one (AIO) desktops at the 2011 International Consumer Electronics Show that redefine design, performance, style and entertainment capabilities in a desktop form factor. The IdeaCentre A320, B520, B320 and the Lenovo C205 are each uniquely designed to satisfy individual consumers" needs and preferences.
"We"ve seen Lenovo"s IdeaCentre AIO desktop business grow 150% year over year – a significant achievement for Lenovo and powerful statement that consumers desire the unique designs and experiences delivered by our portfolio," said Dion Weisler, vice president, business operations, Lenovo. "The latest Lenovo AIO desktops round out our existing portfolio to offer the right PC for every individual and family that is seeking powerful performance with cutting edge features like touch screen and 3D capabilities, HD monitor and a sleek appearance."
IdeaCentre A320 – The industry's slimmest AIO design
The IdeaCentre A320 AIO redefines home computing with its iconic ultra-slim design and features. As the industry"s slimmest AIO design, the A320 measures just 18.5mm deep at its thinnest point. Users can enjoy stunning HD video with the 21.5 inch widescreen display and the latest high contrast LED panel technology. The AIO also comes with the latest 2nd Generation Intel® CoreTM i5 processor with Intel® Turbo Boost Technology 2.0, plus a complete range of connectors including HDMI in and out and an integrated card reader.
IdeaCentre B520 – Maximum entertainment with the world's 1st frameless multitouch AIO
The IdeaCentre B520 AIO desktop is Lenovo"s most powerful AIO and is perfect for consumers seeking high-performance gaming and family entertainment in one machine. The IdeaCentre B520 delivers maximum entertainment with minimum fuss – combining high-performance graphics and the latest 2nd Generation Intel® CoreTM i7 processor in a compact AIO design. As the industry"s first frameless AIO design with a multitouch touchscreen, the B520 utilizes Project Capacitive Touch (PCT) for a more accurate and comfortable multitouch user experience. The B520 features a 23 inch Full HD display with optional Nvidia"s 3D Vision solution, SRS® Premium Sound audio enhancement and an optional 3-in-1 Mouse with motion-drive gaming and air-mouse functionality. The B520 delivers a truly immersive entertainment experience for both serious gaming and fun family entertainment.
IdeaCentre B320 – The computer that's also a TV
The 21.5 inch multi-touch IdeaCentre B320 features Hardware TV (HWTV) 1 – which means the B320 is both a regular HD television and a computer.. With HWTV, users can easily switch between computer and TV modes at the press of a button, or even enjoy both at the same time with the picture-in-picture function. The Full HD display supports multi-touch technology and comes with the latest 2nd Generation Intel® CoreTM i5 processor.
Lenovo C205 – Compact all-in-one design at an affordable price point
The Lenovo C205 is an affordable PC with an ultra-slim space-saving design. With an 18.5 inch HD 16:9 widescreen display and an optional intuitive single-touch touchscreen panel, it"s a great choice for mainstream digital consumers looking for a low-cost "info-tainment" PC for the kitchen or any space- limited area in the home. With 720p high definition graphics support, a high quality web camera, microphone and integrated speakers, sharing photos and videos and chatting online are simple and convenient. This AIO is available with up to AMD Dual Core Processor E-350 with AMD RadeonTM HD 6310 Discrete-Class Graphics. The two tone color shell design makes this computer an ideal fit for any room in the home. The C205 also comes with up to ATI RadeonTM HD5450 1G graphics processor for high definition video support, and an integrated DVD reader/writer.
Pricing and Availability2
The IdeaCentre A320 will be available beginning on June 2011 at approximately $699.99 USD. The IdeaCentre B520 and IdeaCentre B320 is available June 2011 starting at $699 USD. Pricing for the Lenovo C205 will start at $449.99 USD.
G/O Media may get a commission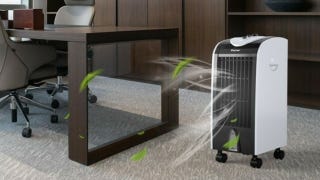 Save $10
Evaporative Portable Air Conditioner Cooler with Filter Knob