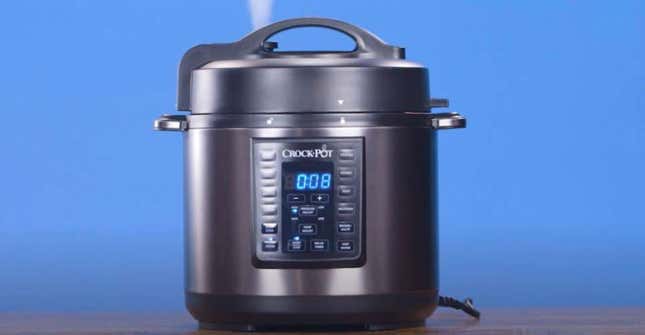 The Crock-Pot drama returns.
More than two years after NBC drama This Is Us shook our faith in an otherwise innocuous kitchen appliance, it appears Crock-Pot is now the subject of a recall over a number of real-world incidents involving a defective model of one of its devices. An estimated 914,430 Crock-Pot 6-Quart Express Crock Multi-Cookers are being recalled in the U.S. over a potential burn risk. According to the U.S. Consumer Product Safety Commission, the device can pressurize when the lid is not properly locked, which the agency said "can cause the lid to suddenly detach while the product is in use, posing burn risks to consumers from hot food and liquids ejected from the product."
Taylor Lorenz Talks "Extremely Online"
Either two or 200 years ago, This Is Us shocked fans by revealing the cause of death of protagonist Jack Pearson (Milo Ventimiglia), who died—I think we can freely discuss this by now—by Crock-Pot fire (or complications from said fire, to be more specific). At the time the show aired the episode in 2018, Crock-Pot went on the defensive in a statement that asserted that over the course of "nearly 50 years with over 100 million Crock-Pots sold, we have never received any consumer complaints similar to the fictional events portrayed in last night's episode. In fact, the safety and design of our product renders this type of event nearly impossible."
This week, however, the CPSC said that maker Sunbeam Products had received 119 reports of a Crock-Pot's lid detaching, resulting in at least 99 injuries involving first- to third-degree burns. It's not exactly the same as setting a fictional home ablaze, sure. But it could actually burn you and not a fictional dad who loves cabins and football, and buddy, that's close enough.
In a statement by email, a spokesperson for Crock-Pot parent Newell Brands told Gizmodo that all of its devices "are rigorously and routinely tested for consumer safety and are in full compliance with established industry standards. However, Crock-Pot has identified that the lids of select Crock-Pot 6-Quart Express Crock Multi-Cooker can detach during use if not used in accordance with the owner's manual." The spokesperson said that an analysis identified "three common misuses" that could lead to the lid issue, including exceeding the Crock-Pot's fill line, failing to lock the lid properly, and using the quick-release valve improperly.
"We've made two changes to enhance our consumers' experience with this product based on their feedback," the company said. "First, we developed a new lid with updated iconography and quick-reference instructions to help avoid these common misuses. Second, we made design changes to the new lid that prohibit the unit from starting unless the lid is properly secured."
That's a relief. Early last year, Gizmodo actually tested the Crock-Pot now subject to recall. We pitted it against other pressure cookers and found that while it got up to pressure quickly and put the best sear on meat, it also had a troubling inability to maintain a seal.
Owners of the Crock-Pot in question—which was manufactured between July 1, 2017 and Oct. 1, 2018 and bears the model number SCCPPC600-V1—should immediately stop using the device in pressure cooker mode, the agency said. (The devices will also have date codes of K196JN through K365JN or L001JN through L273JN.) The agency did add, however, that using the Crock-Pot for slow cooking and sautéing is still fine. Consumers are being told to contact the company directly for a replacement lid.