We've seen it demoed on stage. We used a janky (but amazing) prototype—but until today we've never actually seen Microsoft's real holographic headset in person. Now, here it is: a weird, futuristic visor with four visible cameras, two speakers and what looks like six buttons.
Let's take a closer look at hardware behind Microsoft's augmented, holographic, reality. This is HoloLens.

---
G/O Media may get a commission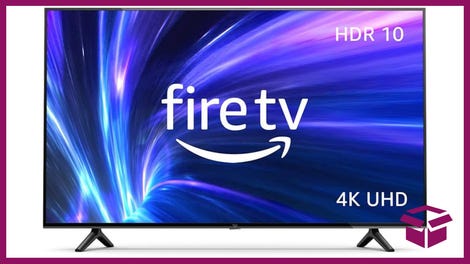 42% Off
Amazon Fire TV 50" 4K Smart TV
HoloLens' smooth, curved plastic frame seems to invoke the style 1980s film makers imagined for the future. It's the vision of wearable computing I had as an elementary school student.

---
The headset's transparent displays (as well as an additional acrylic window) are easily viewable from down below, giving us a hint at how Microsoft will overlay your vision with holograms.

---
You can see a size adjustment wheel at the rear of HoloLens' headband—which seems to be lined with a nice, comfy layer of felt. Neat! It also looks like there are buttons on the end of the frame's outer chassis.

---
Rather than headphones, Microsoft has opted to place small, ambient "floating audio" speakers near the user's ears. Hopefully it's loud enough for the user but not so loud as to pollute the soundspace of others in the room.

---
Up front you can see two of the headset's cameras—there's an identical set on the other side of the visor. There are three additional cameras in-between the two pairs too, giving it a total of seven.

---
Viewed from above, we can see four more buttons—two on each side of the top of the headband. You can also see here that the inner-headband is clearly separated from the outer, which allows it to pivot and adjust to the user's comfort.

---

Microsoft has primarily demoed HoloLens with voice and gesture controls, and these buttons seem to be in a kind of an odd place. Pressing a button or two just above your ear doesn't sound so odd, but the buttons on the back of the band are definitely not a naturally user friendly place. Our best guess is that they open a battery compartment or reveal charging / USB ports. We'll let you know when we know for sure.

What are you thoughts, Gizmodo readers? Is this something you want to strap to your head? Would you feel silly using it? Is it better, or worse than Google Glass? Leave a comment and let us know what you think!