Few movies lend themselves to as broad a visual representation as Stanley Kubrick's 2001: A Space Odyssey. There's the monolith, the characters, the costumes, the cosmos, and so much more to draw from. In this new poster, though, artist Matthew Woodson truly grounds the space drama in a surprising way.
Here's Woodson's take on 2001: A Space Odyssey, which we're debuting:
What we're looking at is the film's Dawn of Man scene, as evidenced by the leopard that's staring at the viewer. There's also the Monolith,along with the moon looming over it all. And while this scene is on Earth, the nighttime color makes it feel otherworldly somehow. It's a fascinating combination of images from the film.

The piece will first be on sale at MondoCon, the annual convention hosted by the Austin-based pop culture company, which takes place November 4-5. There's a ton of amazing art that's going to be released and you can see a bunch of it here, but there are other things too, like these awesome pins by Matt Taylor for 2001, Alien, and Planet of the Apes which we're also debuting.
G/O Media may get a commission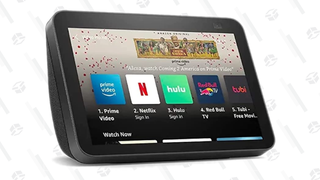 The Woodson poster is an 18 x 36 inch edition of 325 and will cost $60; the pins are likely $10. If there are leftovers, they'll go online after the con. Click here for more.