"We don't cater towards the recreational market." That isn't something you expect to hear from the chief scientist of a cannabis company, but then Mary's is unusual for many reasons. Eighty percent of the company's products don't even contain THC—the chemical in weed responsible for getting you stoned. Much of Mary's inventory instead uses cannabidiol (CBD), another chemical that occurs in marijuana and shows promise for a variety of therapeutic uses.

It's not just the chemicals themselves that make Mary's unique in the expanding weed industry. The three-year-old Denver-based company doesn't traffic in brownies, joints, or any of the other typical marijuana delivery systems. Instead Mary's offerings include gels, topical compounds, and transdermal patches—form factors that look more familiar in a pharmacy than in a stoner's living room.
To date, nearly half of US states allow marijuana to be used for medical purposes, while four have fully legalized recreational use. New York is not among the latter, which made testing the products from Mary's inherently difficult. Even if I had medical access, Mary's doesn't have a location here, and THC-based products can't legally cross state lines. Mary's was however, able to send some CBD products, which are available for use nationwide without restriction.
CBD has been gaining attention recently for its potential benefits among children suffering from seizures. The National Institute of Drug Abuse also lists CBD has having potential for combating inflammation, pain, and anxiety. And best (or worst, depending on your intentions) of all, it's non-psychotropic, meaning it doesn't get you high.
G/O Media may get a commission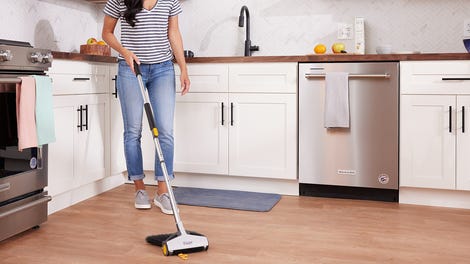 BOGO 50% Off
Flippr - BOGO 50% Off
The transdermal patches use what's called an extended release pluronic lecithin organogel (PLO) delivery system—essentially, the chemical base that gets an active ingredient from a patch through the barrier of your skin and into your bloodstream—which Mary's claims makes it effective for around 12 hours. Dr. Noel Palmer, Mary's chief scientist, called CBD's effects subtle. Maybe it was the incredibly mild effects of the drug, or maybe it was acclimation over that length of time, but it was difficult to tell how much of what I was experiencing might have been a placebo effect. Applying the patch was easy, but I made the rookie mistake of sticking it to one of the hairier portions of my calf.
After a few more attempts—and coaxing my coworker into trying one of the patches—we both arrived at the conclusion that while subtle, CBD was definitely doing something for our anxiety. Think of it like the baby version of Xanax. Plus, the rub-on compound smells incredible. While using CBD, my stress levels didn't drop to zero, but they felt manageable. I also noticed an increase in my normally low sociability. The patches kick in about half an hour after application, while the gels use a slightly different PLO that allows their effects to be felt much faster, but for a shorter duration. Unlike the consistent mellowness of the patches, the gels were more akin to a cool breeze after being stuck in a hot, loud room for too long. Not exactly a transcendent experience, but welcome nonetheless. The patch did leave me with a bit of a headache afterwards, but that might have been unrelated.
Although Mary's could not ship them, I was able to independently confirm from users that even the strongest THC-based patches were recreationally disappointing, never really approaching the immediate high of a joint or edible. But then, that's sort of the point. "There's a lot of patients out there that don't want to be getting high," Graham Sorkin, the company's director of business development, told Gizmodo over the phone. "Your grandma—maybe she's got some arthritis or some joint pain and she could really benefit from cannabis medicine, but she's never going to smoke a joint or eat a brownie because that's not something she's comfortable with."

The intention behind these products, in Sorkin and Palmer's eyes, is to treat medical marijuana more like an actual medicine, with consistent dosages, discreet consumption methods, and what they claim are high bioavailability and few debilitating effects. And you don't need to be someone's grandma to benefit from using them. They're not going to send you into a Cheech and Chong movie, but they might sooth a bit of your mental or physical aches.
README
Subtle anti-anxiety effects? Maybe?

Compound and muscle freeze smell great

Classy packaging

CBD topical compound and gel pen: $50; CBD patches $16/each

THC products only available in recreational use states: approximately $15/each. Come in indica and sativa, 10 and 20mg doses
Your grandma will love it