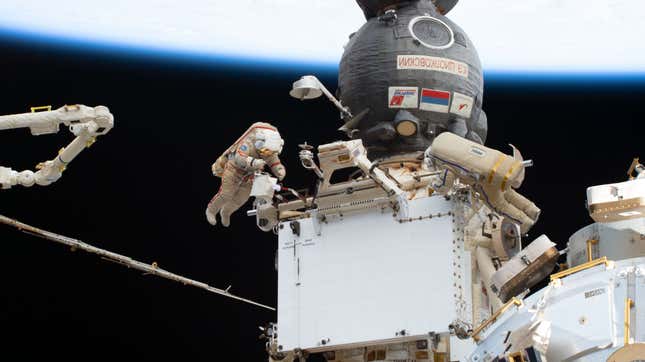 Elon's gigantic Starship rocket is expected to dominate the news this week, but there will be other spaceflight happenings vying for our attention.

Astronomers Could Soon Get Warnings When SpaceX Satellites Threaten Their View
A pair of cosmonauts are in the midst of preparing for the first of several scheduled spacewalks outside the ISS, and that's not the only thing happening in low Earth orbit this week.
SpaceX is aiming for Starship's first flight
SpaceX finally logged its first Starship launch attempt on the morning of Monday, April 17. A frozen pressurant valve forced a scrub, in what was an otherwise good-looking attempt to send the 394-foot-tall (120-meter) rocket on its maiden voyage to space. The company needs a minimum of 48 hours to perform a re-do, so a second attempt could happen as early as Wednesday.
For this 90-minute mission, the Super Heavy booster will fall into the Gulf of Mexico after hoisting the upper-stage Starship to space, which itself will fall into the Pacific Ocean near Hawaii.
Roscosmos is planning an ISS spacewalk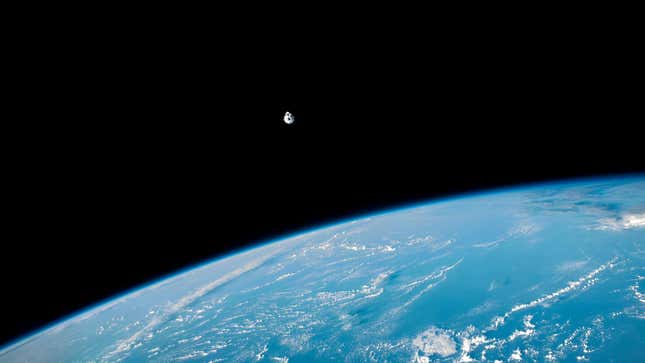 Commander Sergey Prokopyev and Flight Engineer Dmitri Petelin are scheduled to perform a series of spacewalks beginning on Tuesday. Wearing their Russian-built Orlan spacesuits, the cosmonauts will exit through the Poisk airlock and shuffle over to the Earth-facing side of the International Space Station. The duo have been tasked with relocating a radiator and an experiment module from one Russian segment to another. As always, NASA will provide a live broadcast, so be sure to watch for that.
Singapore is sending an Earth-observing satellite to orbit
On Saturday, the India Space Research Organization will attempt to launch a PSLV-XL rocket from Satish Dhawan Space Centre in India. The rocket's lone payload consists of TeLEOS-2—a Singaporean Earth Observation satellite built by ST Electronics, according to Next Spaceflight.
SpaceX rideshare mission deployments aplenty
Over the weekend, SpaceX delivered more than 50 payloads to space, in what was the company's seventh rideshare mission. The operators of these small satellites are now in the opening stages of awakening their spacecraft, and, not to be pessimistic, some of them may not operate as expected. We'll be keeping a close eye on these missions to keep track, while hoping for the best. Fingers are crossed, for example, that Kenya's first operational satellite will soon be up and running.
NASA to discuss its blueprint to Mars
The Space Foundation's Annual Space Symposium is happening in Colorado Springs, Colorado, this week, where NASA Deputy Administrator Pam Melroy is scheduled to deliver a keynote talk about "Our Next Steps to the Moon and Beyond." A big focus of this talk will be NASA's Moon-to-Mars program, which seeks to leverage insights from the upcoming Artemis lunar missions to enable crewed trips to Mars. NASA will provide a live broadcast of Melroy's talk at 11:15 a.m. ET on Tuesday and a related panel discussion at 4:00 p.m. ET on Wednesday.
And another Starlink launch
We're also expecting the obligatory Starlink launch. As always, a SpaceX Falcon 9 is tapped for the task, with launch expected from Cape Canaveral Space Force Station on Wednesday morning. For you Starlink junkies, the Starlink Group 6-2 mission will add to the 3,867 units currently operating in low Earth orbit.
For more spaceflight in your life, follow us on Twitter and bookmark Gizmodo's dedicated Spaceflight page.