This week, a race track in New York put a time capsule on tour, a town in Michigan used a casket for their time capsule, and Boy Scout badges will spend the next 300 years underground.
New York Race Track Sends Time Capsule on State Tour Before Burial
To honor the 150th anniversary of the Saratoga Race Course in New York, the track is sending a time capsule on a journey through Greater New York before it's returned to the course for burial. Along the way, the time capsule will pick up signatures from jockeys at nearby track, along with other commemorative items. The time capsule will also make a stop in Albany for an official proclamation from the governor's office. No word on if they'll be taking bets on how long it takes the time capsule to get back. [NYRA]
Time Capsule With CD and Flip Phone Might Sorta Show How We Lived in 2013
The small town of Mont Alto, Pennsylvania buried a time capsule this past weekend at the end of their three-day event celebrating the town's centennial. The capsule included newspapers, photographs, a cookbook, a CD, a Christmas tree ornament, and an item that has become quite popular to include in 21st century time capsules: a cellphone. Albeit an outdated one.
G/O Media may get a commission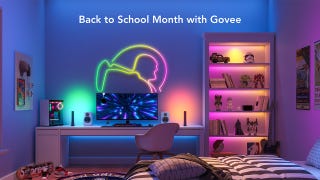 Back to School
Back to School Month with Govee Sale
As is often the case, the time capsule ceremony laid bare the uncomfortable fact that the tube you're burying probably won't see the light of day until we're all dead. Charlie Kaufman (presumably no relation to the screenwriter),is chairman of the town's Centennial Committee and put it rather bluntly at the ceremony: "The people who put the thing together are actually writing history. That's exactly what's going in here. None of us will be here to see it pulled up, but you can go to your grave knowing that you saw it done." [Public Opinion Online]
Judge Suggests iPad for Time Capsule, Probably Won't Volunteer His Own
The town of Cumming, Georgia is looking for items to include in a new time capsule that will be sealed in the cornerstone of a new courthouse currently being built. Chief Superior Court Judge Jeffrey Bagley explained that they were probably going to include some important court documents. He followed up by telling the local paper that he also wanted to include, "Some things of interest to this time period, like an iPad or things like that."
And therein lies the greatest time capsule dilemma: Who's going to volunteer something really cool or expensive? When you don't, you're usually stuck with the usual suspects: coins, flags and bibles. And predictions for the future. For which I obviously have a weak spot [NorthFulton.com]
Time Capsule Essay Contest in Massachusetts for School Kids
The Marshfield Historical Society in Marshfield Massachusetts is holding an essay contest for students in the area. The essays have a futurist theme and the winning papers will be placed in a time capsule set to be opened in the year 2038. Elementary school kids are supposed to answer what makes Marshfield a special place to live, but middle and high school kids are supposed to write about what they think the town will look like (and what they want it to look like) 25 years into the future. The entries are due August 1st. [Wicked Local]
Contribute to a 1988 Capsule in Pine Creek? You Can Get Your Stuff Back Now
One of the nice things about shorter term time capsules is that often the people who contributed items can live to see their uncapsuling. Such is the case in Pine Creek, California, where they recently opened a time capsule from 1988. If you want your stuff back you can go pick it up now. What that stuff is remains a mystery to me since I couldn't get past the local paper's paywall to find out. [The Union]
Casket Buried as 150 Year Time Capsule in Michigan
Residents in Escabana, Michigan buried a time capsule this week which included 32 items that will be waiting for people in the year 2113. Menus from local restaurants, coins, a small pump, a Verizon cellphone, and even some wine were included in the capsule. Interestingly, the time capsule itself was a casket donated by a local funeral home. While it's not typical, there have been other time capsules that use a child's casket as a rather morbid time machine. [Daily Press]
British Schoolboys Bury Time Capsule With Action Figures
Kids at a school near London buried a time capsule recently. They included an audio recording of the boys talking about technology, some soccer (sorry, football) cards, a school tie, as well as a Warhammer figurine. [This Is Local London]
Boy Scouts Bury Badges and Pocket Knife for 300-Year Underground Trip
This week boy scouts in Charleston, West Virginia prepared a time capsule that will hopefully make a 300 year journey through time. The time capsule includes some merit badges, some newspapers, coins, a pocket knife and other Boy Scout memorabilia.
Jack Furst, a member of the Boy Scouts National Executive Board, told the Charleston Daily Mail that he expects people of the future to be amazed by its contents. "Our Scouting family will have the opportunity to open the capsule and say 'Golly, what were those folks doing back then?'" Furst was quoted as saying. [Charleston Daily Mail]
Virtual Time Capsule Lost, Found
And in virtual time capsule news, it looks like remembering where you buried a time capsule isn't limited to flesh and blood humans in real world soil. Players of the game Animal Crossing are sometimes tasked with burying a time capsule, and as we can see from their message boards, it's easy to forget where you buried them. [Animal Crossing]
Image: screenshot from a video of the Mont Alto capsule being buried