Change is coming to The Legend of Korra when Book 3 premieres this week. A new TV movie gives a teenage girl a boy-controlling smartphone app. Teen Wolf heads to Mexico in its fourth season premiere, and Fionna and Cake return to Adventure Time! See the latest details and clips from this week's TV!
Tonight
Beauty and the Beast (9 PM, The CW)
Cat and Vincent enter witness protection. They've dealt with all sorts of mayhem, but can they cope with the suburbs?
Cat (Kristin Kreuk) and Vincent (Jay Ryan) take Agent Knox's (guest star Anthony Ruivivar) offer to extricate and try to lead normal lives — but forces out of their control conspire to expose them and drag them back into the fray.
Teen Wolf (10 PM, MTV)
In Teen Wolf's fourth season premiere, someone is missing—and it sounds like it's Derek. Scott and his pack must travel to Mexico to find them and bring the missing person back, but naturally it won't be easy.
Under the Dome: Inside Chester's Mill (10 PM, CBS)
Under the Dome returns next week, but if you're itching to see what's ahead for the trapped citizens of Chester's Mill, you can tune in for the one-hour special teasing Season Two. That rascally Dome, what will it get up to next?
G/O Media may get a commission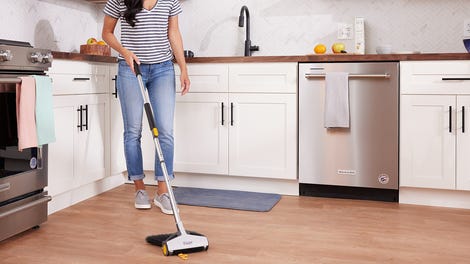 BOGO 50% Off
Flippr - BOGO 50% Off
Tuesday
The Wil Wheaton Project (9 PM, Syfy)
Wheaton's talking Teen Wolf on this week's episode. Does he ship Sterek or Sciles?
Wednesday
Looking for a movie to watch tonight? You can catch The Crazies (7 PM) and Priest (9 PM) on Syfy. Or you watch The Green Mile on AMC at 8 PM.
Thursday
Teen Titans Go! (6 PM, Cartoon Network)
Aqualad asks Raven out on a date, which makes Beast Boy jealous. Cyborg tries to prove that Aqualad is really a pirate.
Adventure Time (7 PM, Cartoon Network)
Fionna and Cake are back for their third genderbent episode. Lumpy Space Prince flees his parents to start a new life.
Defiance (8 PM, Syfy)
Irisa is arrested upon her return to Defiance, but Nolan can arrange her release by capturing those responsible for an explosion that nearly killed Mayor Pottinger. Meanwhile, Stahma decides the only way to stay in control of her family's criminal enterprises is by ensuring that Datak stays behind bars.
Dominion (9 PM, Syfy)
We enjoyed the absurd, Rome-obsessed pilot of Syfy's angel apocalypse. Will the fun hold up over the next episode?
Alex rejects his new role as the Chosen One, but then a sleeper threat in Vega forces him to spring into action and protect the ones he loves. Meanwhile, Michael meets with Gabriel one last time before the war between angels and mankind reignites; and Gen. Riesen and David Whele try to tie up loose ends.
Friday
The Legend of Korra (7 PM, Nickelodeon)
At the end of last season, Korra decided to leave the spirit portals open and the world of Avatar has changed—and we'll get to see those changes in three episodes this week. One change we're looking forward to: a return to Republic City. (And more Asami, please?)
In "A Breath of Fresh Air":
After the events of Harmonic Convergence, Avatar Korra discovers that her decision to leave the spirit portals open has unexpected consequences. Wild spirit vines have overgrown Republic City and Airbenders are suddenly popping up across the four nations.
In "Rebirth of a Nation":
Korra, Tenzin and Team Avatar search for new Airbenders in an effort to recruit them and rebuild the Air Nation. Meanwhile, a band of sinister criminals are organizing to hunt down the Avatar themselves.
Plus, we'll see the episode "The Earth Queen," which was originally titled "Meet the Family." Hmm…could that be a certain Earthbending police chief's family?
Zapped (8 PM, Disney)
In the latest Disney Channel Original Movie, a girl finds that there really is a smartphone app for everything—including mind control:
Multi-talented recording artist/actress Zendaya ("Dancing with the Stars," "Shake It Up"), headlines the comedic Disney Channel Original Movie "Zapped," the story of Zoey, a girl whose well-ordered life is up-ended when her mother remarries and she finds herself part of a family composed of rambunctious, chaotic - and most of all - messy boys and a male dog, to boot. She finds salvation in the unlikeliest of places when she unwittingly comes into possession of a smartphone app that magically controls boys. Spencer Boldman (Disney XD's "Lab Rats") stars as Jackson, the one guy at school who stands apart from everyone else.
Continuum (10 PM, Syfy)
In the third season finale, Kiera and Liber8 find themselves in an unlikely alliance as they work together to stop a power-hungry Alec from unleashing his dangerous new technology; at the same time, Kiera's relationship with John Doe appears to be doomed as forces push them to opposing sides in a larger conflict. Meanwhile, Scar Alec comes to learn that Kellog has been making his own game-changing moves.
Saturday
With Orphan Black done for the season (sniff), Saturday is movie night. Go out, queue up Netflix, or pop in a DVD. Or just rewatch the entire season of Orphan Black. That works, too.
Sunday
True Blood (9 PM, HBO)
True Blood is just as crazy as we remember it, but will the town of Bon Temps survive the entire season?
A trio of hostages taken in the Bellefleur's attack looks to a familiar face as a possible liberator from the H-vamps. Sookie and Jason (Ryan Kwanten) visit the neighboring town of Saint Alice, where a young woman's diary offers clues to the potential fate of Bon Temps. Spurned by Lafayette (Nelsan Ellis), a desperate Lettie Mae (Adina Porter) turns to Willa (Amelia Rose Blaire) to channel her family past. Vince whips his fellow vigilantes into a dangerous frenzy. Pam's (Kristin Bauer van Straten) search for her maker leads her to a very familiar place.
The Last Ship (9 PM, TNT)
Right, now that there's a global pandemic, everyone wants to get into Guantanamo Bay:
Chandler and his crew head to the U.S. Military base at Guantanamo Bay in hopes of collecting food, medical supplies and fuel replenishments. Three teams are dispatched to carry out these varied tasks. While there, they come under attack by escaped Gitmo prisoners and enlist the help of a grizzled private contractor who's been surviving for weeks and living off the land.
Penny Dreadful (10 PM, Showtime)
In the season finale, Vanessa and Sir Malcolm confront their worst nightmares.
Salem (10 PM, WGN)
Fresh accusations are made against Alden, while Anne learns the truth about her father.
The Leftovers (10 PM, HBO)
Damon Lindelof and Tom Perrotta's post-Rapture drama premieres tonight, set in a small town three years after 2 % of the world's population suddenly disappeared.
Robot Chicken (11:30, Adult Swim)
This week's episode is "Nordstrom Rack."