Kim Dickens battles a zombie horde in LA the series premiere of the Walking Dead spinoff Fear the Walking Dead. Astronauts Wives Club and Killjoys end their first seasons, and an Autobot created by fan committee makes her animation debut! All on This Week's TV.

Tonight
Wander Over Yonder (9PM, DISNEY XD)
"Wander heroically faces a ridiculous villain from his past whom no one takes seriously. *Guest starring singer-songwriter "Weird Al" Yankovic as Dr. Screwball Jones."
Weird Al's animated reign of terror continues on Disney XD.

Teen Wolf (10PM, MTV)

Lydia deals an exemplary open-hand strike!
The Whispers (10PM, ABC)

"While Drill loses strength, all of the children he has contacted are becoming ill. Thinking they might actually be able to defeat this unseen foe, Wes convinces the President to let him round up all of the children in a protected zone in the hopes that Drill will wither and fade away."
G/O Media may get a commission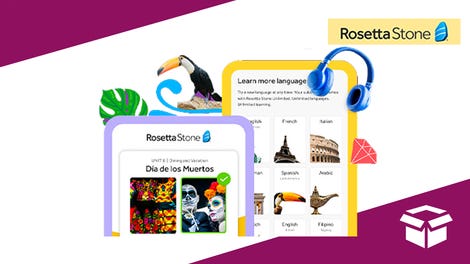 Extra 20% off
Rosetta Stone Lifetime Subscription - All Languages
Drill is ill.

Tuesday
Face Off (9PM, SYFY)
This episode is the "Frightful Fiction Challenge", where the contestants mash up literary classics with spooks and ghouls. Sort of like Graverobbin'son Crusoe, or Franny & Zooey Meet the Wolfman.

Zoo (9PM, CBS)
"The team discovers a terrifying rat infestation when a cargo ship carrying the bloodthirsty rodents washes up off the coast of Massachusetts. Also, unbeknownst to the rest of the team, Mitch reconnects with his terminally ill daughter in Boston as he prepares to make a trade with Reiden-Global to save her life"
Well, it's cramped and awkwardly framed, but they filmed that clip on a real boat! Have to respect Zoo's level of authenticity for their Massachusetts killer rat episode.
Scream (10PM, MTV)

Emma's back in school, but no one's sure how to be a supportive friend. (It's protective custody. Pull her out of school and into protective custody.)
Wednesday
Extant (9PM, CBS)

"As Molly succumbs to the virus, long forgotten memories surface. Also, Julie is confronted with hard choices and the Hybrids seek revenge!"

In Hybrid moments, give me a moment…

Mr. Robot (10PM, USA)

Hey: sometimes I forget I have a sister, too.
Thursday
Uncle Grandpa Babies (5PM, CARTOON)

Astronauts Wives Club (8PM, ABC)

Season finale!
Beauty and the Beast (8PM, CW)

Dominion (10PM, SYFY)
Ezekiel 28:17 – "Thine heart was lifted up because of thy beauty, thou hast corrupted thy wisdom by reason of thy brightness: I will cast thee to the ground, I will lay thee before kings, that they may behold thee."
Friday
Defiance (8PM, SYFY)

Penultimate episode!
Killjoys (9PM, SYFY)

Season finale!
Dark Matter (10PM, SYFY)
I've been waiting all season for those decorative striped barrels to fall on somebody's head. #Vindication
Saturday
Transformers: Robots in Disguise (6:30AM, CARTOON)

Windblade, the first Autobot built by fan committee makes her animated debut!

Marvel's Guardians of the Galaxy: Drax (8:58, DISNEY XD)
The Drax episode! Remember to tune in an hour later for the second half of the short!
Hannibal (10PM, NBC)
"Will Graham (Hugh Dancy) and the FBI enlist the expertise of Dr. Fredrick Chilton (guest star Raul Esparza) in the hopes of luring Francis Dolarhyde (guest star Richard Armitage) into an ambush, using Freddie Lounds (guest star Lara Jean Chorostecki) as their mouthpiece. As Will's empathy for Dolarhyde begins to affect his fragile psyche, Bedelia Du Maurier (Gillian Anderson) warns that the killer Will should be most concerned about at the moment is himself. Meanwhile, Dolarhyde senses that the FBI is closing in and launches a horrifying endgame."
Sunday
Teenage Mutant Ninja Turtles (11AM, NICKELODEON)

This one's called The Creeping Doom.

"After an accident, Donatello finds himself slowly losing his intelligence."
So it's like Flowers for Donatello, or DONNI∃.

Fear the Walking Dead (9PM, AMC)

Series premiere! Outbreak! Kim Dickens! Zombies! Thrill as a new crop of undead subsume its limping antecedent series. This ain't your creepy uncle's Walking Dead. Nay! 'Tis FEAR THE WALKING DEAD. And it. Will. Freeze. Your. Blood.
Falling Skies (10PM, TNT)

And then watch "Reunion", episode 5x09!

"Tom gains a powerful new weapon against the Espheni. Ben puts his life on the line to extract enemy plans. Pope discovers that Tom is alive, and launches a final attack. Meanwhile, the 2nd Mass must reassess their situation when an unexpected visitor appears."
The Strain (10PM, FX)

"Setrakian and Fet use Fitzwilliam's info to attack the Master, but a mysterious new player arrives. Dutch receives a surprise guest. Eph returns to NYC frustrated but energized to go after the one person responsible for killing his friends."
Rick & Morty (11:30PM, CARTOON)
Be there.

Contact the author at fisharebeautiful@gmail.com.