In this week's television, seven of your favorite shows are having their climactic season finales. And a few more are having the penultimate episodes of the season. It's enough to make you have a nervous breakdown — but luckily, John Hodgman is playing a psychotherapist, and he's here to help.
Check out the complete scoop on how every show you love is winding down. Plus clips and stuff!
Today:
Adventure Time (7:30 PM, Cartoon Network):
Check out a brand new clip from tonight's Adventure Time, in which an apparently friendly bear takes Finn and Jake under his wing (so to speak)... but they begin to doubt his true intentions. That's followed by a new Regular Show.
Eureka (9 PM, Syfy):
Sounds as though the aftershocks of the VR experiences are still being felt:
Fargo deals with Holly's death; Zane and Allison evaluate their romantic relationships after their experiences in the virtual reality; a project threatens to ignite the town.
Motorcity (9 PM, Disney XD):
And there's another episode of this brand new dystopian animated show, in which:
When Mike gets his hands on a volatile energy source possessing the power to either defeat Kane or backfire and destroy Motorcity, he must demonstrate that he knows which risks are worth taking and which are not.
Also on TV tonight: a brand new House at 9 PM on Fox, the season finale of Castle on ABC at 10 PM, and a brand new (to Americans) Lost Girl on Syfy at 10 PM.
---
Tuesday:
Unforgettable (10 PM, CBS):
It's the season finale about the woman whose brain can store, freeze-frame and enhance her memories, to the point where she's like a walking DVR. And it looks like she's finally got a lead on her sister's murderer. Will she get closure? Is this show coming back in the fall? We'll know both things soon enough.
G/O Media may get a commission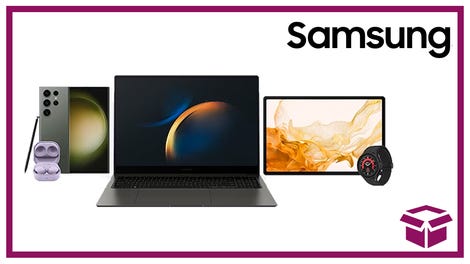 24 hour deals
Discover Samsung - Daily Deal
United Stats of America (10 PM, History):
Statistics is a science, right? Here's the lowdown on this new show about what statistics can teach us:
Here's a stat for you ... the average American male is on earth for about 900 months, and in that time he will spend almost two months shaving, roughly five months on hold, and another five months complaining about his boss. He'll also spend a whopping 198 months watching TV ... but only a mere two months having sex. Randy and Jason Sklar were born a statistic: they are identical twins and stand-up comedians who also just happen to have an obsession with numbers and an amazing knack for finding the incredible stories behind the stats. The wisecracking brothers are the hosts of UNITED STATS OF AMERICA, a new series premiering Tuesday, May 8 at 10 p.m. on HISTORY(R). UNITED STATS OF AMERICA reveals the stories behind the most interesting and surprising statistics in American history - stories that tell us more about who we are as individuals and as a nation. Randy and Jason bring their irreverent brand of humor to locations across the country, uncovering hidden facts about America and Americans while engaging in stunts and experiments that help them uncover the story behind the stats. The Sklars will also utilize cutting-edge computer technology and visually stunning "infographics" to help bring these numbers to life.
I like that "infographics" is in ironic quotation marks.
Also on TV tonight: At 9 PM, Travel's Mysteries at the Museum deals with pneumatic subways, among other things.
---
Wednesday:
Once again, Wednesday is a great howling void. Sorry. Go be with your family. Or get caught up on Awake — it's worth giving another chance to, if you've lapsed in your viewing.
---
Thursday:
The Vampire Diaries (8 PM, The CW):
It's the season finale — and did they really just close the book on the whole Klaus storyline last week? Here's what The CW wants you to know, plus a couple clips:
THE SECRET HERO - Determined to protect his sister, Jeremy (Steven R. McQueen) makes a decision that will change everything. In the harsh reality of the present situation, Elena (Nina Dobrev) longs for simpler times when her parents, Grayson (guest star Jason MacDonald) and Miranda (guest star Erin Beute), and Aunt Jenna (guest star Sara Canning) were still alive and her biggest concern was her relationship with Matt (Zach Roerig).
Stefan (Paul Wesley) and Damon (Ian Somerhalder) leave Mystic Falls together on a mission, but soon split up when Elena needs one of them. Caroline (Candice Accola) and Tyler (Michael Trevino) are forced to make a life-changing decision. Finally, Bonnie (Kat Graham) makes a secret deal that has heartbreaking consequences.
Isn't "Bonnie makes a secret deal that has heartbreaking consequences" what happens to her in every episode?
The Big Bang Theory (8 PM, CBS):
This show is also having its season finale, as Howard and Bernadette decide they want to be married before the space launch, and the gang has to put on a wedding in a hurry. And "NASA astronaut Mike Massimino guest stars as himself." And as various commenters have pointed out, this is a Soyuz launch, not an actual U.S. launch. So it's in keeping with our new reality.
Community (8 PM, NBC):
And it's worth mentioning the other geek comedy that airs on Thursdays at 8 too, because of a certain guest star:
THE STUDY GROUP GOES INTO THERAPY WITH ABED - Abed (Danny Pudi) becomes convinced that there is a conspiracy afoot and that Dean Pelton is an imposter. When Abed is apprehended sneaking around on campus, he is required to see a therapist, Dr. Heidi (guest star John Hodgman, "The Daily Show"), or risk being sent to jail.
Person of Interest (9 PM, CBS):
It's the penultimate episode of the season, and we're continuing to delve into Reese's past, with genuinely interesting ramifications:
The newest POI's curiosity could spell his doom when he finds himself embroiled in a dark government conspiracy - one that Finch is all too familiar with. Meanwhile, Reese uncovers something revealing about Finch's past.
The Secret Circle (9 PM, The CW):
Check out a clip from the season finale, and here's what's going on:
CASSIE AND DIANA UNLEASH THEIR DARK MAGIC, CHARLES AND DAWN GET A SHOT AT RESTORING THEIR POWERS AND FAYE FIGHTS FOR HER LIFE IN THIS JAW-DROPPNG SEASON FINALE - After Faye (Phoebe Tonkin) is attacked by the Witch Hunters, Jake (Chris Zylka), Melissa (Jessica Parker Kennedy) and Adam (Thomas Dekker) set out to save her. Blackwell (guest star Joe Lando) tells Cassie (Britt Robertson) and Diana (Shelley Hennig) that the only way to stop the Witch Hunters is to use their Balcoin blood to unleash the Crystal Skull. Diana is reluctant, but Cassie convinces her it's the only way to help their friend, but she'll need to tap into her dark magic to do it. Meanwhile, Dawn (Natasha Henstridge) and Charles (Gale Harold) are faced with a new way to get their power back...but at a very big cost.
Touch (9 PM, FOX):
Here's what to expect this time around from this show, which I believe is officially on the bubble:
Martin exposes a corrupt parole officer (guest star Scott Michael Campbell), and a Brazilian street musician (guest star Louis Ferreira) uses his guitar to win the heart of a beautiful woman. In addition, Jake bonds with another mute boy (guest star Tre C. Roberts), while Clea and Martin learn new information about one of Teller's key patients.
Awake (10 PM, NBC):
As the first (and probably only) season winds down, the reality-hopping premise is getting shaken up:
A strange dream disrupts Detective Britten's ability to switch to his other reality and the appearance of a mysterious man, (guest star Kevin Weisman) causes him distress. Soon memories of the accident begin to surface and Britten has to come to grips with one of his losses. Later, Captain Harper (guest star Laura Innes) shows growing concern over his erratic behavior. Meanwhile, Hannah (Laura Allen) works to mend the ties between Emma (Daniela Bobadilla) and her family.
Confederate Flying Machine (10 PM, National Geographic):
Yes, you read that right. This one-hour special is promising to "rewrite the book on aviation history." I'm not sure we'll be able to withstand these levels of steampunkiness.
Also on TV tonight: There's a new Dragon Ball GT on NickToons at 8 PM.
---
Friday:
Nikita (8 PM, The CW):
Another season finale, another show that might not be coming back. At least it's going out huge — with the threat of nuclear disaster. (You almost hope the nuke does get set off, since if the show does come back, that will set up some pretty insane storylines.)
Percy (Xander Berkeley) calls the President the United States (guest star Cameron Daddo) and threatens to set off a nuclear explosion unless his demands are met. Birkhoff (Aaron Stanford) finds two scientists who could help stop Percy's new nuclear satellite, so Nikita (Maggie Q) and Michael (Shane West) head after one and Sean (Dillon Casey) and Alex (Lyndsy Fonseca) look for the other. Unfortunately, Alex and Sean get caught at the very location that Percy blows up as an example of his power. Meanwhile, Nikita realizes the best way to stop Percy is to go into the belly of the beast – Division itself.
Supernatural (9 PM, The CW):
It's the penultimate episode of season seven, and the Winchester Brothers are going Cylon-hunting. Sort of. Here's the skinny:
In order to defeat Dick Roman (guest star James Patrick Stuart) and the Leviathans, Sam (Jared Padalecki) and Dean (Jensen Ackles) must locate three key items. Castiel (Misha Collins) helps with one but for the last objects, the Winchesters must face two of their strongest opponents – an Alpha (guest star Rick Worthy) and Crowley (guest star Mark Sheppard). Meanwhile, Bobby (guest star Jim Beaver) tries out a new ghost trick that ends up being very dangerous.
Fringe (9 PM, FOX):
Another season finale! Who, or what, do you think Walter is shooting in this clip?
In the climactic conclusion of the Season Four finale, the Fringe team is pushed to their breaking point as they desperately attempt to prevent a catastrophic event that threatens the lives of everyone.
Presumably this time around they more or less deal with the immediate threat of William Bell — but he survives to be stuck in amber later, and then we get a cliffhanger taking us into season five, which is all about the evil Observers.
Grimm (9 PM, NBC):
It's the penultimate episode of the season, and Nick has to deal with a creature who can't quite turn back into a human. Which sounds pretty interesting:
After Juliette (Bitsie Tulloch) stumbles upon a brutal murder, Nick (David Giuntoli) learns the suspected creature (guest star Kenneth Mitchell), and friend of Monroe (Silas Weir Mitchell), is suffering from a mysterious condition — the inability to completely return to human form. This mysterious condition leads them to a therapist (guest star Roger Bart) who's created an artificial drug to suppress the creature side, with horrifying side effects. Meanwhile, the investigation takes a surprising turn when Hank (Russell Hornsby) sees something he can't quite explain.
Also on TV tonight: There are two new Phineas & Ferb episodes at 8:30 PM on Disney.
---
Saturday:
Cartoons (9:30 AM, Cartoon Network):
More awesomeness with Thundercats ("Birth of the Blades"), Green Lantern: The Animated Series ("Flight Club") and Young Justice ("Alienated.") Plus the usual awesome batch of totally insane DC Nation cartoon shorts.
The Legend of Korra (11 AM, Nickelodeon):
Note special time. Korra and the Fire Ferrets prepare for the pro-bending tournament, and a threat looms over the arena. Check out a brief sneak peek, including the statue of Firelord Zuko in Republic City. This is followed by a new Power Rangers.
Also on TV today: A new Transformers Prime on The Hub at 8:30 PM.
---
Sunday:
Ultimate Spider-Man (11 AM, Disney XD):
"Back in Black" features more Venom:
When the terrifying Venom returns, Spider-Man tries to stop the villain and save his best friend. Spidey must decide if he can trust his new teammates with the shocking truth about Venom before asking for their help.
And then Avengers: Earth's Mightiest Heroes features an army of shapeshifting Skrulls.
Once Upon a Time (8 PM, ABC):
Another season finale. And it has the ominous title "A Land Without Magic." Here's what to expect, according to TV Guide:
Regina and Emma will find themselves at odds in the finale, with the stakes for both being raised in a new way. As for whether fans of Charming and Snow will be pleased by the finale? "We hope everyone who watches is both happy and excited to see what comes next," the producers say.
Game of Thrones (9 PM, HBO):
This episode is called "A Man Without Honor." Who does it refer to — Theon or Jaime? Or someone else? Here is the synopsis:
Jaime has some surprising company. Theon goes hunting while Dany is given an invitation.
Also on TV tonight: There are two new episodes of Winx Club on Nickelodeon at noon. Fox has its usual animated comedies, including The Simpsons and the season finale of Family Guy. There's a brand new Mythbusters on Discovery at 9 PM. PBS has a brand new Sherlock at 9 PM. And BBC America has a new special, Planet Earth: Extreme Journeys, at 10 PM. And there's a new Metalocalpyse on Adult Swim, just after midnight.
Sources: Futon Critic, MSN TV, TV Guide, and various TV studio press releases.