A full week of new Steven Universe, TWO monster shark movies, and the season premiere of Gravity Falls, all on this week's TV!

Tonight:
Steven Universe (6PM, CARTOON)
Brand-new episodes—every weekday at six!
Gravity Falls (8:30PM, DISNEY XD)
The origin of Stan and his mysterious brother is finally revealed! Tonight's episode is thirty uninterrupted minutes, without commercial breaks, so—pee early. Pee often.

Teen Wolf (10PM, MTV
Oh. My. God...there should be a colon there! "Condition Terminal" airs tonight on MTV.
The Whispers (10PM, ABC)
Should Wes destroy the rock? He asks the President.
"While Wes meets with the President of the United States to discuss what his team has discovered about the mysterious rock - and whether or not it should be destroyed - Drill sets his sights on a member of the President's family. Meanwhile, Sean reunites with his family, but the reunion could be short-lived as he faces a possible prison sentence for his collaboration with Drill, and Lena attempts to communicate with Drill, with the help of daughter Minx"
G/O Media may get a commission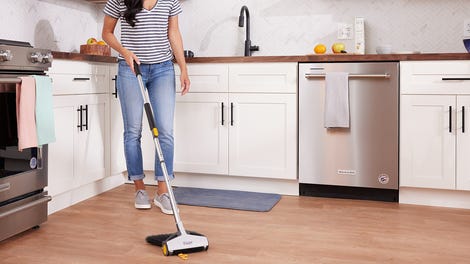 BOGO 50% Off
Flippr - BOGO 50% Off
---
Tuesday:
Marvel's Ultimate Spider-Man: Web Warriors (8PM, DISNEY XD)

The Rhino returns!

National Geographic: Mission Pluto (9PM, NGC)
Scream (10PM, MTV)
Will Emma go to Kieran's house? Or will Kieran go to Emma's? Find out in 1x03, "Wanna Play a Game?"

---
Wednesday:
Mr. Robot (10PM, USA)

"fsociety hits the road to initiate world-changing hack. elliots (Rami Malek) inner demons threaten to derail operation. LIRL (laughing in real life)."
Why would someone type "LIRL" just to explain the abbreviation, you're asking? Inner demons are no substitute for clear writing. — #fsociety

Extant (10PM, CBS)

"Molly finally learns the frightening truth about what happened to her son. Also, Julie's decision to erase Ethan's memory has disturbing consequences"

---
Thursday:
Astronaut's Wives Club (8PM, ABC)
Beauty and the Beast (8PM, CW)

Beauty & the Beast & a Sniper?!

"JT (Austin Basis) throws Vincent (Jay Ryan) a surprise bachelor party. Unfortunately, it is interrupted by a mysterious sniper with his sights set on putting a stop to Vincent and Cat's (Kristin Kreuk) interference with the super human experiments. Cat's family comes to town for a bridal shower arranged by Heather (Nicole Gale Anderson) but Cat is distracted by having to visit her imprisoned father (guest star Ted Whittall) to ask for his help."
Aquarius (9PM, NBC)
"Two officers invite Charmain (Claire Holt) on a ridealong, but everything comes to a halt when they are murdered in cold blood. Hodiak (David Duchovny) and Shafe (Grey Damon) try to protect Charmain's standing in the department and find the real killer. "
"…but everything comes to a halt when they are murdered in cold blood?"
I mean, yeah…
Wayward Pines (9PM, FOX)
"After Harold attempts to break past the fence surrounding Wayward Pines, Ethan interrogates him about other insurgents who have gone off the grid. Meanwhile, Amy's (guest star Sarah Jeffery) health takes a turn for the worse, Nurse Pam encourages Theresa to investigate Plot 33, Ben's teacher, Megan Fisher (guest star Hope Davis), advises Ben to speak publicly about the current events effecting Wayward Pines and Ethan reveals the truth about the town to the residents in the all-new "A Reckoning".
Dominion (10PM, SYFY)
"Mouth of the Damned". Great title.
Hannibal (10PM, NBC)

This one's called "Digestivo"!

"Captured in Italy by police on Mason Verger's payroll, Will Graham (Hugh Dancy and Hannibal Lecter (Mads Mikkelsen) are delivered to Muskrat Farm to await Mason's (guest star Joe Anderson) revenge. Alana (Caroline Dhavernas), distressed that Will has been endangered along with Hannibal, plots a rescue. And Hannibal, once again in contact with his old patient Margot (guest star Katharine Isabelle), finds it irresistible to remind her that Mason will never make good on his promises. Meanwhile, Jack (Laurence Fishburne) informs Chiyoh (Tao Okamoto) of Hannibal's location. "
Under the Dome (10PM, CBS)

"Big Jim and Julia form a tentative alliance to search for proof that will discredit Christine, which leads them to new information about the Dome's capabilities. Meanwhile, when tensions run high in town and threaten Christine's leadership, she puts a plan in play that has deadly consequences"
Geeks Who Drink (11PM, SYFY)
Remember Beat the Geeks? Well, Eric Christian Olsen and Scott Porter guest on the premiere episode of SYFY's mostly-original game show.
Reactor (11:30PM, SYFY)
SYFY does The Soup!
---
Friday:
Defiance (8PM, SYFY)
Nolan recruits a militia. SO Nolan.
Killjoys (9PM, SYFY)

When something mysterious takes over the ship, the Killjoys must face their own dark ratings – realities! I meant realities.
The Messengers (9PM, CW)
"The limits of each Messenger's power are put to the test as they work together to free a key player from a secret government lock-up, and Joshua's (Jon Fletcher) latest vision points to the appearance of a treacherous new enemy."
Dark Matter (10PM, SYFY)
---
Saturday:
Roboshark (7PM, SYFY)

SYFY kicks off a can't-miss night of television with a killer shark double feature! In Roboshark:
"A great white bites a UFO aircraft in the Pacific and turns into a robo/shark hybrid".
Megashark vs. Kolossus (9PM, SYFY)
Even crazier, this one stars Ileanna Douglas! It's Megalodon vs. a Cold War-era robot clearly modeled after the giants from Attack on Titan!

Atlantis (9PM, BBC AMERICA)
Only three episodes left!

Jonathan Strange & Mr. Norrell (10PM, BBC AMERICA)
Rooks and ravens.
---
Sunday:
The Last Ship (9PM, TNT)

"Hell bent on avenging the destruction of the labs, Chandler tracks the immunes to Northern Florida. Meanwhile, Rachel comes across a secret formula that her mentor, Dr. Hunter, had been perfecting before the Immunes murdered him. The formula holds the promise of mass producing and disturbing the cure, but is incomplete. Venturing further inland, Chandler's team locates an Immune compound under the control of Sean and Ned. The Captain quickly realizes the Ramseys are not just leading the sub - they're controlling Immune populations on land, making them a more terrifying foe than initially thought."
Battlebots (9PM, ABC)
The Great 8: Quarterfinals.
Humans (9PM, AMC)

"Killer Synth is the breaking news story, and public panic is growing."
The Strain (10 PM, FX)
Disappointed by the weak season opener? In this second episode, "Eph and Nora experiment on their newfound patients. Fet and Dutch grow closer as they clear out the neighborhood buildings, and Kelly begins her hunt for Zack."
Falling Skies (10PM, TNT)
Pope busts some heads!