Harry Houdini and Arthur Conan Doyle team up to solve mysteries in a British-Canadian-U.S. co-production you're probably only just hearing about! Person Of Interest's fifth and final season! And what are these continuously promised deaths on Agents of SHIELD and Once Upon A Time? Let's figure it out, on This Week's TV!

Monday
Gotham (8PM, FOX)
Azrael
"Gordon and Bruce question Professor Strange about Project Chimera, which leads Strange to send the newly resurrected Galavan to confront Gordon. Meanwhile, Nygma investigates who Professor Strange."
There's a very good "circles for eyes" effect in this promo—very Batman: The Animated Series.

12 Monkeys (9PM, SYFY)
One Hundred Years
"Amid growing tensions, Cole and Cassie embark on their first time travel mission together, which brings them to New York at the height of World War II to track a dangerous, seductive member of the Twelve."
G/O Media may get a commission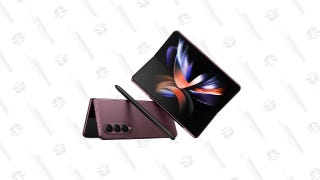 Save Up to $300
Galaxy Z Fold4
Houdini & Doyle (9PM, FOX)
The Maggie's Redress
Series premiere! Harry Houdini and Arthur Conan Doyle team up to solve mysteries. I had not heard of it until just now, either!
Hunters (10PM, SYFY)
Love & Violence
"The ETU capture their greatest asset yet; Jackson goes against his morals to combat the Hunter threat; and McCarthy makes it known the lengths he will go to protect his kind."
Blindspot (10PM, NBC)
Swift Hardhearted Stone
"When a mysterious young girl with a tattoo connection falls into Borden's care, he brings her case to the FBI team— but her ties to a terrorist organization prove dangerous for all of them. Meanwhile, a conflicted Jane starts to grow close to Weller again, and friendship blossoms between Borden and Patterson."
Also On Monday: Spongebob Squarepants (5:30PM, NICK), Reign (8PM, CW), Bates Motel (9PM, A&E), Damien (9PM, A&E)
Tuesday
The Flash (8PM, CW)
Rupture
"Zoom arrives back on Earth-1 intent on taking over Central City. Barry and Wells come up with a plan to stop Zoom once and for all but it's extremely dangerous. Unsure if he should take the risk, Barry reaches out to both fathers for advice. Henry (guest star John Wesley Shipp) is adamantly opposed to Barry risking his life again but Joe thinks he can handle it which puts the two men at odds with each other. Meanwhile, Cisco is shocked when he vibes the Earth-2 villain Rupture, who happens to be his brother Dante's (guest star Nicholas Gonzalez) doppelganger. Rupture came to this Earth seeking justice for Reverb's death. Iris decides she's finally ready to open up to Barry about her feelings for him."
Containment (9PM, CW)
Angry at the Sun
"Following the release of several controversial videos depicting the chaos going on inside the cordon, Lex (David Gyasi) pleads with Dr. Lommers (Claudia Black) for additional reinforcements to be sent in. However, when the request is denied, Lex is forced to rely on a reluctant Jake (Chris Wood) to take control of the situation inside. Elsewhere, Katie (Kristen Gutoskie) has a tense stand-off with one of her student's desperate parents, while a robbery at her mom's store leaves Teresa (Hanna Mangan Lawrence) shaken to her core. Finally, when Leo (Trevor St. John) releases more damaging videos, drastic measures are taken to shut him down."
Agents of SHIELD (9PM, ABC)
Failed Experiments
"Coulson and his team race to combat Hive's control over the Inhumans, as their enemy's deadly plan for the human race is revealed."
"Who. Wheel. Die?"

Person Of Interest (10PM, CBS)
B.S.O.D.
"Reese and Finch attempt to rescue the Machine's source code before it deteriorates beyond repair. Also, Root fights for her life against an onslaught of Samaritan's agents and Fusco is faced with hard questions following the deaths of Dominic and Elias."
It's the season five premiere!
Also on Tuesday: Spongebob Squarepants (5:30PM, NICK), Stitchers (10PM, Freeform)
Wednesday
Arrow (8PM, CW)
Genesis
"As Oliver and Felicity look for a magical solution to defeat Darhk (guest star Neal McDonough), a vengeance-driven Diggle gets a lead on Andy's (guest star Eugene Byrd) whereabouts and heads off to confront his brother. Meanwhile, Alex (guest star Parker Young) takes Thea on a vacation that quickly turns into a nightmare."
Micro Monsters With David Attenborough (8PM, SMITHSONIAN)
Aw yeah! Contrary to the title, David Attenborough is not narrating a Ghoulies movie. "With its demise, we bid farewell to the Bat Ghoulie. But way must be made for the incoming Toad Ghoulie..."

Supernatural (9PM, CW)
Don't Call Me Shurely
"Amara (guest star Emily Swallows) unleashes a dark fog on a small town, causing everyone to go mad. Dean and Sam realize this is a stronger version of the original black vein virus Amara previously unleashed. They team up with the sheriff to protect the town but their old remedy no longer works. Meanwhile, Chuck returns with an interesting proposal."
Eleven seasons and they haven't done "madness fog" yet?
Also on Wednesday: Spongebob Squarepants (5:30PM, NICK), Lucha Underground (8PM, El Rey), Nova (9PM, PBS)
Thursday
Legends of Tomorrow (8PM, CW)
River Of Time
"After numerous attempts in many different time periods, the team has successfully captured Vandal Savage (guest star Casper Crump). However, Savage tells Kendra (Ciara Renée) that he can reunite her with Carter (Falk Hentschel) so she struggles with whether she should kill him. Rip (Arthur Darvill) decides they will deliver Savage to the Time Masters which doesn't sit well with Snart (Wentworth Miller) and Rory (Dominic Purcell). The duo decides it may be time to jump ship and return to their old life. Meanwhile, Savage taunts Ray (Brandon Routh) about his place in Kendra's life. "
The 100 (9PM, CW)
Red Sky At Morning
"Clarke (Eliza Taylor), Bellamy (Bob Morley), Octavia (Marie Avgeropoulos) and Jasper (Devon Bostick) hit a tragic roadblock. Meanwhile, Raven (Lindsey Morgan) and Monty (Christopher Larkin) make an important discovery."
Archer (10PM, FX)
El Banto, Part II
"A hostage negotiation spirals out of control when Archer and Lana go missing."
Orphan Black (10PM, BBC AMERICA)
From Instinct to Rational Control
"Sarah forms an alliance with a former enemy in hopes of getting to the head of Neolution. Elsewhere: Alison orders Felix and Donnie to invade a Neolution fertility clinic and a Susan Duncan leaves Rachel to make a devastating decision."
Also on Thursday: Marseille (3:01AM, NETFLIX), Clarence (5PM, CARTOON), The Amazing World of Gumball (5:30PM, CARTOON), Spongebob Squarepants (5:30PM, NICK), The Powerpuff Girls (6PM, CARTOON), Teen Titans Go! (6:30PM, CARTOON), We Bare Bears (7PM, CARTOON), Bones (8PM, FOX), River Monsters (9PM, ANIMAL)
Friday
The Vampire Diaries (8PM, CW)
Requiem For a Dream
"When Damon's (Ian Somerhalder) risky attempt to save Bonnie (Kat Graham) takes an unexpected turn, the consequences of his actions forces everyone to band together to help her pull through. Meanwhile, when a new threat leaves Caroline's (Candice King) life in jeopardy, Stefan (Paul Wesley) makes a rash decision that ultimately forces them to face the fallout from their relationship. Elsewhere, Enzo (Michael Malarkey) tries to hold it together as he painfully watch Bonnie in the fight of her life, while Matt (Zach Roerig) takes matters into his own hands to save one of his closest friends."
The Originals (9PM, CW)
Where Nothing Stays Buried
"In the wake of a ruthless plan that has left their family shattered, Klaus (Joseph Morgan), Elijah (Daniel Gillies) and Freya (Riley Voelkel) desperately search for a way to take down Lucien (guest star Andrew Lees) once and for all. However, their efforts are put on hold following an urgent plea for help from Kol (guest star Nathaniel Buzolic) and Marcel (Charles Michael Davis). At Klaus' insistence, Freya and Elijah reluctantly stay behind to offer their help, while Klaus and Hayley (Phoebe Tonkin) head to the bayou after uncovering Lucien's latest plan. Once there, an unexpected showdown between Klaus and Lucien forces Freya to take matters into her own hands, setting off a chain of events that will change all of their lives forever."
Also on Friday: Spongebob Squarepants (5:30PM, NICK), Ancient Aliens (9PM, HISTORY), Banshee (10PM, CINEMAX), Wynonna Earp (10PM, SYFY)
Saturday
Henry Danger (8PM, NICK)
Twin Henrys
"Henry has a shape-shifting android fill in at a family dinner so that he can watch an MMA fight with Charlotte and Ray."
Outlander (10PM, STARZ)
Untimely Resurrection
"Jamie hires a young boy from a Brothel to pick pockets of messengers carrying classified and cryptic messages related to Jacobite Rebellion for him. Claire gets bored in her daily life. She wants to join L'Hôpital des Anges to treat the sick. Jamie refuses Claire to do so, but Claire convinces him otherwise."
Also On Saturday: Transformers: Robots In Disguise (6:30AM, CARTOON), Pokemon (7AM, CARTOON), Transformers: Rescue Bots (8:30AM, DFC), My Little Pony (11:30AM, DFC), Miss Fisher's Murder Mysteries (8PM, OVATION), Svengoolie Presents Calling Dr. Death (10PM, MeTV)
Sunday
David Lynch Short Films & Dumbland: The Complete Series (2AM, TCM)


Beginning with The Grandmother at two in the morning.
Once Upon A Time (8PM, ABC)
Last Rites
"The king of the underworld enters our world, igniting a devastating conflict that someone will not survive, breaking the very heart of Storybrooke forever!"
Fear the Walking Dead (9PM, AMC)
Captive
"Alicia works to reunite with her family; and Travis meets a familiar face. Meanwhile, Madison and Nick lead a charge to save their family against all odds."
Game Of Thrones (9PM, HBO)
Oathbreaker
"Daenerys meets her future. Bran meets the past. Tommen confronts the High Sparrow). Arya trains to be No One. Varys finds an answer."
(But where's Ian McShane?)
The Last Man On Earth (9:30PM, FOX)
Smart and Stupid
"Todd feels left out, as Tandy warms to having his big brother back on Earth. Meanwhile, Mike learns more about Erica than the group has ever uncovered."
Penny Dreadful (10PM, SHOWTIME)
Predators Far and Near
"Ethan gets help from Hecate. Evil forces track Vanessa's every move."
Also On Sunday: Bob's Burgers (8:30PM, FOX), Wallander (9PM, PBS), Elementary (10PM, CBS), Silicon Valley (10:30PM, HBO), Robot Chicken (11:30PM, CARTOON), Mike Tyson Mysteries (11:45PM, CARTOON)