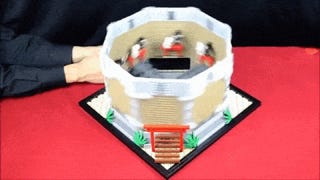 Constructed for the round 7 of the MOC Olympics, Ian Spacek has given us the ultimate in old tech moving pictures. Spin up this early animation technique and peer through the slots in the brick and you will see fighting ninja. I've never seen anything like this done for a building contest. Awesome build!
The pictures do not really show how amazing this thing actually is though, check out the video!
---
You're reading Leg Godt, the blog with the latest Lego news and the best sets in the web. Follow us on Twitter or Facebook.