Last week, an avalanche engulfed a hotel nestled in the steps of Italy's Gran Sasso mountain. The avalanche, which struck in the early hours of morning, caused extensive damage to the hotel and claimed at least 7 lives. At least 22 others are still missing.
But after a grim weekend, Italian firefighters stumbled across a glimmer of hope—the team found three tiny month-and-a-half-old Abruzzo Sheepdog puppies trapped in the hotel boiler room. They had miraculously survived for five days after the avalanche.
One firefighter called the rescue "a little ray of sunshine," and we've got to agree:
The pups were popular among guests of the hotel, particularly on social media. "They just started barking very softly,"Sonia Marini, a member of the Forestry Corps, told the Associated Press. "In fact, it was hard to find them right away because they were hidden. Then we heard this very tiny bark and we saw them from a little hole the firefighters had opened in the wall."
G/O Media may get a commission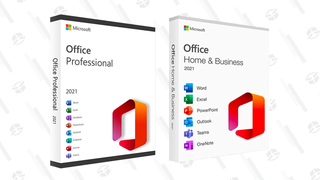 89% off
Microsoft Office Professional 2021 Lifetime License
While the puppy rescue itself was certainly a rare bright spot, Luca Cari, a spokesman for the fire department, emphasized that it shouldn't necessarily be taken as an indicator for future human rescue. "We're happy to have saved them, and these are important moments in a dramatic situation," he told the AP. "But I don't think there's much correlation with finding other people."
So far, rescuers have pulled 10 survivors from the snow, but they've faced insurmountable hurdles since the avalanche was first reported; extreme weather conditions, in addition to the inaccessibility of the Hotel Rigopiano, have made it nearly impossible to find survivors.
You can watch the full video of the rescue below. Bring tissues.