Whether you have a lucrative gig blogging about coupons or your work-from-home status is merely temporary, laptop + jammies does not a home office make. Welcome to the Business Casual series, a triptych of posts about how to stay on task at work — whether you're onsite, offsite, or at home. Created in conjunction with the join.me crew, Business Casual is your one-stop shop for your modern workplace advice needs. This first installment is all about the glorious phenomenon known as "working from home."
Where
Message from Captain Obvious: the first step in setting up your home office is to identify your office space. If you live in some kind of manse, this won't be an issue. But if you're sharing with space with five roommates and three cats, you may have a bit of a challenge on your hands. Either way, make sure your space has a) a modicum of privacy, b) a decent outlet situation, c) room for your home office gear. Seating and lighting are equally as important, so invest in a comfortable chair and test out your workspace at different times of day so you're sure to have proper lighting at all times.
When
Manage your time. Set office hours. Like, say, ass-in-chair at 8 AM (or 9, or 10, depending on what you do for a living). This means that you do all your teeth-brushing, showering, preening, dressing, etc. BEFORE you start work. Otherwise you'll find yourself curled up on the couch taking a 4 PM Judge Judy nap. Take a lunch break. And set a firm endtime for your workday. But even after you do all of this, prepare yourself for the fact that you will be interrupted. Several times a day. (But that happens in the office, too.)
G/O Media may get a commission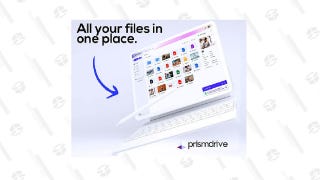 Save 97%
Prism Drive Secure Cloud Storage: Lifetime Subscription
How
Once you get your setup set up, connectivity to your boss, colleagues, and collaborators is the next order of business. You'll need to attend and run meetings, chat via phone and IM, and transfer files easily — the same stuff people do when working from an office. If you join the more than half a million people who use join.me on a weekly basis to work from home (as well as from offices and while they're on the road), you'll be covered. A Wi-Fi connection and one click, and you'll be ready to go.
There you have it — a primer on getting your home office up and running. Getting showered and dressed before 4 PM is on you. All that, and the cat wrangling.
Check back tomorrow for another installment of the Business Casual series, and head here to get more info about all of join.me's working-from-home-friendly features, like screen sharing, online meetings, chat, and file transfers. Download the free version (it supports up to 250 participants) today!