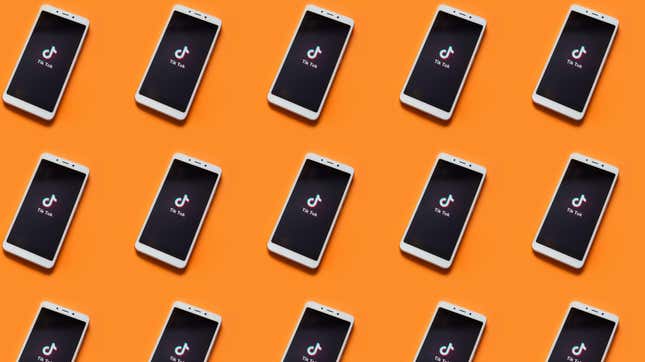 Hitting the viral internet jackpot might seem like a combination of algorithm and luck (with, sure, a dose of talent or skill). But it's not all the result of a pre-programmed black box of computer coded decision making. Employees at TikTok and ByteDance reportedly have a hidden tool up their sleeves: a feature internally referred to as "heating." The manual push option forces certain videos onto the For You Pages of users across the app—all but guaranteeing that the chosen content will "achieve a certain number of video views," according to a report from Forbes.

Six former and current employees of TikTok or its parent company, Byte Dance, told the outlet that staff frequently hand select videos for the secret super boost. In total, heated video content "accounts for a large portion of the daily total video views, around 1-2%," said an internal document reportedly viewed by Forbes. And that "can have a significant impact on overall core metrics."
Sometimes, companies will usurp the whims of the algorithm to dampen the popularity of objectionable content on their sites like health misinformation. And social media platforms like Facebook, Instagram, Twitter, and TikTok all have a history of posting internally promoted content. For example, at varying relevant times, information about elections or covid-19 has been pushed to the top of feeds. Then, of course, there's advertisements, which all of the above social sites prominently feature.
But the difference here is that "heated" TikTok videos aren't labeled. Unlike the explanation on an Instagram election post or a "promoted" tweet, there's nothing on a piece of TikTok heated content to separate it from the rest of the "For You" mass. The idea is sort of similar to how Meta once used human curators to pick articles to display in its news section, except the TikTok content is showing up in the app's continuous, main feed.
The biggest application for the "heating" tool: pandering to brands and influencers that TikTok wants to partner with, according to Forbes. Through heating, TikTok artificially pumps up view counts, and hopes to entice companies and creators into new deals. "This suggests that heating has potentially benefitted some influencers and brands—those with whom TikTok has sought business relationships—at the expense of others with whom it has not," wrote Forbes.
But workers at ByteDance and TikTok have lots of latitude to pick and choose what they heat up. A document titled "TikTok Heating Policy" lists varying approved reasons why staff might apply heating, according to Forbes. Those justifications include to "attract influencers," "promote diverse content," "push important information," and to "promote relevant videos that were missed by the recommendations algorithms."
Then, there are employees who try to use the feature for their own benefit. There've been multiple instances of staff members abusing "heating privileges" to promote their own accounts, or those of spouses and personal connections, according to Forbes, and attributed to both internal documents and three unnamed sources. Such self-promo is against company policy, but that hasn't stopped it from happening. In one instance, this type of heating reportedly led to one account collecting more than 3 million views.
But regardless of whether or not the reasoning is approved by ByteDance, evidence of a Chinese tech company intentionally manipulating online content is not likely to go over particularly well with U.S. policy makers. Fears that China is using TikTok to promote its Communist Party's propaganda abound among legislators. TikTok is currently negotiating a contract with the Biden Administration and the Committee on Foreign Investment in the United States (CIFUS)—to try to assuage concerns. But it might be too little too late.
Already, at least 28 states and multiple universities have banned TikTok from devices and networks, out of concern for data privacy and a particular discomfort with China's government potentially accessing information on U.S. users. In October 2022, an earlier Forbes report revealed that ByteDance planned to monitor the locations of a select group of American citizens. Shortly after that revelation, a group of Senators introduced legislation to ban TikTok nationwide.
Important to note though: there is very limited information suggesting that TikTok poses any sort of unique national security threat, or that ByteDance engages in practices that other social media platforms and data brokers don't. U.S. data collected by American-owned companies already frequently ends up stored on Chinese servers, according to a 2020 Gizmodo investigation.
In a bid for increased transparency, TikTok announced in December 2022 that it would soon begin explaining each of its video recommendations in a linked pop-up panel. But the concept of "heating" or internally promoted content is notably missing from the company's news release. It's unclear if heated videos are set to come with their own explanation.

Gizmodo reached out to ByteDance and TikTok with questions via email. In response, a company spokesperson wrote, "We promote some videos to help diversify the content experience and introduce celebrities and emerging creators to the TikTok community. Only a few people, based in the U.S., have the ability to approve content for promotion in the U.S., and that content makes up approximately .002% of videos in For You feeds."
The statement further specified that, under the in-progress CIFUS agreement, "only vetted TikTok U.S. Data Security personnel would have the ability to "heat" videos in the U.S.."