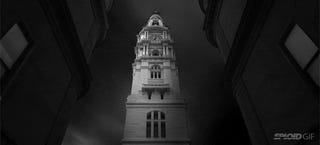 This short time lapse by Bruce W. Berry Jr is already a powerful piece of work. It turns the buildings of Philadelphia into towering monoliths that hide people away, it makes the sky look like ghouls seeping in and it turns the city into a haunting place. Sadly though, the story behind this time lapse is even more powerful.
The time lapse is dedicated to a man Bruce W. Berry Jr saw commit suicide off the Ben Franklin Bridge. He writes:
The experience is something that I'll never forget. The mood was so heavy and dark that one could feel the loss of the person's life in the air. I can only imagine what this person saw and felt the day he took his own life; what the city must have felt like and looked like to him. It was pretty hard to shoot this time-lapse without thinking about what I had witnessed.
---