There's no doubt about it—working sucks. I can only hope that my weekly gadget lists helped you avoid doing your job for a few minutes at least. Here are ten of the best installments.
•10 R/C Toys That Are Extraordinary (Or Just Plain Weird): This list has all things R/C...and I do mean all things (R/C Penises and Zombies anyone?).
•10 Ultimate Ghetto Gadget Creations: These gadgets may not be pretty—but they work.
G/O Media may get a commission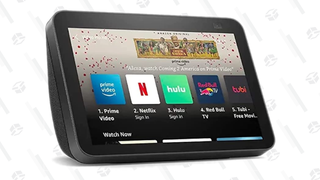 •10 Record Breaking Consumer Gadgets: The fastest car, biggest plasma television, most powerful flashlight and highest popping toaster are all right here.
•10 Insane Bikes That No One Should Ever Ride: Designers with a deathwish push bicycles beyond all bounds of practicality and logic.
•Top 10 Desks For Gadget Lovers: Serious desks for serious professionals. If you love gadgets, these are the desks you should have in your office.
•10 Gadgets That Have No Business Using a Jet Engine: People will put a jet engine on anything.
•10 Hypnotic Gadgets You Just Can't Stop Looking At: These design and repetitive movement of these 10 gadgets are truly mesmerizing.
•10 Segway Killers That Don't Make You Look Like a Complete Tool: These vehicles only make you look tool-ish.
•10 Gadgets With Mind Boggling Moving Parts: These gadgets are so complex it will blow your mind.
•8 High Tech Christmas Trees: In honor of the holiday, I give you the 8 nerdiest trees on the planet.