If you were still somehow hoping that the Doctor Who spinoff series Torchwood could return to TV, six years after it last aired, then we've got some news for you. The good news is Torchwood is finally getting an official continuation! The bad news is if you wanted it on TV, because it's going to be a new audio drama series from Big Finish.

This is far from Torchwood's first big return to the world of audio dramas. Big Finish, who also do a long-running series of Doctor Who stories, have been doing Torchwood dramas with John Barrowman's Captain Jack and even the pre-Miracle Day version of the team for a while now. But the newly announced Torchwood: Aliens Among Us, is being billed as an official return and continuation of the series after the events of its (honestly rather terrible) fourth season, Miracle Day.
Even Torchwood creator and former Doctor Who showrunner Russell T. Davies is involved in the series, creating a new group of characters for both Jack and the returning Gwen Cooper (Eve Myles) to team up with, as the two return to Cardiff to re-establish Torchwood, and presumably face new and deadly alien threats. Here's a few teasers for the new cast, courtesy of Aliens Among Us producer James Goss, including a hint that a fallen Torchwood hero (honestly, there's quite a lot of them at this point) could return:
Russell's been wonderfully involved in the continuation of Torchwood. We came up with some characters and ideas and he very kindly, very politely said 'Marvellous, but no. Howabout...?'. And that's what lead to Jack and Gwen being joined by Mr Colchester (Paul Clayton), Ng (Alexandria Riley), Tyler (Jonny Green) and the enigmatic Orr (Sam Béart). Who are they? What part do they have to play in the future of Torchwood? And can they save Cardiff from an invasion that's already been lost?

This is an ambitious series for Big Finish - an entire season of Torchwood! There are some great scripts by some new writers, but there are also some familiar old faces - of course Rhys and Andy are in it, but there'll be a few other surprises, including an appearance by someone who just has to be, has to be dead...
This is great news for Big Finish, but honestly, it seems like the final nail in the coffin for Torchwood's chances to return to TV, after many stated attempts by John Barrowman to get the show back on the air. Not just in that this is an official continuation—there's even been a comic promising to be that continuation, too—but Davies' own involvement here seems to heavily indicate Torchwood's only future is going to be on audio rather than on TV.
Torchwood: Aliens Among Us is set to release in three box sets, beginning in August 2017.
G/O Media may get a commission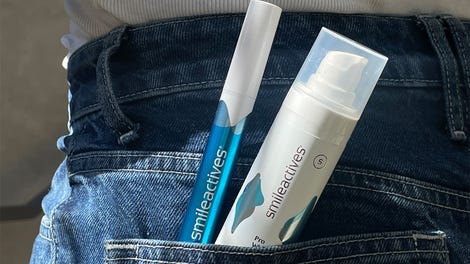 58% off
Whitening Powerhouse Pen & Gel Duo